Little or no wind with high water at 02.30hrs means serious Sussex topwater action, well it does when the bass are about and I had little confidence that I might catch my first bass of 2015...the bass are here though as the local boats have been reporting plenty of decent fish, so they must be inshore I thought. My last chance before the guru goes tits-up.
I set out at 04.00hrs with my MTB 90m, MTB 3000, G-Soul upgrade and a small topwater collection; just a handful of 30 or so.
The morning was fresh, the birds were chattering away and the water clarity was surprisingly acceptable. The chugga-chugga of a local commercial fishing boat burbled along in the distance, it was dark with the dappled wibbly-wobbly moon gently shimmering on the glassy surface.
And so I begin with the Austurie 110 in 500g, shot out south with a dead slow retrieve. The temptation to work this lure hard is tempting but I am doing DEAD slow today. Blip-blop-blip-blop she goes, creating that mesmerising mini-wake on the idyllic sea.
A few casts and moves and I get smashed by my first bass of 2015, what a great feeling that is. Landed, papped and returned, the fatty went 50cm on the ruler. Well chuffed, account opened and feeling a bit smug!
First Silver of 2015
I kept on doing the same with the sexy Austurie, tantalising the marine world below. I am seeing more of the slowly limping lure now as the daylight is appearing a little more.
I see a change in the surface texture, something gravity just DOES not do, it's a bulge, it's the start of a tsunami, it's a nuclear submarine surfacing for sure, BEHIND my lure!
With the slow retrieve the sub opens its bucket and sucks the, now miniscule Austurie, into her guts.
FISH ON!!!!! I wait for the lure to start pulling away, the blank of the 90m arcing and taking the tension, I lift into the fish and confirm I am set in and ready for a scrap of epic dimensions, luckily with little structure or terrifying bits of crap in the way I can let her rip.
The big girl PULLS and takes plenty of line heading for Chateau Lewis, zzzzzzzzzzzzzzzzzzzzzzzzz, the rod working her beautifully and the drag singing in a perfect duet with my anal sphincter.
Oh my good Lord, I knew this was a cracker, I've never felt such weight before in a fish, so heavy, muscular and trying to own me. Gently does it Pedro, keep your cool, play her, enjoy her, respect her...She wallops around and swirls over on the surface and changes direction again, tearing me up. Keeping the rod up and in touch with the fish and suitable tension, she plays ball.
Working her back to shore, she's slowing and giving in to me and the carbon. I see her 4 foot in front of me, I am shaking, I am so confused, my brain is addled, I can't work it out, is it big, is it small is it a fish. How does this sport DO this to you! Brilliant!!
I land her and when I lift her I know, I've not felt a bass that heavy before, could it be a double, could it, could it, could it, could it?
I weigh her, my arms are like spaghetti, I have to sit down, I try again and she's 11lb 8oz. 82cm on the ruler. A new PB for me and my first double figure bass on a topwater from the shore! The Holy Grail?
Never in my life have I felt such elation, I am still in a state of shock. THIS is why bass fishing is so rewarding.
I got in the water and let her get her breath back and when she was ready, she mooched nonchalantly about the mark for 2 minutes until she was ready to move on. I just watched her in awe and in state of total shock then punched the air and whispered "yes!"
Here you go guys, thanks for reading.
11lb 8oz Topwater Shore Bass


The Ruler shot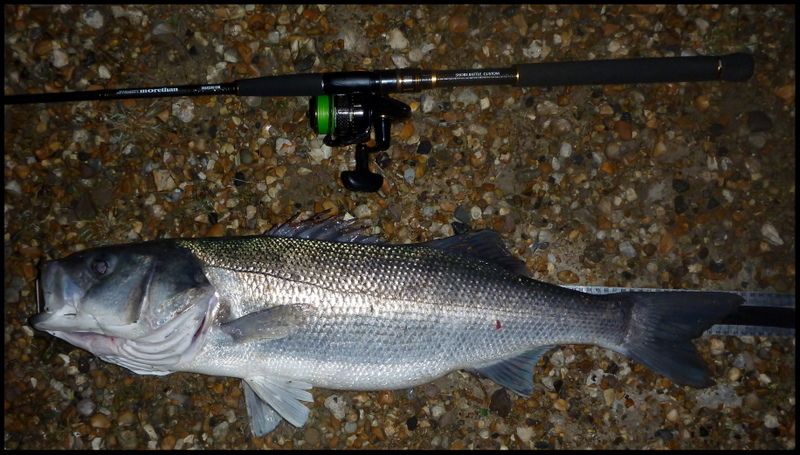 The release