Managed a few hours out yesterday evening, for some reason decided to try somewhere different to the usual spot that's been producing. Got down the sheep paths onto the rocks and it was looking very fishy.
We tried every plug in our boxes and all I managed was a few knocks and a follow from a pollock. Hmmm, think we should probably of gone to the ususal! Decided to try out a couple of SP's I recently received from AGM. Positoned myself over a deep gulley and lowered a white shad down, took up the slack and started just bouncing it real gentle on the bottom, was obviously irritating enough asw within seconds it was fish on and after a nice little scrap I pulled my first Wrasse out on SP's.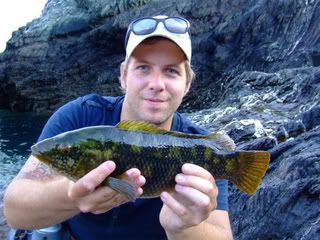 Not sure if it counts as HRF? Got to be something close though I guess, will definitely be having another crack at them!