Following his recent fly-fishing lessons and catching some trout, George has been determined to land a bass on the fly. After an exceptionally generous donation of some home-tied saltwater flies from Alex Jordan to get him started, we ventured out to an estuary mark today which we know holds plenty of small fish which feed in the shallow water as the tide floods. It is ideal for wading and fishing on the fly. I stuck with a light spinning outfit and small weedless SP's as we only have one fly outfit.
When we arrived, the water was just pushing across the sand and we could see a shoal of small fish feeding actively but couldn't tell if they were bass or mullet. After an hour or more of chasing them, George proved without doubt they were bass with his first saltwater fly-caught fish. Not huge at all but very welcome indeed.
This fish was caught on a tiny fly in less than a foot of water and really got us fired up. The tide pushed really fast across the sand and we could see lots of fish swirling and moving through the shallows. Once we moved out of the inshore shallows and into the edge of the river into the incoming current we really hit the jackpot with lots of fish and takes missed, with George doing better than me. At one point he was 5-1 up but I managed to catch up to a respectable 6-4 (his last fish is below):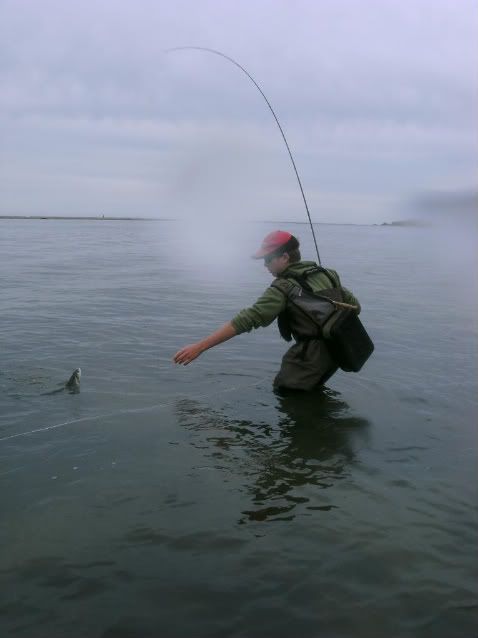 We had a great laugh fishing in no more than 3 feet of water. I did try some video of the best fish George landed, but the underwater parts seem to need more practice. Pardon the water on the lens, but you get the idea. George was absolutely buzzing and we know where to go when we need a laugh rather than a big fish.