Discussion Starter
·
#1
·
After 6 weeks of non-fishing due to sickness and ordering copious amounts of lures through boredom. I'm gagging to get out for some fishy frolics!
Matt and I arrange to hit a spot where he had joy a few weeks ago; an estuary mouth running into a surf beach. The joy was a fantastic 7lb Bass apprehended on soft plastics. After a spot of wading and a few casts Matt reels in his smelt to find a Weaver has come a cropper. "Ha, yet another species on the S.P's!" Matt exclaims.
An hour later and no more fish. We stroll back to the waters edge and are met by five bait anglers, with a murmur of one small bass between them, bright sunny conditions, no sight of bait fish things aren't looking good. So we decide to head off to an old faithful mixed ground mark. This always seems to give some degree of sport.
We arrive to find slightly cloudier conditions and the sun is beginning to drop.
I'm now in my element boshing out my new plugs checking out their actions. I hear a shout from Matt "Fishhhh!" A Bass is patrolling over a sandy patch about five feet in front of us. A frantic swop of tactics to S.P's and we're sloshing about our smelts with no avail. A couple follows and sniffs but no takes. I give up and try closer into a rock ledge and wallop a wrasse hammers me and is giving it large! After a spot of rough and tumble he's on dry land getting papped.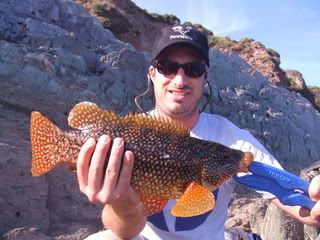 A little rummage through my tray and I pull out my new "Freewilly" Z claw. I've never caught a using surface tactics quite simply because I've never had the patience. But after the row with the afore mentioned Wrasse I fancy a little chill out. I pump the lad out give him a couple spasms, pause, drag, spasm, pause success, A Bass has smashed poor Willy to pieces. I begin to wind in and peer into the water and see three other schoolies following and having a pop also.
We progress further along the mark and by now I'm back on the plastics. I slash out a smelt mounted on a 7g finesse jig head. First cast and I've nailed a Pollock.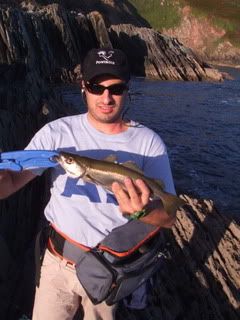 I look to my left and see a Wrasse lurking in a ravine. You're having it pal! I manoeuvre my smelt into his vicinity and mmmmmmmm too irresistible. He's hooked.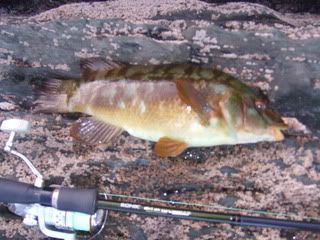 Back onto the hard plastics a Tackle house feed shallow. The light is really dropping now and I'm at the spot where I caught my first ever Bass. There's a long stretch of jagged rocks covered by about three foot of turbulent white water. After a few casts another Bass.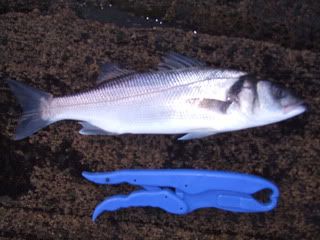 IT'S GOOD TO BE BACK!