Following an unsuccessful trip down to West Wales yesterday, i decided to fish closer to home today. I set off at silly-o'clock and got to my first mark at first light.
Conditions looked perfect, and i got started with a Feed Shallow. A short while into the session, i felt a knock on my retrieve, i casted back into that area, and on the second attempt it was FISH ON !!! I landed a scrappy little Bass of about 1.5lbs
. Unfortunately no pic, as i botched it and let him go as i was un-hooking him as i was standing on a rock that was still partially submerged (we'll call it a successful catch & release eh
Much easier when my trusty companion Luke is with me).
So, feeling super-confident, and knowing that there were Bass out infront of me, i cracked on!!
A short while later, i had a 'really' hard take :-o!! This fish was really giving me some stick, and i had to really lean on him with the Supermix to get him to my feet. I made sure that i guided him up onto a dry rock this time as i wanted my pic . . . .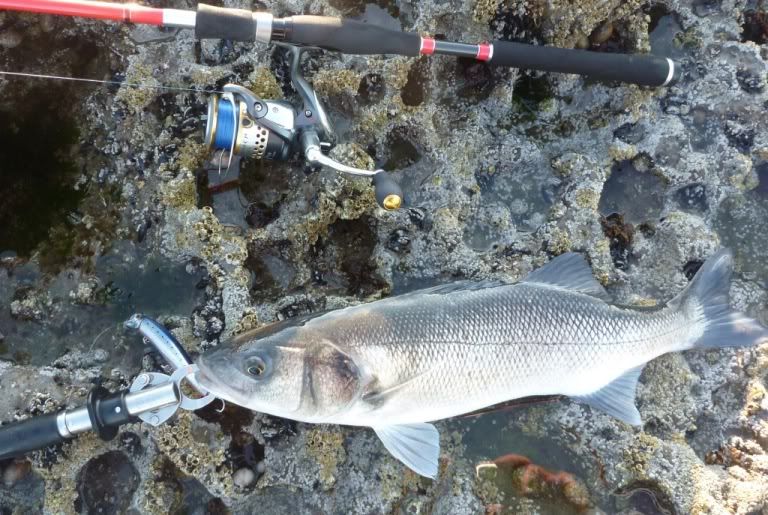 This fish was a shade over 3lb on the Boga, and swam off strongly when released
.
At this point, it was already a really pleasing session, and i fished on feeling very contented. A little while later, after a couple more knocks, it was FISH ON again !! This little guy had eyes bigger than his belly . . . . . .
He swam off strongly also, and then at low water, i took the opportunity to have a sandwich and a little sit-down. I called Steve to see where he was, and he informed me that he'd be joining me shortly.
The tide turned, and refreshed, i got stuck back in. After a 'savage' take
, i managed to land this little star :shock: . . . . .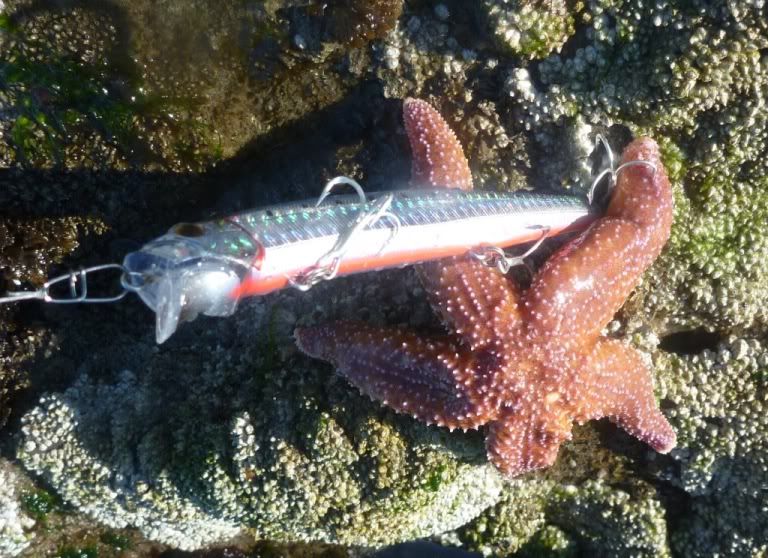 . . . . which i'm claiming as a new species btw :roll:.
I then had 2 fish in 5 minutes. This guy first . . . .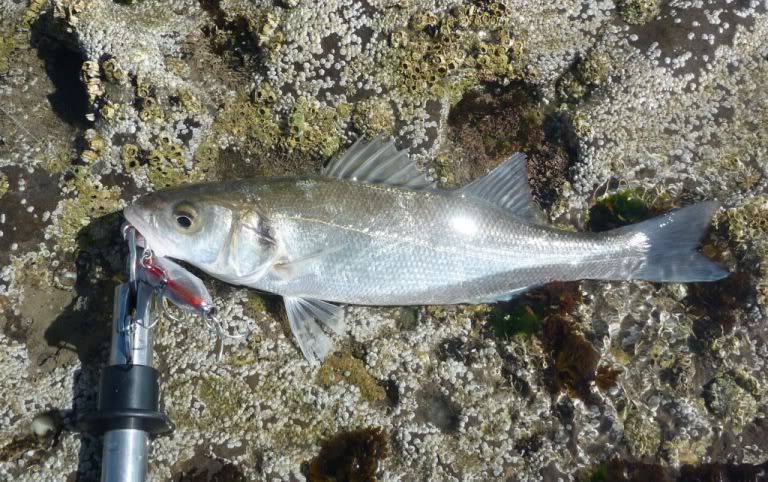 . . . and then i had another really strong take, which felt like a really good fish. I was very suprised when i actually saw it, as it was only about 2lbs, but was fighting like a 5lb'er !! Fair play to him . . . .
It was a feature of the day actually that all of the fish were taking the lures & fighting particularly hard !!
Steve & Adam then joined me, and we fished on. I moved to a new gulley further along the coast, and switched lure to a Sasuke 120. I hadnt used one before, so decided to give it it's first run-out.
On my second cast, as the lure approached me (about 15yds away), i watched in shock, as a Polaris Missile came up from underneath the lure & ABSOLUTELY SMASHED IT !!!!! BIG FISH ON !!!!!! The Supermix was buckled into the fish, and the ZZZZZZzzzzzzzzzzzzzzzzzzzzzzzzzzzzzzzzz coming from my reel was simply stunning !!! This was a hell of a fight (move over Crocs !!), and i'm not sure how long it took, but when i shouted to Steve, i was 'very' pleased to see him clambering over the rocks at break-neck speed to come and help me land this fish. I have no idea how long the fight was, but the fish made several long hard runs . . . . . eventually i got it to Steve's feet, where he was waiting with the Boga (i'll let Steve recount the tale of my words to him when we were fighting the Bass in to the edge :???
. . . . . and here we have it . . . . .
The Boga said 9lbs. The tape said 74cm . . . .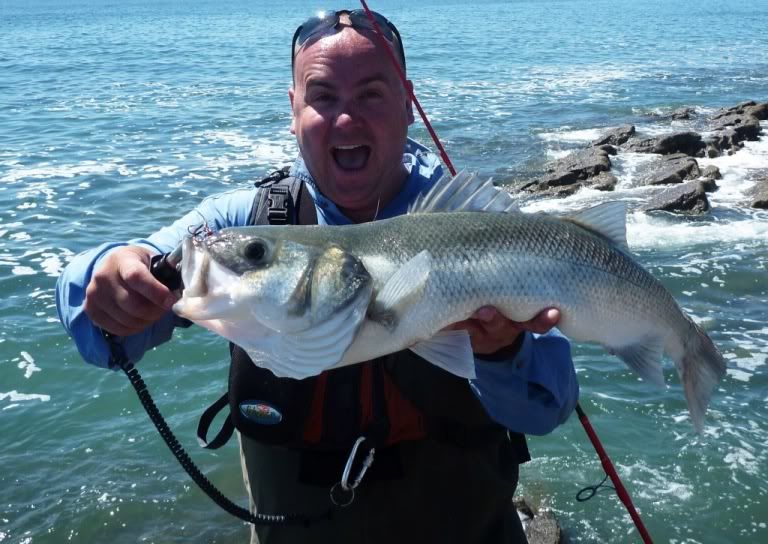 Words cant explain how pleased i was . . . i was shaking like a leaf, and my language was a disgrace :twisted:!!!!
After a bit of fannying around, i revived the Big Girl in a rock-pool, and then got her back in . . . . .
She kicked off really strongly
.
So, there really wasnt going to be much to top that, and i'd lost the heart to fish on. I did manage a last little'un to the Zonk . . .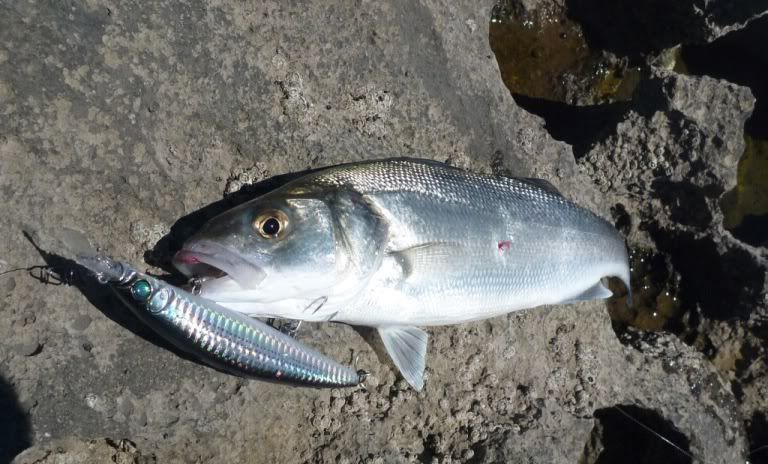 . . . and then that was that. 7 Bass on the lures today, and a new pb
.
Spookily, my previous pb of 7lb 1oz was caught on the 23rd May last year - guess what i'll be doing on the 23rd May next year :shock:.
I am now having a celebratary drink :wink:.