Discussion Starter
·
#1
·
This is a quick report and I will do a more detailed one tomorrow night, as i'm off out soon.
Went fishing today to try and convert a very good bait angler into a softy. Well to say I had my arse kicked would be an understatement!!
Myself, Ben (bates) and Daniel Ferguson hit the north coast after spending the morning in mrfish. Set daniel up with some braid, jigheads and some softies and we were away.
I think he was 2 casts in and on! A scrappy little 2lber landed photographed and released! Then a few chucks later he was on again! He had it sussed in minutes. A slow constant retrieve worked close to the bottom!
I moved over the otherside of the bay with Ben and started fishing a ledge I had a good fish on a few weeks back and Bens first cast saw him nailing what Si would describe as a clonker!! What a scrap!! Handled and played very well too! Jumped a gully and helped him get it up the rocks as there was alot of swell. STUNNING FISH! Huge belly! Caught on a 4" brown bubble shad from mrfish.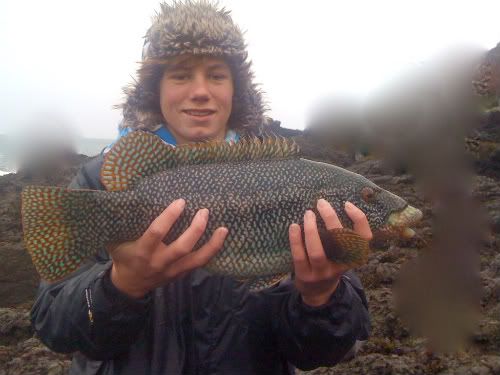 (This photo gives you an idea of how FAT this wrasse was!)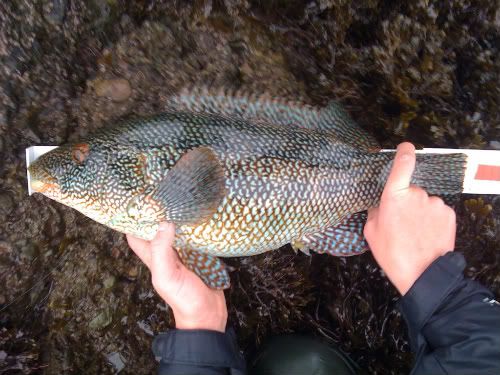 Then daniel moved over had another nice wrasse, followed by Ben having another TWO nice wrasse.
What a great days fishing. Daniel is going to be joining the forum and no doubt you'll be seeing more of him.
Bumbling...... gotta love it!