Well gents, i got back home about 1:30am this morning, but was back up at 5:30am to get a train to London for a meeting, so am only now catching-up.
So, my last minute decision to head across to Jersey - i think it worked out pretty well !! I gave Mick a call around Thursday last week, and asked him what he rekoned about the forecast (which was looking pretty nasty to me
) . . and when he asked me if i could get my money back on my booking, i must admit i thought i'd made a bad decision . . . . . but happily, as ever, the weather forecasters didnt have a clue !! :mrgreen: Rain was forecast for the whole weekend, and in reality - not a drop fell for the whole time i was there !! Happy days :-D :-D
I arrived at the Port in Weymouth on Saturday morning (pretty sure i saw Spitty in the car-park outside the Port ?), and the swell was not great. 3 full sick-bags later, and we had landed in Jersey. I quickly checked-in, and then it was off to Mick's shop. I was greated by Bob, Doug, The Squid, Mick & Nicola, and Nelson also put in a guest appearance (& WTF was the guy asking for maggots all about ???? Wild fancy dress outfit !! ). I ahem . . . cough . . . ahem . . . . . acquired a few shiny items in there over the next two hours, then it was off to have a bit of grub. The next day, i hit 3 different marks around the island with Lyn & Luke. The weather was glorious (a bit windy, but beautiful sunshine), and although i blanked, we had a cracking day exploring the island.
The next morning, something happened which 'apparently' doesnt happen that often . . . . . Mick was up before dawn to come fishing !! So Mick, Nicola, Tony (tonyg off here) & i met at one of Mick's marks for a dawn raid. I was using the Injection, and a selection of 'small' hard lures, & s/p's. About an hour into the session, Tony came to join me on a rock outcrop that had two nice gulleys either side that were filling. Tony was fishing on one side, and i was fishing the other . . .then, the words i was waiting to hear . . .a cry of "FISH" from Tony behind me . . . . . a very tidy Bass had nailed his Ayu Xlayer about 6' from his feet !! Tony manged to guide it to the edge of the rocks, where i was waiting with the Boga . . . . . here's Tony with his bar of silver . . . .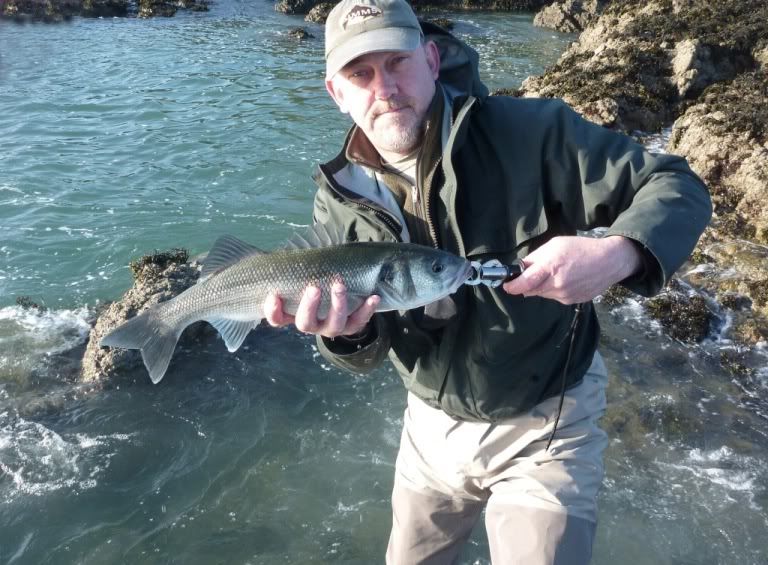 It weighed-in at 3lb 11oz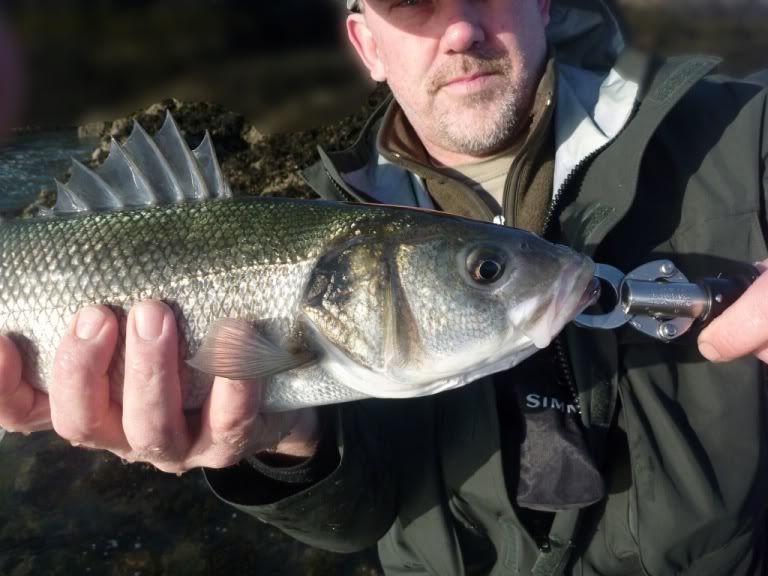 The fish was quickly released after the pics, Tony & I had a high-five, and then i promptly switched back to the Xlayer i'd been using about 30mins earlier. 2nd cast with a Wagasaki Xlayer, and everything went tight - i'd been swinging the s/p around in the current infront of me, and giving it the odd twitch (7g Darter Jig Head), when i broke my s/p cherry !!!!!!
I must admit to getting stupidly excited, and was whooping & shouting as the fish came in (with another similar sized fish right next to it btw) . . . .
The fish went around 3lb, and was quickly released . . . .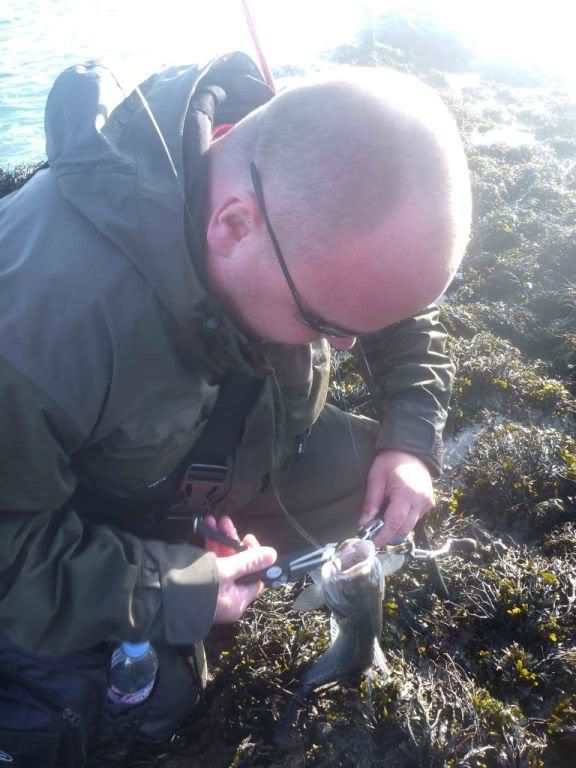 We had a few more casts, but we were getting pushed back by the tide, and frankly, were very pleased with our mornings work - so i was back in the hotel in time for breakfast !! Woooo hooooooo !!
Then, by late morning i had met up with the black-ops Special Forces on the other side of the Island. In attendance were: Keith, Kevin, Ritchie, Callum, Jay, Jeremy, Liam, Paul & me (i think i got everyone there ?). We set off to a very rocky remote mark with a multitude of potential targets. First target was Wrasse. It wasnt hard to see why the Pigs may have been at this spot as the huge boulders & deep gulleys are Wrasse-city !! It was to be a tough session though. Apart from both Keith & Kevin getting stuffed by Wrasse that took them to ground - the bend in Kevins rod as the fish took his s/p into a hole as he was being distracted by JP was a classic !!! It was bent over like a question-mark. So it was a pretty impressive blankety-blank.
But, not to be put-off, when i arrived at the Harbour up on the North Coast that evening, there must've been another 6 or 8 guys (and gals) there again. As i got there Keith was just landing a Pollack, and Luke & I joined in. The LRF gear really is something else - the Injection really did feel like a broomstick next to the out-&-out LRF gear. Luke had a blast fighting this Pollack (thank you Kevin
) . . .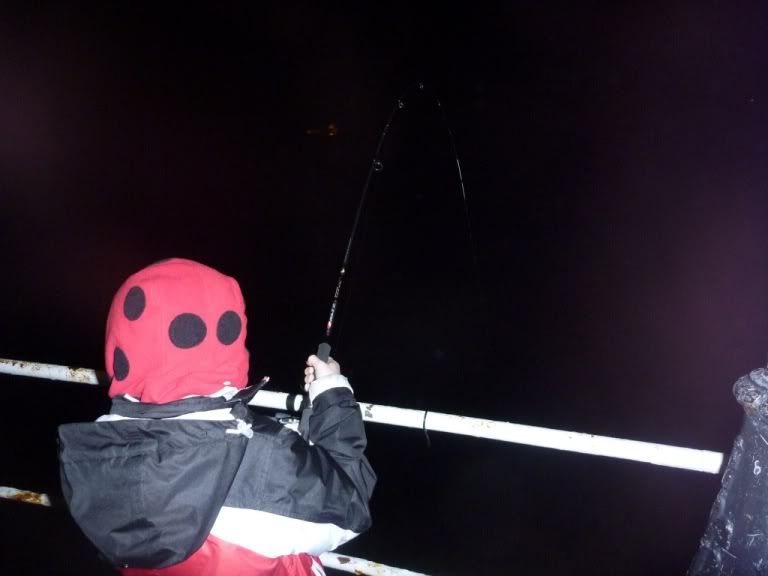 I then had a frustrating half an hour trying to land a Squid. I hooked a nice one, and fought him for around 10secs before he got off. But it just wasnt to be.
So that's it, If you made it this far through the report & are still awake - well done !!! I had a wonderful trip - it's a beautiful island, & i cant wait to get back over there again. The hospitality from the guys over there was nothing short of first-class, and i thoroughly enjoyed meeting & getting the opportunity to fish with you all.
See you all again soon.