Some time ago l began to think about freshwater lure fishing, well... as a way of combining SPs, light tackle, in a different environment and for new species. I have done some fun coarse fishing in the past, nothing too serious, but the combination of fresh water and lures was too tempting. A chance to get out of my comfort zone and try something different.
When I mentioned this some time ago, Vidar was extremely kind enough to offer the chance of a trip to Grafham, which allows predator fishing with lures and sea dead baits. Top bloke!
So last Sunday following the usual anticipation (lots of planning), Vidar and I were joined by Andy Mason and John Bunyard at daybreak at Grafham. After a full breakfast at the lodge and having waited far too long (5mins) to check in for the boat we loaded up our vessel, a 17ft ex Rutland boat and chased after Andy and John who had rocketed out of the boatyard with all the speed a 15ft boat and a 4hp four stroke outboard can muster (they were given a shorter Grafham boat, not sure why ;-)). Spirits were evidently high despite some very unfishy weather in the run up to the weekend.
The skipper's recommendation was vertical jigging with light jig heads and SPs in deep water with dedicated outfits. Glorious stuff. There were a few other boats out, with a mixture of fly anglers, bait anglers and a number of SP anglers. The attraction of the venue, with its record for good fish, was obvious and I really was having a great time before I'd even wet a line. I was trying my hardest to soak up all of the information on tackle, lures and the species that Vidar was kindly sharing with me. This was fast track learning of the very best sort!
We tried a couple of known spots (that's known to Vidar, not me obviously) and saw some bait anglers with a small zander. Vidar gave them a couple of tips on how to return it safely, as he explained that despite it being such an aggressive looking fish it can be difficult to return successfully and needs some TLC before being speared back in (another invaluable lesson learned).
The wind was going around from north to west and making our drifts a bit pacey at times, but there was a lull in the weather just after lunch when the sun came out and fortune shone on us.
After the gentlest (and I mean LRF gentle) of plucks, I lifted into a solid fish that began to feel a little bit bigger as the fight went on. No searing runs but some solid lunges against a not too harsh drag. I was using a one piece 1/16 to 1/2 oz rod that bent very nicely into the fish. A case of hold on, trust the drag, be gentle with a fish that apparently picks at lures in daylight, and so might not be that well hooked. Rod hooped over absorbing those dives. Big grin from yours truly.
After a lovely tussle, up pops the first zander I have seen in real life and its a solid fish, waving a pectoral fin at me. I even reached for the net and coaxed it in. It is difficult to describe the feeling of landing a new target species.
I left the fish handling, unhooking and weighing to the expert,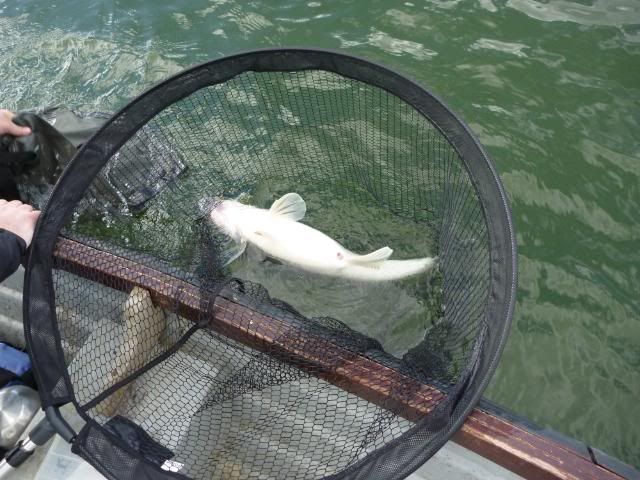 but was delighted when Vidar announced 9lb 15oz. When I quickly lifted the fish for a souvenir photo, I was shocked how dense it was and struck by the beautiful metallic tones of the fish.
Vidar speared the fish back in to give it the shock it needs to recover quickly and we motored back up for a new drift.
We repeated this process about an hour later when Vidar's lure was snaffled by an 8lb 2oz fish.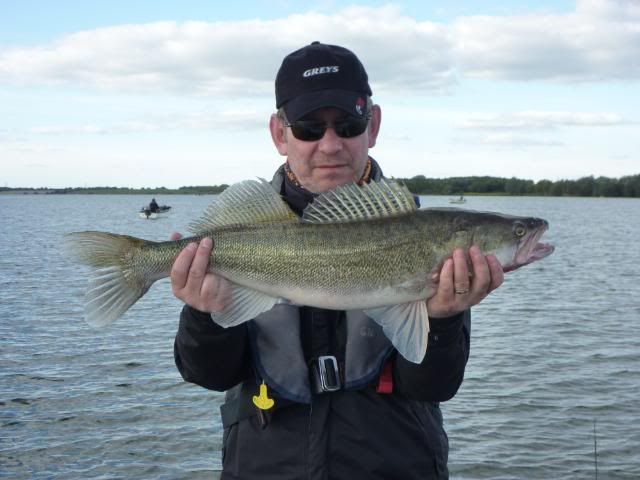 Again I took one look at those teeth and left it all to the man with the pliers. The fish were remarkably docile when held though.
Smiles all round. Other than a couple of brief hook ups, that was our lot nevertheless we motored back to the lodge at 5.30pm a happy crew.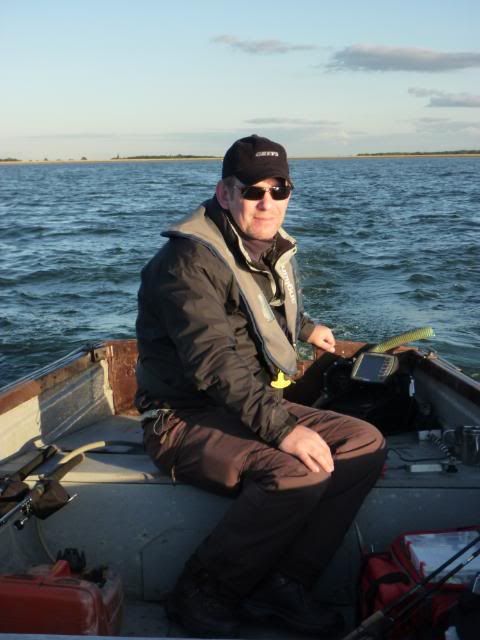 Monday dawned with the forecast of a westerly breeze to 13mph. Andy was joined by Mike Kennard who had braved a long drive up that morning with the expectation of reasonable weather, however we soon found that the wind increased to something approaching 20mph at least. Drifts became too fast and we struggled to find fish in the same area that had produced fish the day before. We tried some structure, but we couldn't find the fish.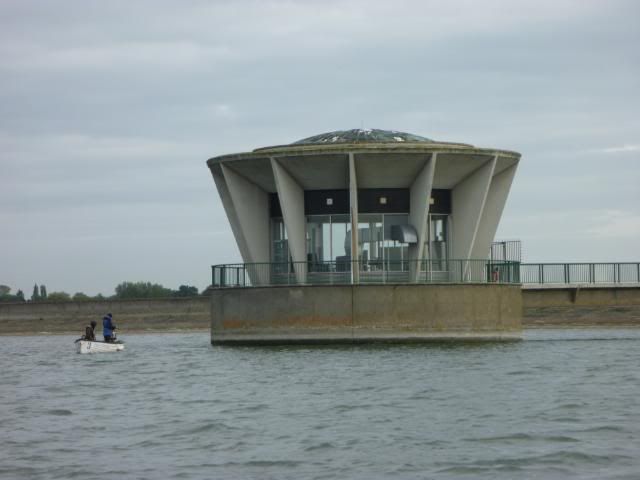 Luckily we had a 15ft boat ourselves the second day so we had 2feet less of windage, but it was still maddeningly fast.
We moved upwind through a sloppy chop with Andy and Mike to another aeration tower that had produced a pike of 27.5lb the day before (crikey).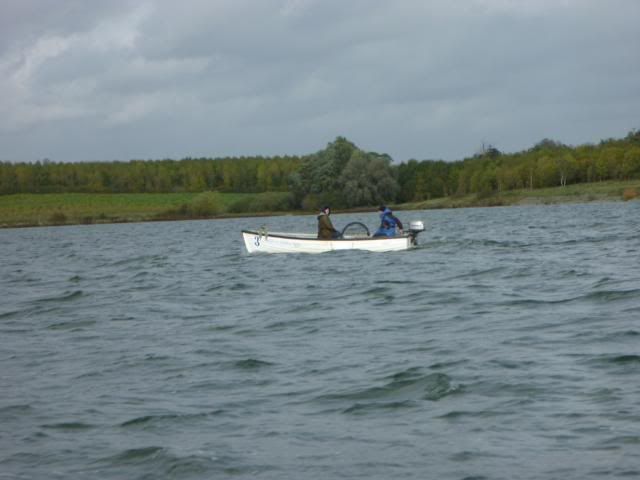 I tried my hand at casting big swimbaits, much to everyone elses' amusement initially but I sort of got the hang of the huge SPs in the end and every cast held the potential for a first pike to add to the tally. This was a technique I had been keen to learn about for some time.
Andy and Mike concentrated on trying to pick up some perch from the upwind side of the tower. Meanwhile the wind was freshening, anchors were dragging and eventually Andy and Mike had to leave their side of the tower to take Mike back to shore for the long drive home. Vidar suggested that we up anchor to the windward side, and whilst I struggled to cast against the tower under the lowest platform, Vidar started putting cast after cast up against the vertical concrete. One landed right in the middle of the area facing us and no sooner had I said "That's on the money" than the reply "Fish on" came back with a lovely big perch surfacing a few minutes later after a fair scrap.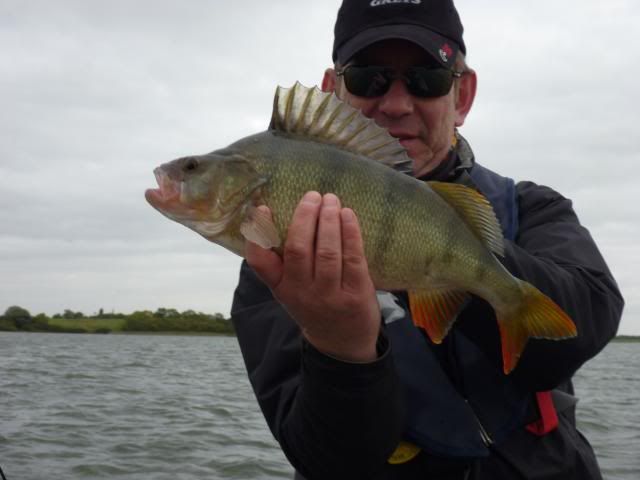 It weighed around 2lb 12oz and was the only fish of a long hard day, but the colours on the perch were stunning. I then caught the wind knot of a lifetime and with the wind howling again so we called it a day around 5pm. The water across to the boat lodge was a bit choppy but we stayed pretty dry.
Otherwise we only heard of two zander caught that day, around 6 and 8lb on bait (whole mackerel which is unusual I was told).
All in all it was a cracking couple of days fishing and well worth the effort just to see how it is done and to learn a great deal.:-D