Discussion Starter
·
#1
·
Quick report as very tired.
Went out friday in jersey, saturday in jersey, then saturday afternoon I went over to Les Ecrehous. Just got home.
Its been an ok weekend for fishing but an amazing weekend as a whole. The Ecrehous are BEAUTIFUL and they scream fish!
I took my tr4 with my 2500 rovex loaded with 10lb braid. A few shad highley recommended by Cal. (cheers)
So friday and saturday over in Jersey I managed a couple of wrasse and a couple of mackerel all caught on this shad.
Then arrived in the Ecrehous and first cast was into a wrasse, weighing in just over 3lb. This fish went like stink and for a minute it had the better of me!
Then walked down the beach about 100 years to talk to some guy who just pulled up in his boat and cast out, BANG fish on. I was nowhere near a rock it was all pebbles and it took pretty far out so I thought bass. After a good scrap I landed another wrasse. This wrasse had a porky little belly and it was weighed pictured and released nice and fast after the long scrap. 3.6lb so a new pb for me wrasse wise. Does this go in the piggy bank board?
Then as dark came I targeted a little sandbank I spotted on the boat ride in. Walked out with the tide using the same shad. It didn't take long and I was in. Now I'm NOT use to fishing moving water but f**k I honestly thought I was onto a double!!!! Rod bent over dragg screaming and I just couldn't turn the thing lol. After an amazing scrap it was landed! I had no scales but it measured 49cm and had a good size belly.
Another chuck or two saw me landing my second bass of the night and this was the way it went until the tide hit dead low.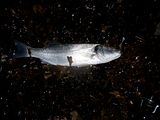 The guys I went over with had a golden grey mullet, bream, doggie and wrasse.
Fun w/e eh!