Discussion Starter
·
#1
·
Well today didnt exactly go to plan - i was gonna go Chuff Flucking at Felindre, but i ended up picking Luke up from school and going straight to our local lake for another crack at the crocs !!
It was a glorious warm evening, and we quickly set-up and targeted the fish with surface lures. I started off with the lure of the day from Saturday - the Megabass Anthrax, whilst Luke tried to get us off the mark with the Dead Claw.
On about the 4th cast of the day, a Croc charged in at the Anthrax, and hit it about 10ft from the edge (such a '
rush
' seeing these fish nail a surface lure at close range :-D) . . . it was "FISH ON !!!" I passed the rod to Luke, and he played the fish in. We were off the mark with a 4.5lb'er . . . . . .
We had a load more follows on both the Anthrax and the Dead Claw, including a couple of big splashy hits. Shortly afterwards, i had a Jack nail my surface lure . . . .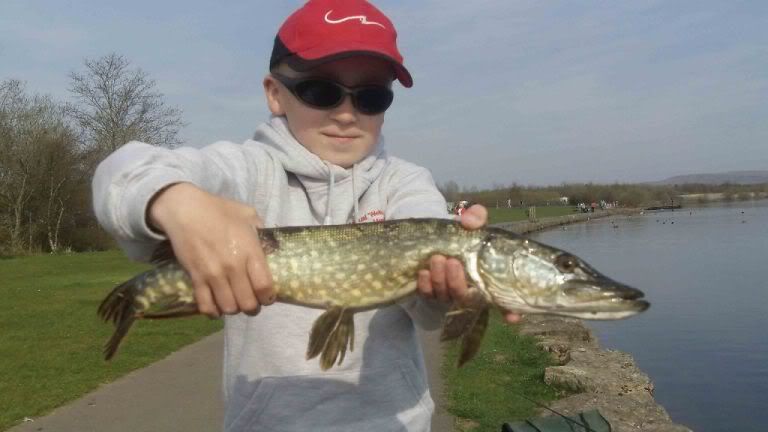 Then, a much bigger splash & hit at my lure !!! I quickly handed the rod to Luke for him to again expertly fight the fish . . . . this was the best of the day at 7.5lbs . . . . .
Luke decided he fancied a go on my rod with the Anthrax. First cast, SPLASH . . . . .
I landed another small Croc shortly afterwards, and then Luke decided to change lure. He went for a JTS in Fire Tiger. 2 casts later, and he's shouting "FISH ON !!!" . . . and brought this guy to the bank . . .
So that was that.
In total we banked 5 fish, lost a further 2 on the way in, and i lost count of the number of follows (circa 20 !!). All of that took place in the space of 2 hrs.
So a very successful short after-school session. We'll be doing that again !!!! :-D:-D:-D