Discussion Starter
·
#1
·
I went to explore on the North Coast of West Cornwall today. Wind had picked up, and I walked the rocks, rod in hand, looking for spots to fish from in the future, and to throw a few casts here and there.
After nearly an hour, reached a spot near a point, mussel covered rocks underfoot and deep dark water. Cast out a plug, and upon reeling in, could feel it bumping all the way. Slightly confused, looked down into the water beneath me, and it was a thick blanket of living matter. Not sure what they were, but they looked kind of like eels from above, but not just a shoal, literally so thick you could not see through. Tried to photo it, but very hard to capture.
So I cast out a bit more, maybe 30m+, and instant bumps, walk 50m down the rocks, and the same. The size of this mass was simply mind blowing to me. Maybe 80m out were a large flock of gulls feeding, so I guess it extended at least that far as well. The wind was blowing hard cross onshore, and they were right underfoot, tight against the rock edge and beyond.
I slipped an SP on with jig head, to try and sink below the mass. All the time, little bumps, sometimes stronger. Not sure if it was just hitting into them, or whether some were 'attacking' it. So I decided to strike now and then, and pulled in a couple of unfortunate fish, hooked badly in the body. Does anyone know what type they are, or will grow up to be?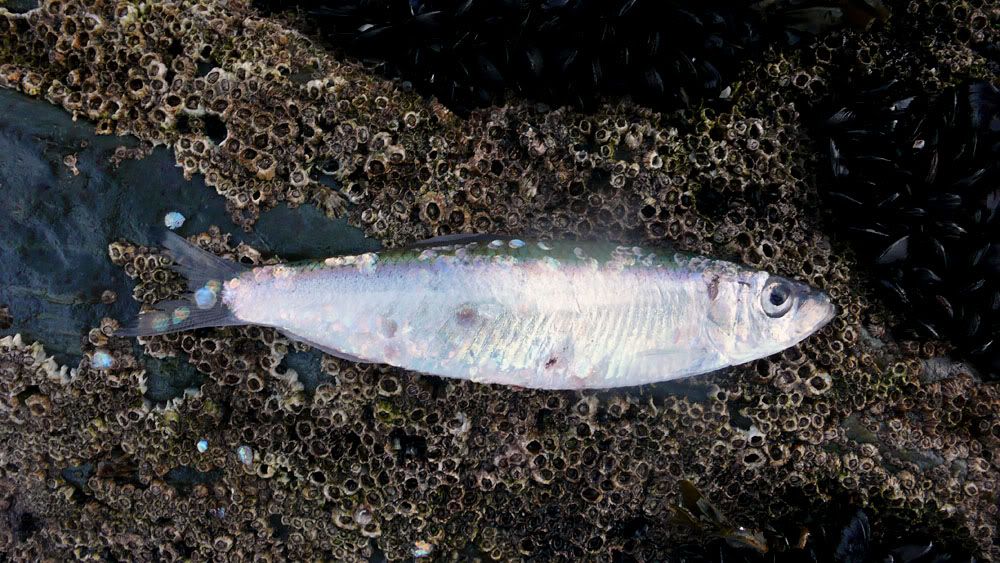 Need some LRF kit!
I presume they are what the bait mass were, tho when viewed from above, looking into the water, they looked more eel like, hard to tell.
Fishing was never really going to be an option, mainly because I had maybe 15 seals sitting in the water, playing in the bait mass, I had already seen maybe 10 more walking to this spot.
So, onto the questions - Is this a common occurrence? Is it possible to use tactics to fish within a phenomonen such as this? (minus the seals!) I have only ever seen it on a much smaller scale, with the bait fish being of a smaller size.