With today being George's 14th Birthday I let him decide what he wanted to do today. No brainer - fishing! He insisted we travel a long way north to a mark he has had his eye on ever since he went coasteering there with cadets last summer. For once I didn't argue and we arrived this morning to an overcast sky, clear water and a nice swell. We worked around the bay fishing our usual bass lures but no action.
When we got almost as far around as we could given the tidal access, we came across some deep gullies between barnacle covered boulders. Mmmm - wrasse central? So without George being aware I clipped on an avocado X-Layer on a 2g weighted hook. Trying to remember all I have been reading on here about catching wrasse on soft lures (having never caught a wrasse on a lure before) I flicked the lure out with pretty low expectations. Half way back in as I was shaking the lure - smash! Not sure who was more suprised me or the green wrasse of about 1lb I landed. I hadn't let on to George what was going on until I had landed it - when I gave him a whistle to see what I had caught, he was dead surprised and over in a flash.
Right, he says, rig me one of those up please. Dad obliged (well it is his birthday) - and George flicked the lure in. Nothing so he flicks it in again and starts shaking the lure right under his feet. Wack! - the 7' Bushie keeled over and line started pouring from his little Exage2500. With both hands heaving on the rod, the tip was pulled down almost touching the water and then the wrasse hit a snag. Without panicking, George kept the pressure on and took a few steps to his right to change the angle of pull, and out the fish came. With the Bushie bucking in his hands, up came the wrasse and we started wooping when we saw the size - at least 3lbs (we don't carry scales so have to guess). After a few photos he was returned safely (see video below).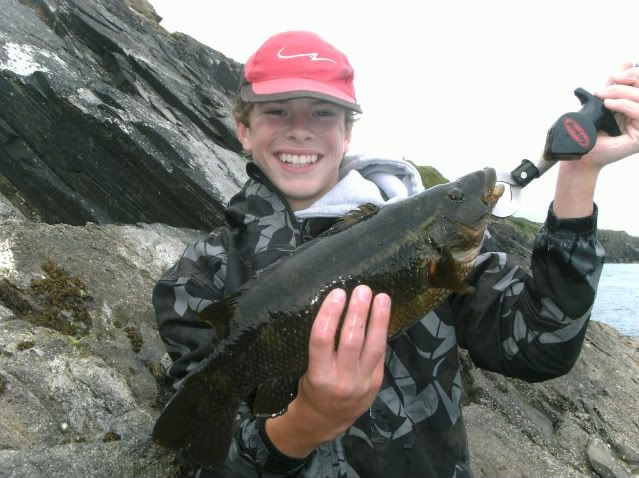 So, time for Dad to fetch out another dark wrasse around 1.5-2lb on the Xlayer and take a picture of this one. By this time we were jumping about the rocks, chuffed to bits.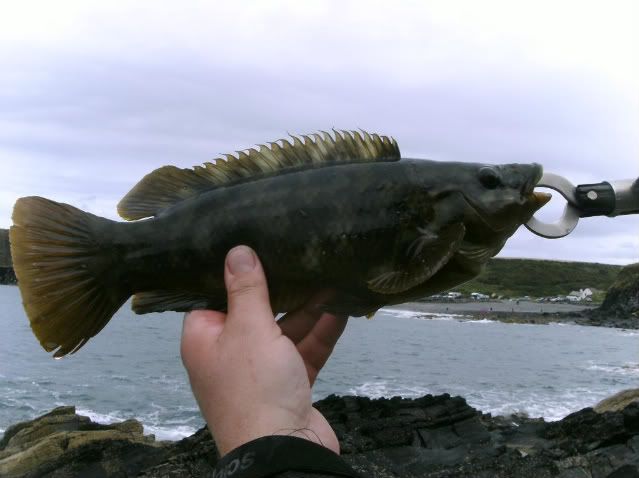 George had a few more bumps and was amazed to see the damage that a wrasse can inflict on the lure - the rattles were sliced clean out of two Xlayers!! I then moved 10 yards to my left and had another cast or two. As the lure came over a ledge I saw a fish dart out and snatch the lure. Another brutal scrap entailed and I was able to get the fish up to the surface. This was a really orange fish of around 3lb and a great scrap.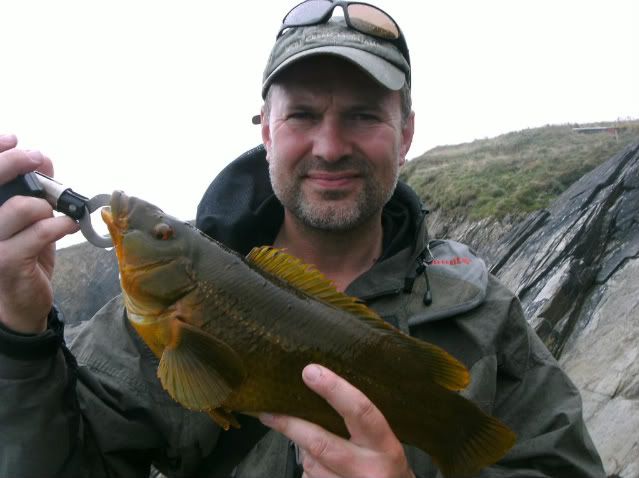 So, 4 wrasse in 20 hectic minutes and then nothing. We worked back to the beach and fished one area of the reef for some bass. Although it looked perfect I didn't move anything after 10 casts. Then I saw a swirling mass of fish on the surface 10 yards out. I hooked one but it threw the lure on the first headshake and that was us done. All we need now is some more Xlayers or wrasse-specific lures as all our XLayers are knackered or snagged on the welsh rocks.
We moved down the coast to meet Darren Edwards at another mark, where we found flat clear water over broken bouldery ground. The bass were strangely absent so with the rain really starting to make it's presence felt we decided to save ourselves for the Bumble at the weekend.
Happy HRF Birthday George!
Here is a short video of the release of George's wrasse...