Discussion Starter
·
#1
·
Well, i've just about dried out now. I'm back in my command centre, on my 4th bottle of Real Ale (going through a Badger Brewery selection . . . bloody marvelous!! ), watching "The Cream" playing live at the Albert Hall on Sky+HD (recorded it some time ago, and just love it ). Just finished watching Wales beat the Argies (recorded that earlier as i was out fishing), and now uploaded a couple of pics to share with you gents !!
Met up with Griff at 8:30am, and headed West in his vehicle (thanks for driving Tim ) Got to our first mark, wind howling , but we did have a momentary gap in the rain which was welcome to kit-up. The first spot was about a 10min walk, and although it was primarily going to be a reccie, we felt that it would be 'rude' not to take our rods !! As we walked up over the headland, it was 'proper' blowing !! Bloody Hell !!, but we got up over the top of the headland, and were greated by this breathtakingly beautiful sight . . . . . . .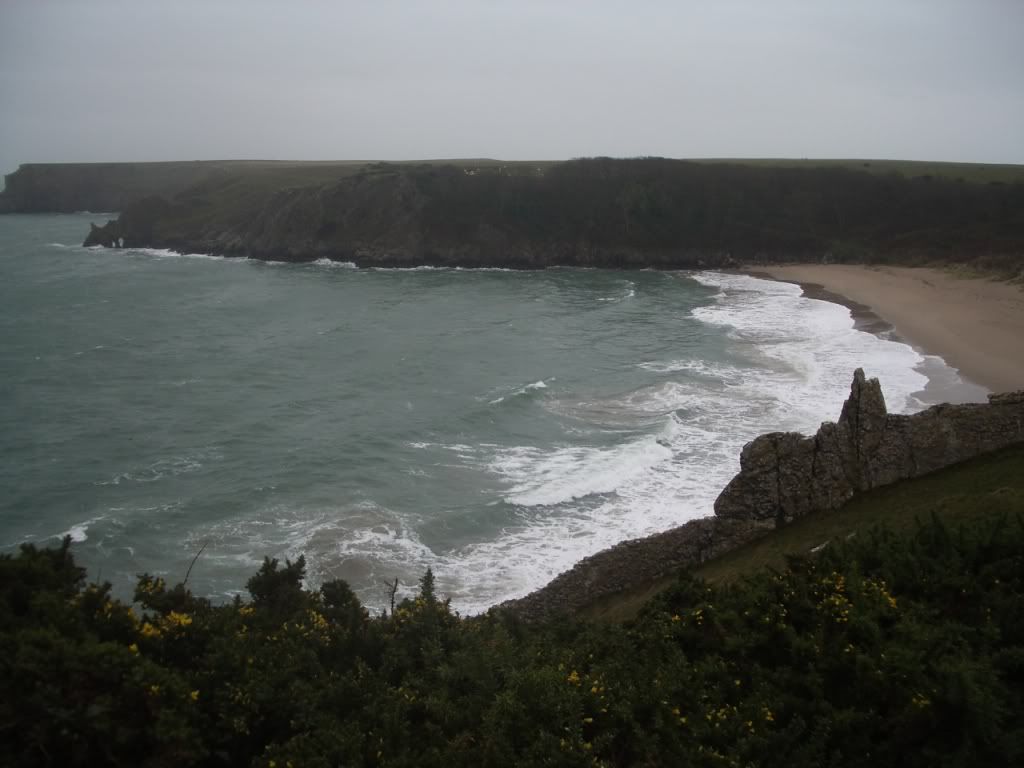 . . . and as we dropped down onto the beach, we seemed to have a little shelter from the gale. The beach was stunning . . . clean, apart from the froth coming from the surf that was being blown up over our head . . . how bizarre . . made us laugh !! We decided to have a bit of a try straight off the beach, and clipped on lures that we could punch out in to the wind. Tried that for 10 mins, then moved on up over the next headland to an outcrop of rock that we'd spotted over the other side. Bit of a drop down to the mark, but another fabulous spot . . . . .
We had a nice 'relatively' sheltered spot on the rocks here (apart from the odd wave crashing up and nailing us), but the swell was a little challenging. The only lure that i could get to realy bite down enough was a Megabass Live X Revenge. The feedback coming up the line from this lure was incredible . . .what a belting little lure . . it was working it's socks off !! Griff & i tried a few lures here, but it just didnt seem to be happening, so rather pleased with ourselves for finding a new mark to explore again another day, we headed back to the car.
It was then off around the coast to the next mark, & what a mark !!! It's a spot that has produced Bass for me over the past month, so we knew that they were there . . . but the wind !!!! We knew we were in for a tough time when as we came through the dunes onto the beach, the sand that blasted us in the face, made us both wince with pain !! Ouch!! We soldiered on regardless, and got into the rocks, but it was at that point that the strength of the wind opposing us really became apparent. It was tough to cast, the line was getting pulled-around by the wind, popping the lures up to the surface, the spray was soaking us . . . . but . . .something that i can't ever remember experiencing before . . . the wind was blowing us off our feet !!!!! Feck !!!!
We stuck it out for about 20mins, but after stumbling around on the rocks, we thought 'enough was enough', so we headed back to the car, and off around the coast again to another mark (checking out some others along the way). The last mark that we fished, looked ok from the top of the beach, so we headed over onto the rocks, but again THE WIND !!! Water clarity wasnt great, but it was fishable, it was just that the wind was making it so difficult to work the lures, and to cast. We gave it about 30mins there, before enough was enough, as Griff took a welly full of water !!
So that was that . . the roads were really badly flooded as we drove back, and i was very glad that we were in Tim's 4x4. Amazing how much worse they'd got since earlier in the day.
So, what did we learn . . . . .a bit more about a few marks, and a bit more about what conditions may be fishable, and not.
As for me, it's time to look at some of the 'really' waterproof clothing, as my Grey's GRXi wading jacket just does not do the biz in those extreme conditions. I think that gear like that is only waterproof up to a point, & in gale-force whatever the hell it was, with driving rain, it was outgunned !! I'll start a seperate thread to discuss that (i know it's been covered before, but i need the latest thinking on it).
So . . . . i can honestly say that i had a wonderful day, with excellent company, and i thoroughly enjoyed. I would have loved to have seen a Bass landed, but it wasnt to be. But . . . that's why they call it fi. . . .
http://www.youtube.com/watch?v=6M8TwtdWFlg