Cobh Harbour Trip Report 25th July – 7th August
Cobh Harbour is a pretty town inside the world's second largest natural harbour in the world after Sydney; an ideal base for trying my luck for Irish Bass!
I had picked up a few articles on the self-drive boats available over the last couple of years through various magazines and web articles and didn't take long to hunt down the website for the Bella Vista Hotel and Boat Hire website. This year the timing was right to book a trip over; originally I was looking for some Irish Bass fishing and the self-drive boats added the possibility of taking over my 85 year old Grandad who is still recovering from a knee replacement op and my Brother was planning to join us too for a few days. I fell in love with Ireland when I was last over in 2008 and the stories I told to my Brother and Grandad made them even keener to give it a try. My Brother Rod (how apt!) and I were taught to fish over 30 years ago by my Grandad cutting our teeth digging lug and fishing estuaries and beaches in North Wales for Bass – we caught a few now and again and this was a chance to help them both get back amongst the Bass.
Anticipation was high – I had booked two weeks in a SC apartment with 8 boat days. The apartment was huge covering two levels and sleeping 8 max as well as being dog friendly as we took our Whippet with us. We had Suite 4 comprising of large kitchen /dining room, lounge, reception room, garden, patio with big bathroom and 4 large bedrooms upstairs (Family ensuite, two doubles and a single).
Kitchen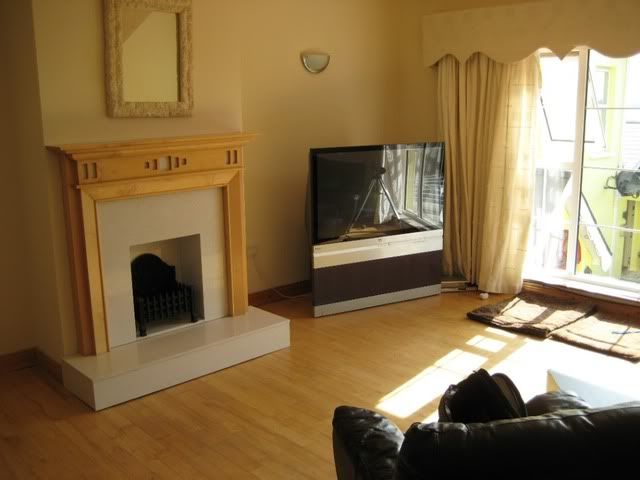 Lounge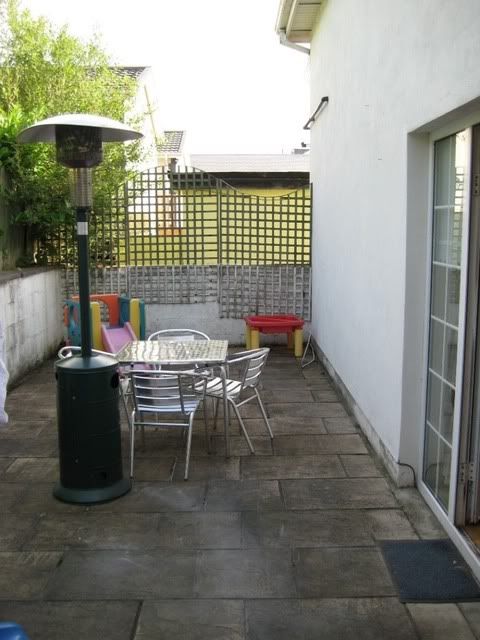 Patio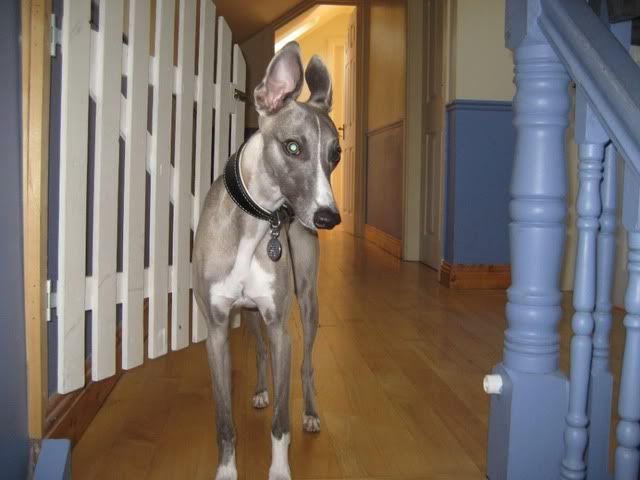 Dog looking around upstairs!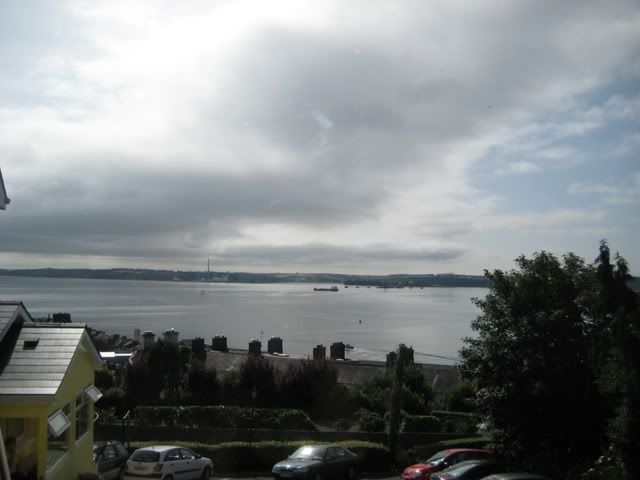 View from the lounge over the harbour
The boats I knew were going to be top notch; Warrior 175's with 100HP 4 Strokes and new top drawer Lowrance units and VHF – Kevin had block booked the new boat for me so I could pick and choose the days as I saw fit.
Cockpit
Rear view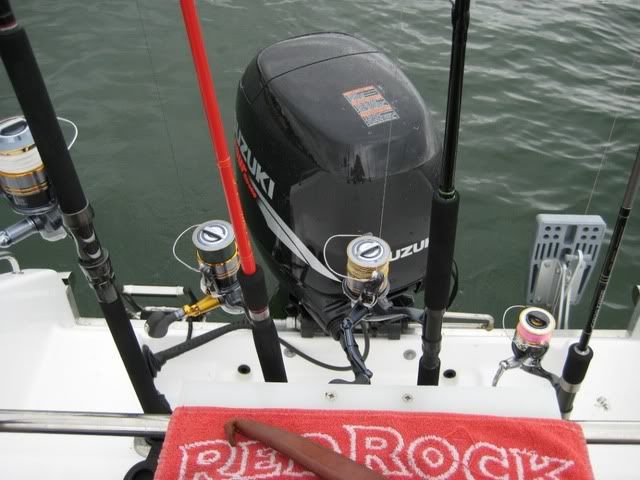 Twinpowers!
Knowing local knowledge is key I set about booking a couple of local guides and networking with contacts on the forum so I could get a head start on likely spots to try. Kevin Murphy runs the hotel and boat operation and welcomed us on the Sunday; I was keen to get the boat setup tackle all ready for Tuesday's first run out. I was very impressed by the outfit and how Kevin has set things up – he gets a lot of travelling anglers from all over Europe … Dutch, Italian, French and of course good ole Brits present whilst I was there over two weeks – busy springs to mind!
I setup on Monday morning getting the boat rigged the way I wanted it – Kevin kindly ran me around the harbour to check out a few marks in the rib and we ran into Jim Clohessy from Irish Angler Magazine who had bagged a nice Bass earlier in the morning; quick chat and back to base to await Tuesday's first foray. As I mentioned earlier I tend to research and network when I am going somewhere I haven't been before – I got in touch with Pat O'Shea via the forum and after a quick phone chat we were to meet him out at a mark in our boat the following morning at 6AM …
Tuesday 27th / Wednesday 28th Fishing
I had had a fair amount of small boat craft experience over the years but having a brand new boat and engine package was awesome – kid with a new toy! We headed up to the mouth of the harbour to hit a couple of marks along with Pat in his boat showing us the locations. We had good tides and reasonable weather – fishing was tough with a few boats out running down similar drifts. I bagged a few school Bass on the fly early on before we tried our hand at some HRF tactics over lovely thick kelp forests. We managed some nice Pollack and Cod around the 2lb mark on small Senko's and Hammer Shads in reds and browns before it was time to head back in … Wednesday was fairly similar – we had some good sport with Mackerel on small Smith metal jigs with barbless assist hooks – taking care NOT to handle the fish and destroy their sensitive skin whilst returning them. We did try live baiting with whole Mackerel but no joy – the HRF proved to be brilliant fun!
Thursday 29th Guided Session with Mark Houlihan
I had picked up Mark's website purely by chance around a fortnight before going over to Cobh, after a quick discussion he mentioned guided Pollack fly fishing out of Kinsale just down the coast using his centre console boat – this was intriguing as I hadn't targeted Pollack on the fly before. Mark gave me a heads up on patterns to tie before I came out so I was ready with a handful of heavy clousers in tan over white, all pink and all green chartreuse tied as large crazy charlies. I drove down to Kinsale for a 4am start and met Mark on the harbour side to launch the mother of all centre consoles! (sweet boat!)
We were out on the mark about 30 minutes later and got stuck into the fishing – we were using heavy sinking lines (400grains+) on 8wts with 20lb short tippets and different clousers – chuck 'n' duck lines as Mark had christened them. We were fishing a dramatic series of coves with huge cliffs and rocks that finished were the crystal blue water started – depth was between 6 to 30ft and we counted down accordingly. It was a lovely clear day with high cloud cover going and sunshine peeking through – eerily quiet against the cliffs and fortunately the fish wanted to play … I would put a conservative estimate at about 50+ fish each with a good proportion being over 2lbs and the best going to Mark at 7.5lbs which I feel is phenomenal fishing for a mornings work. I had two nice slabs – both took with a gentle bite and you could feel it lock solid when you strip strike into them before going mental with fantastic crash dives. We also had small coalfish and a surprise codling come to the party too!
Smiler!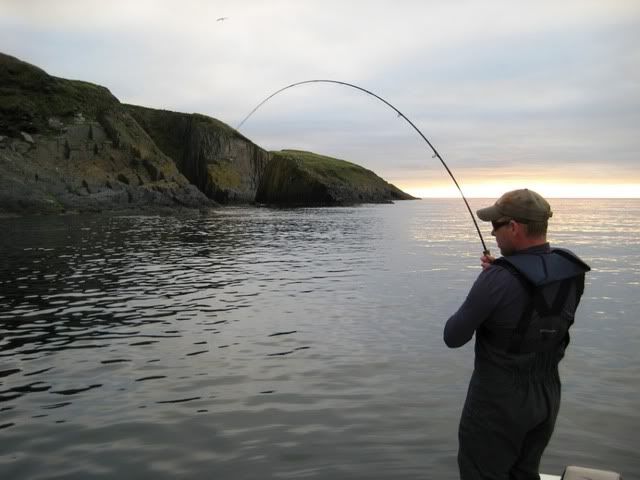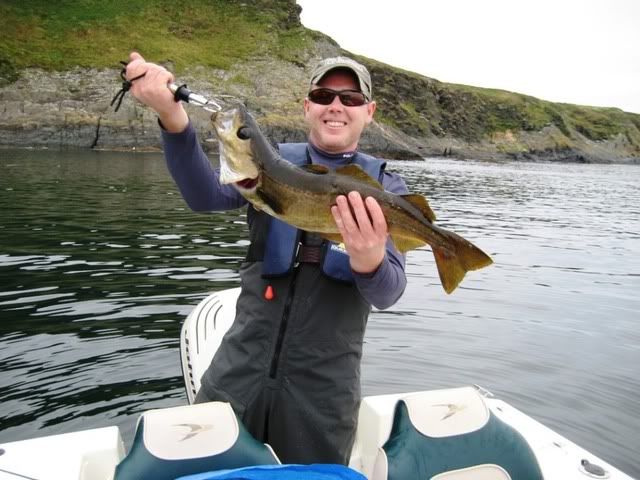 6.5lbs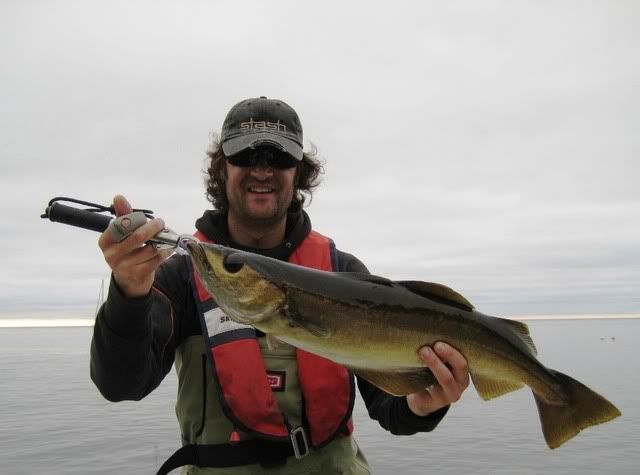 5lbs
Mark tried to raise them on poppers before falling back to the deep assault; tan over white and green chartreuse scored better than any of the other flies we tried – it was a good day to chop and change and see what worked and what didn't. Interestingly we anchored up to try a head with tide flowing over it and Mark was hitting fish and I wasn't … same leader, same fly, same retrieve but I reckon it could have been down to him staying at a constant depth with a deep head and intermediate line over my even heavier head and floating running line – something was off just enough for them not to follow on and hit the fly … it's good when you can get to work out the issues and slight nuances …
Thursday for me was a real eye opener for big fish willing to fight in bright sunshine and no current – Mark believes the fish are resident and the fishing readily available – his best going 13.5lbs on the fly … the broken rods on board reinforce the point this is not a finesse sport! I imagine HRF would also score heavily – something to try next time 
Mark's websites -
www.flyfishireland.ie
and
www.aquatecfishing.com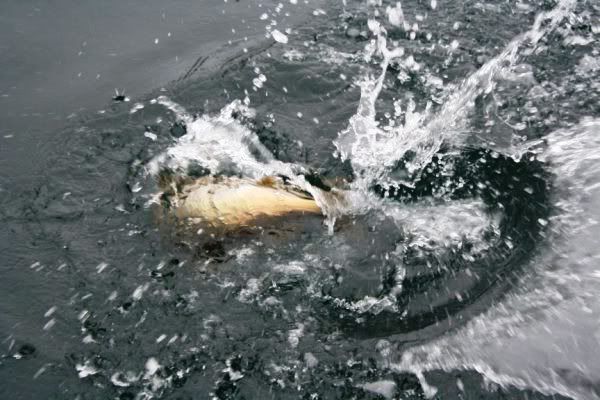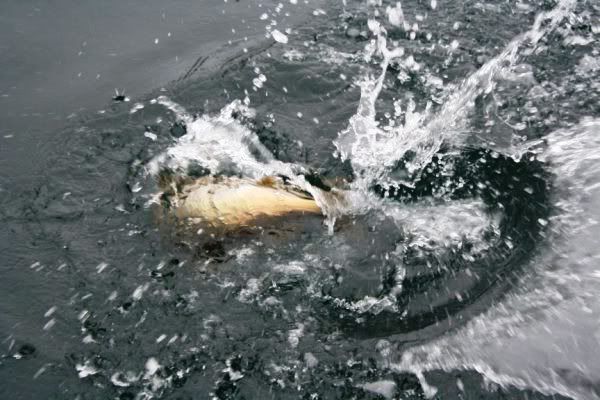 Friday 30th / Saturday 31st July Fishing and Guided Session with Richie Ryan
Friday was another self-drive day – my brother had joined us as he flew out Thursday night with his other half and my niece. Early start and hit a couple of Bass marks – no silver spikeys but introduced my brother to HRF and we immediately got into some Pollack and Cod
Saturday I had booked another guided session with Richie Ryan for myself and Rod – Rod hasn't caught a Bass in over 25 years and never on a lure so I was determined to help him get a first!
Richie picked us up in his skiff at 8am and we soon whizzed round to a mark where he set my brother up with a prawn bait and trotting float – didn't take long for Rod to score meanwhile I thrashed the water with the fly rod with no joy.
First Bass in over 25 years …
We moved on to a different mark with us both using hard lures – Feed Shallow in Baby Pollack scored again for my Brother … left me scratching my head!
Smug 2-0 by my younger brother!
We moved to a different mark with very fast flowing deep water – around 25ft; ideal to teach Rod a bit of SP technique bouncing a Madness Mother Worm on a football head – sort of vertical jigging and keeping in contact with the bottom and feeling the activity … didn't take long for him to score again! 3-0 and we called it a day.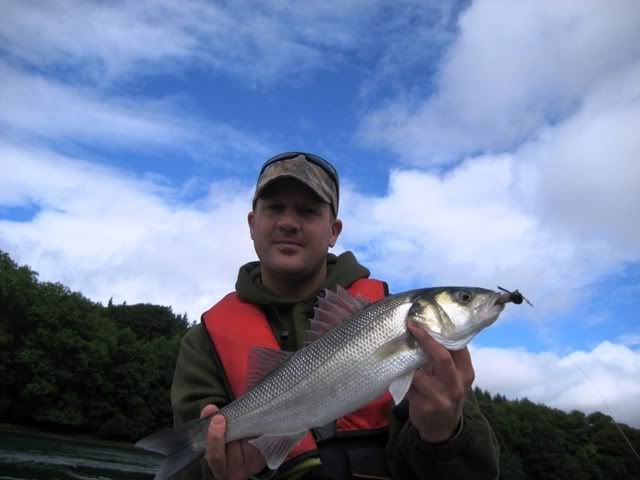 Ah well a good result for my brother on a day when the weather was a bit brisk and changeable!
Richie's website is here
http://www.corkbass.com
We took a break on Sunday and Monday – all change as I dropped the family off whilst non-fishing friends came out for the second week. As I was still intending to fish in the mornings I used my cunning networking skills and went local.
**A crew of Italian guys had come out for a whirlwind fishing trip filming for Sky TV (Lure vs Fly!) – only afterwards I realised it was Nicola Zingarelli who is a contact going back a few years – I hadn't recognised him and missed the chance for a pint of the black stuff and a catchup! Dang … anyway his report is here;
http://caranx.net/wp/?p=547
**
Tuesday 3rd August – Shore Fishing
Pat O'Shea had invited me out to one of his shore marks for an early morning assault – pickup was 4am and we headed off into the countryside in the darkness. We drove through thinning mist that gave it a real atmosphere as we pulled up along a field … a quick march over barbed wire, commando roll under an electric fence or two and a tricky descent down to a lovely bit of shoreline – classic Bass ground just before dawn. I had a lighter rod with me (Major Craft Crostage) and duly tied on a Patchinko 100 in Cabot – I was on YGK Geso PE 0.8 and 12lb Flouro leader. Pat kindly put me in his favourite spot and pointed out the drop off that I needed to fish along … first cast and swirls under my rod tip in about a foot of water got me thinking … I decided to kneel down and not present a looming figure – if it was that shallow and close I wanted to be as small as possible … second cast and the score book is open! Lovely Bass on light tackle as I guided him along my side into a small gully for unhooking before sliding him back in … I had a total of three fish between 45 – 50cms all in prime fin perfect condition. Changed lure to a larger Patchinko and the z-claw but no joy – the smaller lure was the key. Pat perservered on a weightless SP as his bigger fish had fallen to the SP's trundled through the kelp but no joy so we moved marks as the tide came in before we got cut off.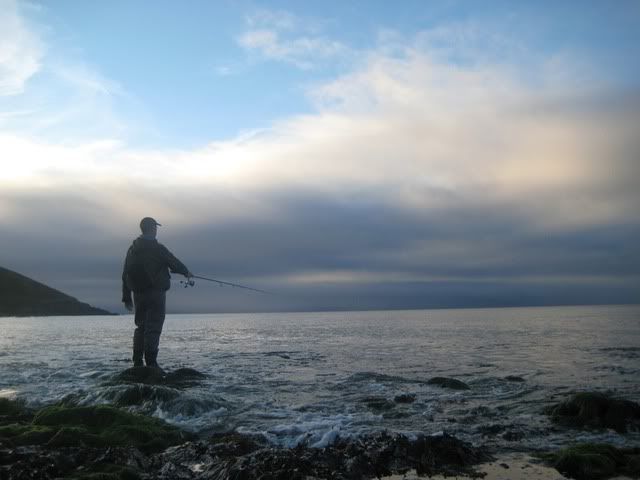 Pat at Dawn
The next mark was a trek 10 minutes across the boulders into lovely deep blue water – I did give it a try on the fly but no joy … it remained fairly quiet so I chopped and changed and got a reaction on my fabled Gateride Yoro-Yoro … a lovely fish hitting 55cms. Changing again back to a flying banana – namely a bright Chartreuse Feed Shallow Plus I could track through the water from splashdown to rod tip – like a visual surface hit but slightly under the water! Another fish around 50cms – Pat mentioned a spot across the bay that I had to do a bit of climbing and jiggery pokery to get too but it was worth it as I bagged another around 50cms. By mid morning the sun was up and the tide had slowed so we called it a morning and trekked back to Pat's car and headed home. Pat had gone out of his way numerous times to help me out during my break – to the point of putting me spot perfect on his marks … unfortunately he didn't managed a Bass himself but sacrificed his own fishing for my benefit.
Pat on Pollack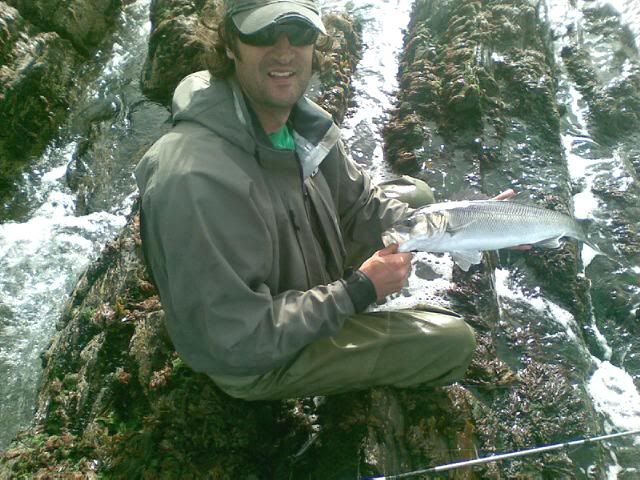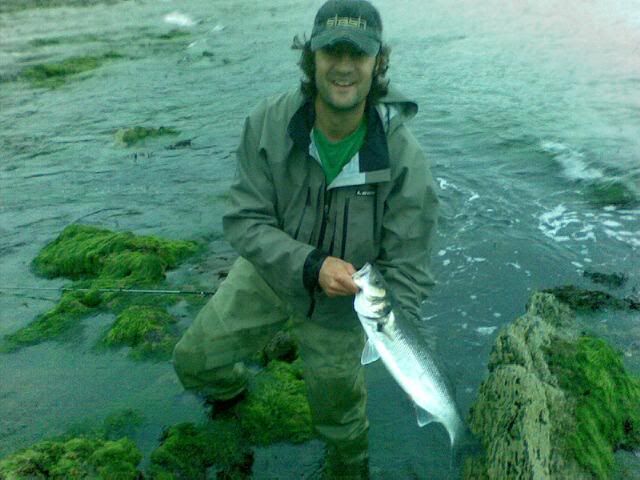 A few pics from Pat's phone
Wednesday 4th August – Guided Session with Mark Houlihan
Mark had some free time during the week so I took the opportunity to get him out in Cobh Harbour – another area he guides for Bass. 7am Start saw Kevin getting us out on the water in a timely fashion to catch the last of the incoming flood – tides had abated this week to neaps so not ideal but he was confident we could winkle a few out on the fly.
The first mark didn't produce – partly because the water was gin clear and we got there a tad early. Wind was picking up but the sun was out so it was a case of finding a sheltered mark to flyfish in. We moved onto a different location – one I had not tried before with a nasty feature to avoid at all costs – visible reef!!
A mixture of anchor and drift fishing onto the feature produced Bass – first to the fly and then on lure with all fish around the 50cms mark – schoolies by Irish standards but I was delighted at the average size (doesn't take much to get me wired!). We spent the best part of 2 hours getting irregular fish before moving outside the harbour to give it a whirl. The tide was approaching high and the water was almost too clear – I could see definitive sand features and swirls in kelp patches in 5 to 6m of water – as clear as gin … one follow on from a Garfish and we decided to go back to the second mark as the tide went out. A prudent move as the fish came back on the feed; the toital tally was around 10 bass – a mixture between fly and lure before calling it a day and heading back for a late lunch pint and a sandwich!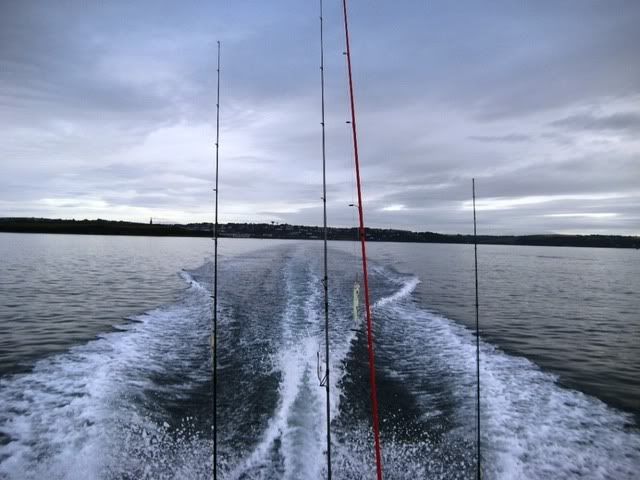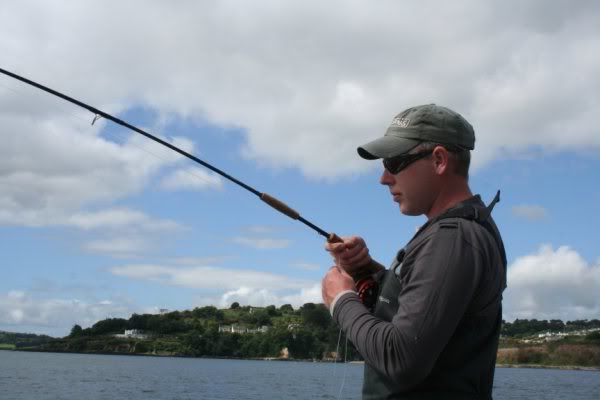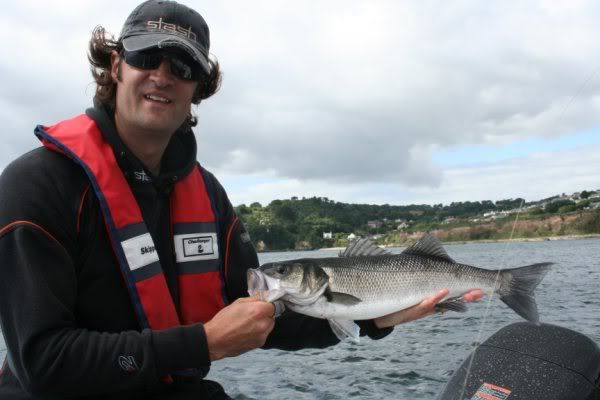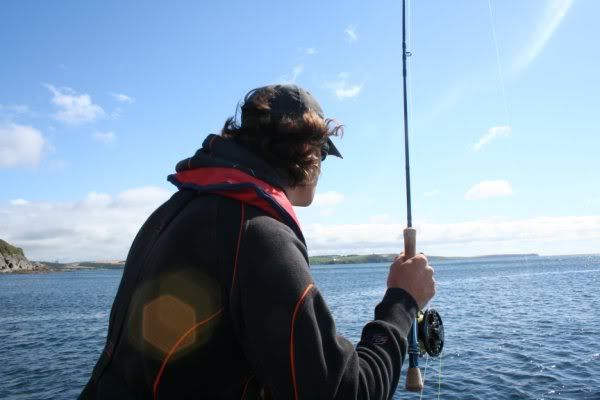 Self-explanatory!
Friday 6th August – Last Fishing Day
My last fishing day and I had desperately tried to get hold of Pat C for a morning out – technical fail on my part meant I couldn't get hold of him Thursday evening so I called Kevin up on a last minute "whatchadointomorrow" call as I didn't want to go out on my own …
We headed out again at 7am in blustery conditions which pumped the swell up and made for choppy navigation inside the harbour – all credit to Kevin he didn't complain about me banging him around charging across the chop! We tried a multitude of marks including a sheltered deep mark to no avail (although a surprise cropped up – see pics!) – not a lot of tide flow due to the neap tides but I still managed to winkle out a couple. Kevin Murphy and Jim Clohessy were also out and we caught up with them – Kevin mentioned he was going to try a mark before heading back in so we tagged along for a few casts … first drift … FISH ON! I managed another 50cms+ on my trusty Gateride and Kevin followed suite on a Mullet Zonk which dropped at boatside. I had another nice Bass that had been gorging herself on the reef – at least a dozen shrimp and two small peelers stuck in her throat which duly got spat out across the deck!
The weather had worsened and a small boats warning was broadcast so time to call it a day and a fantastic way to finish the holiday. I got back to base to see familiar faces from Nantes and Ultimate Fishing gear strewn across the carpark (don't ask about the stickering!) – three of the Ultimate guys were out doing a feature for a French magazine – shame I didn't have time left to fish alongside them … maybe next year!
Hehe I am famous!
Cod on a Gateride? Oh yes as Churchill would say …
Trip Roundup and Scenery Shots
I love Ireland – this trip only cemented the fact that the fishing is there plus the people are fantastic and I was overwhelmed by their hospitality (Thanks guys – you know who you are!) oh and don't forget the scenery!
On the Saturday morning we left the weather had cleared up and I didn't want to leave … another week with big spring tides would have been just the ticket but alas all good things … We stopped on Saturday afternoon before getting on the ferry near to a spot I last fished with Jim Hendricks in late 2008 … conditions for Bass were not great but the sun , sky and water were idyllic and I mooched around checking out the shoreline checking out huge velvet swimmer carapaces and mullet frolicking in the weed trying to hide from the seals … I really didn't want to leave …
Kevin Murphy is the man to contact for enquiries – the level of knowledge, the setup and hotel are there as building blocks for a holiday you will not forget. Things I have taken away with me – networking and local knowledge are key – without guides and people going out of their way to put my on marks inch perfect I would not have had as many fish. Ireland can be expensive so budget accordingly and don't go OTT on the takeaways – I found the portion size huge and we bought more than we could eat a few times!
I am already planning next year – better check the tides!
Hotel Website -
http://www.bellavistahotel.ie
Boat Hire Website -
http://www.bassfishingireland.com
I will leave you with a few pictures that my wife took of the area …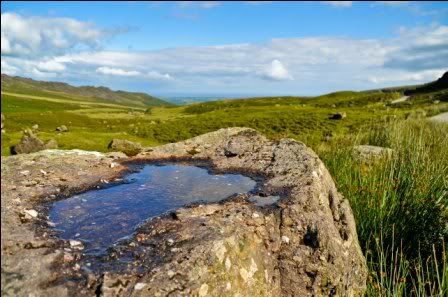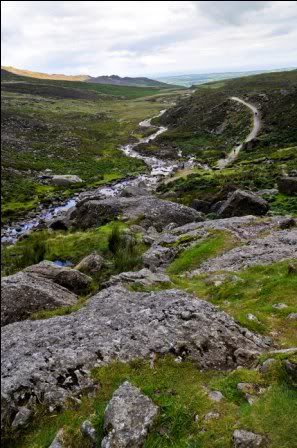 Mahon Falls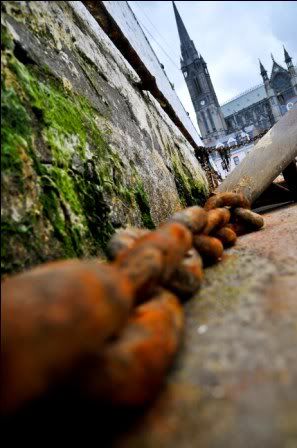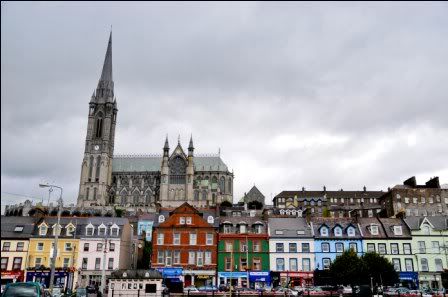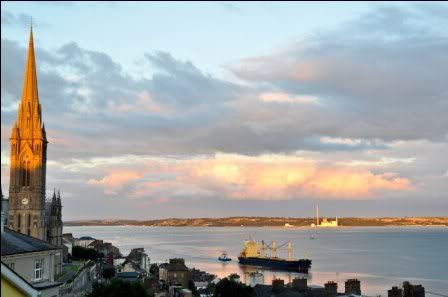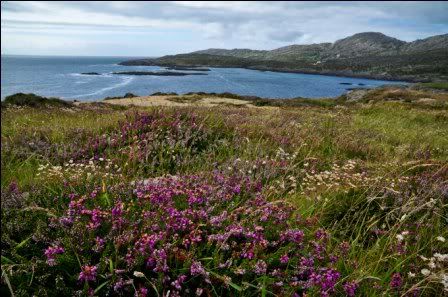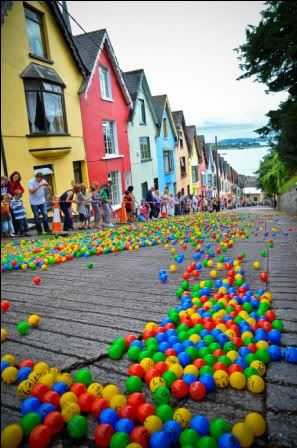 Cobh annual ball run down the Deck of Cards!