I wasnt planning on heading out fishing today, but i figured out that i could fit in a dawn-raid, and be back in time for breakfast. So the cunning plan was hatched.
So, i set off at ridiculous O'Clock, following a whole one and a half hours sleep :shock:, and got to the mark just as the first light was appearing.
As a side note, it's so lovely in the summer to be heading out fishing, and passing people stumbling back from the pub in a terrible state . . . makes me think "
i wouldnt change places with you, for all the Tea in China
!!".
Anyway, conditions were looking pretty good. There was a small swell, just enough to create movement, and light winds. The water was Gin clear, which wasnt ideal, but the low light levels helped that a little.
For the first hour, there was no joy, i worked a bunch of different gullies, using a bunch of different lures. I was then joined by Marc Westwood, who was sporting a brand new haircut
.
We fished on, and confidence was high. I then switched to a soft plastic swim bait, a lure that has served me well on the Pike, and that i've felt sure will work on Bass. A few casts later, and i got hit "FISH ON" !! It was a really strange fight, with the fish staying low, and whilst i knew it wasnt a really big fish, it had a strange weight to it. I got it closer in, and saw a flash of brown, so was now thinking 'Pollock', then when i beached it onto the rocks on front of me, i was greeted by this . . . . .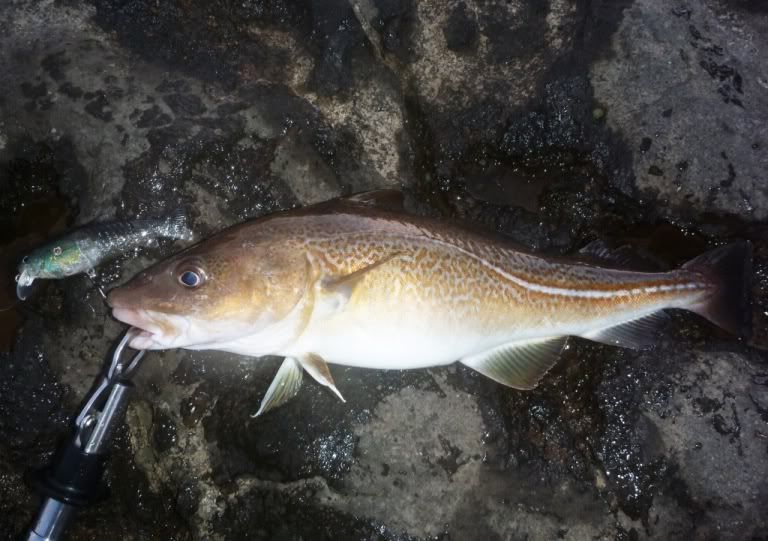 WTF !!!!! It had engulfed the lure.
After a couple of quick pics, i decided that he wasnt going to be one half of a plate of Cod & Chips this evening, and slipped him back in.
Really wierd though - i just had no idea that Cod (Codling) were a possibility in that area. So i fished on with the same lure, and was now officially 'Cod fishing'
. Shortly afterwards, i got hit again. This time i was sure it was a Bass, as it fought really well, - a really scrappy fish. When i got it into the gulley infront of me, it revealed itself as another Cod !! This one was about the same size as the previous one. Unfortunately, in the course of landing him on some tricky rocks, i managed to exercise a perfect unintentional C&R. So no pics of him (shame actually, as he had a really pronounced Tiger-Stripe pattern
).
I fished on for a little while longer, had one follow, but no more takes.
I got home in time for breakfast though, so all of my Brownie Points are still in tact
.
A cracking little morning . . . . . if just a little wierd :-?.