Discussion Starter
•
#1
•
Thursday morning and a phonecall from Pops......'whats the swell like and the wind, where do you reckon?'....being faced with a boring day in work or a day out and wetting a line saw the reply of 'meet you there at 12.30 then' :-D
We arrived at venue 1 and after a brief up and down jaunt, we discovered too much S in the wind and a slightly too big a tide, seesh, back up the hill it was :-( and venue 2 decided on.
At this spot we came across some Dutch wildlife students, some life this crowd have got!! Here was much more sheltered and the call was made for the lightweight gear to make a show :mrgreen:
Deep water across the gully entrance and a 3g head setting an Ayu xlayer on its way......let in sink, watching, twitch twitch and bang 'FISH ON'......the Daiko had a very healthy bend and the clutch started screaming.......I was hollaring for some assistance at Pops in the distance.......3 corking runs later and she was safely in the boga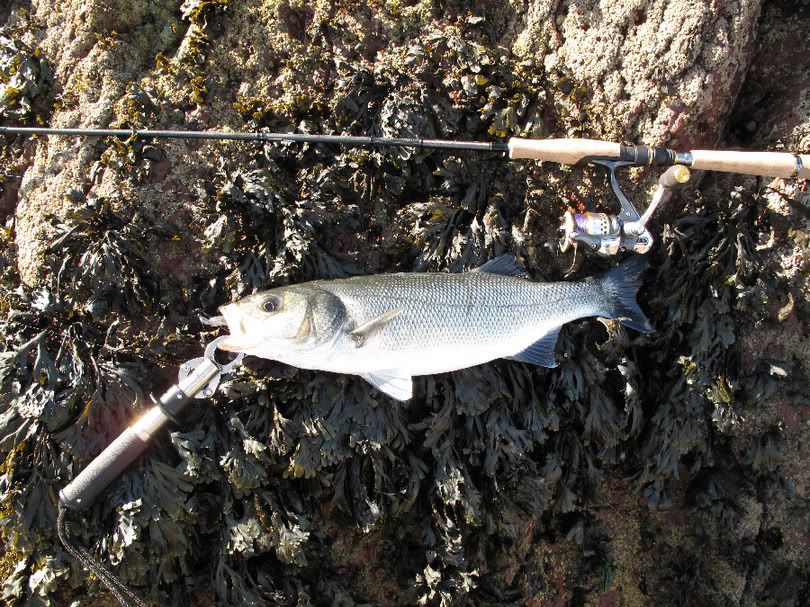 Pops arrived breathless just to see her slide back :-D:-D:-D
On went his shad and cast away he did....shame his pastie fell into the rock pool :-o but nothing more showed. By now the tide was cutting off our retreat so a quick call to move on. 1/4mile later and a steep, slippy, slidey jaunt down the grass bank with some step-cutting on the steep shale at the bottom gave way to a most unlikely ever fished before spot, looking good too :-D:-D
2nd cast and 'Fish On', a nice wrasse giving a great account of itself, 3rd cast and 'Fish On', big swirl and flash and the 'Fish gone'
nice bass too........by now Pops was calling the xlayer cheating :???:....a little shuffle along the boulders and another cast into the shallows.....'Fish On' cry again :mrgreen: another lovely wrasse and a stronger fight. Pops came racing over to enquire about the 'colour' of the sp......'hmm, I haven't got that one', 'here, take one' I say and hook up the purple wrasse magnet for him...........next cast and a new tone to the 'Fish on' chant......Pops was in but then off........'there must be something in these xlayers' he screams.........another throw and WALLOP, 'Fish on'....bigger and better stamp of fish now, she was using the current and put a proper bend into his little baitcaster :-o A tough battle and a cracking 4lber to the shore :-D
A couple more followed before the big effort back up the slippy slidey shite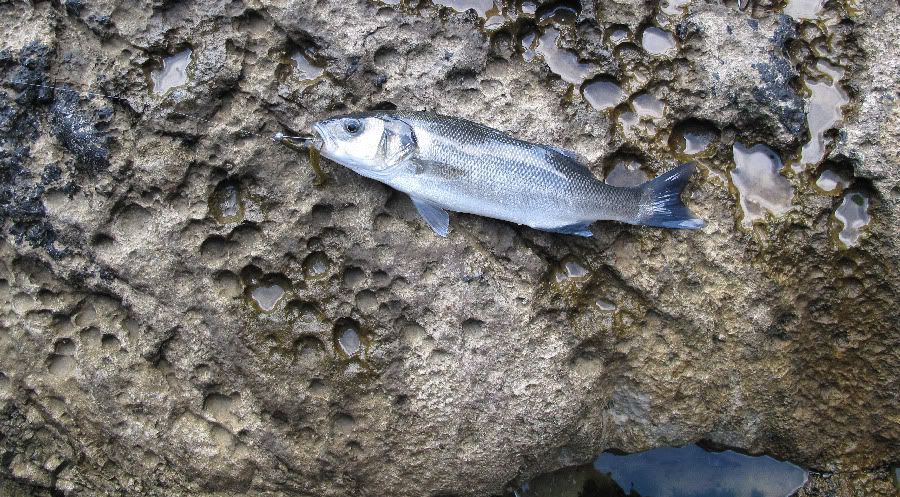 A fantastic afternoon, great company, varied ground and water covered, some slippy rocks and some rough ones, lessons learnt about the effectiveness of the xlayer by Pops (yes they are cheating mate!!) and some stonking fish caught.
Who needs work hey?