Discussion Starter
·
#1
·
Well guys its been a long hard winter, every effort to get out has been hindered with one thing or another like you wouldnt believe. Monday morning though jumping on the chance to drive a workmate to her exam in Swansea I was set. Mr Si Lewisman gave me a good place to try so I headed over to a lovely little bay getting there for about 9.30am and greeted by bright sunshine and a cold wind.
I set off as more of a recce first and walked the coastal path to the next bay along and then worked my way back climbing down where I felt it would be safe to as I was on my own. There were some really good looking spots on the way back that I tried but alas not a sign of a fish.
First lure of the year tried the Holo Silver feed shallow, only caught on that colour once last year but thought it might go well with the bright daylight. Ended up trying several others and dare I say it ledgered with some Rag for a bit but not even a sniff off a crab:-(
I did bump into a guy who regularly fishes this stretch and he gave me some good info if I should visit again but need to have a look at low water to find the markers he was talking about. He said later in the year does well for bass and the odd bream on silver tobys.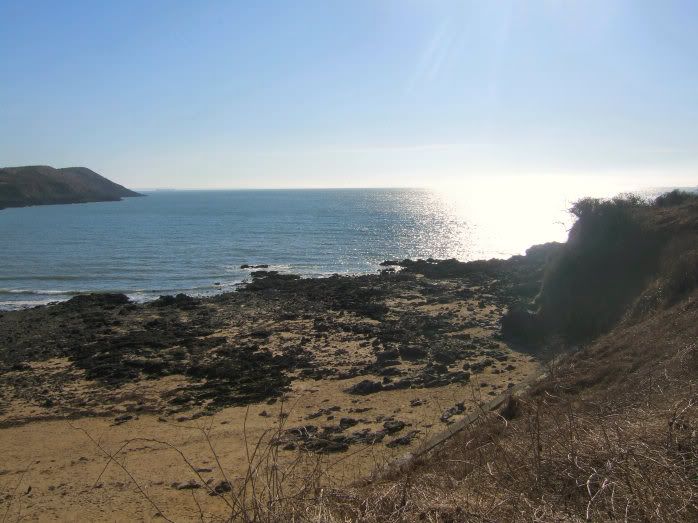 All in all so nice to finally get out for some sea air and get a couple more prospective marks.
Got home and felt knackered after a morning in the sea air but was looking forward to the next day when I met up with our Welsh Guru Iestyn for my first ever attempt at fly casting.
A big thanks to Iestyn for his patience as he endured 4 hours of instructing me on the river in Brecon. I learnt loads off him but need loads of practice (which I have just got in from doing, single spey going well but still struggling with shooting the line out :-D)
As well as the basic casting Iestyn took me to different features on the river and showed me how he would approach them, how to put mends in the line and other bits and pieces. So a big thanks again and looking forward to another session if your up to it:mrgreen:.