Discussion Starter
·
#1
·
I'd decided on a trip oop North to see how the fish are there. 60 mile :shock: round trip (a long way when you live on an island!) to Port Mooar. I'd been told there are some big Wrasse there so hopes were high. On arrival the water was dead flat calm. Rubbed my hands in some stinking Halibut oil ;-) and set off.
The ULX is still ill so it was HRF today. 1st cast on the new xlayer clones, I had a good bite, 2nd cast and the threat of blanking was gone: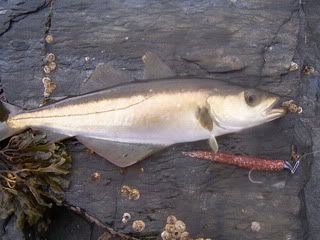 A 1 1/2 lb Callig to xlayer clone mk3. Second cast had me another Callig of the same kind of weight:
to xlayer clone mk2.
Had another two that were exactly the same as the first two.
Then decided it was time to have a play with the new shinies so a little practice at WTD with a couple of new Patchinkos, Z-claw etc. Clipped on a
Zonk
in a cool sandeel colour and had a big hiton a slow stilted retreive, this one was a big better, maybe 3lb but never quite made the surface.
A nice day on foreign (to me) marks, nothing massive but there's always next time...