Well yesterday was tough.
Mark 1. Deep water cove. 0600hrs.
When all sensible anglers were out fishing, I was out the night before at fairly loud 50th birthday party (Gorey Common can you still hear me?) but stuck to a pint of Liberation and not much else to help me through.
So an early scramble down to a promising mark was not a major problem apart from when we get there it seems the fish aren't up yet. Just a couple of bites but not much else on a mark that had produced on evening tides in previous days - was it a lack of sunshine? We are fast forming the view that wrasse are sun worshippers and take a litlle while to warm up. Time to move. Tactical discussion comes up with another mark that will fish in an hour or two. Keith crying out for calories to keep him going so food is next priority.
Mark 2. Cafe. 0830hrs
A full English later and the world is a better place, the sun has come out.
Mark 3. Gentle little cliff mark 0915hrs.
An interim mark whilst we wait for the tide however the wind has increased and followed us around. Not good. A few bites though and a couple of small fish to some great little lures that we knew just had to work. This was one of two fish chasing this lure.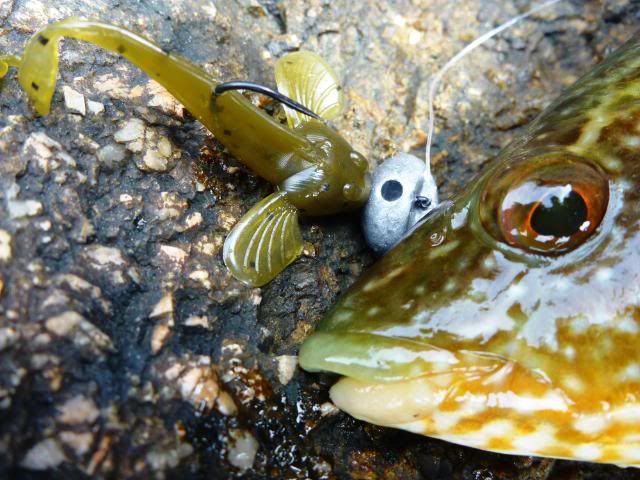 Mark 4. Rocky stretch into shallow water. 1130hrs
A stretch of rocks with a few nasty gulleys to cross. Keith is into an harder than usual scrap for 3.12.
Sorry about the quality, this is on electronic zoom.
Next gulley along and after two strong knocks I hook a zoo-creature that swims straight into cover against a heavy drag and pings the YGK braid before I can even grab the spool. That same drag was hauling in 3lb'ers the week before without much fuss, the rod has had fish over 4lb without too much drama and this fish has ignored them completely and done its own thing. A razorback of the hog world.
Not happy. Expletives fill the air and I am still shaking as I tie on another jighead. Who was it that said that sometimes you learn more from losing fish than landing them? Smart arse.
A few more gulleys later and Keith decides to tease a poor little brown and orange wrasse of a pound or two with a goby lure. Then we decide to walk a bit further to try a spot that we had fished a week before with Callum.
First cast and I'm getting bites in less than 4ft of murky water. We pull out a couple of sub 1lb but welcome fish and then decide that's enough for the day. A long walk back to the cars where I meet an old friend who's just off for a cast on the rising tide....He's seen the forum and we joke about how far fishing tackle has progress (especially our own) since we fished as 11yr olds many moons ago. Olympic reels, tortue mono and solid glass pier rods were the bees knees back then.....!
And that was that. Keith has been up since who knows when (does that man sleep?) and both of us are hobbling with HRF induced knee injuries. We've caught a few, tried a spot we hadn't tried with SPs for wrasse before, reinforced our view that wrasse like the sun and certain colour lures and generally had a good day....certainly a good walk![/QUOTE]