Discussion Starter
·
#1
·
Well, it's been a day of monumental come-backs !!!! This afternoon, the Welsh pulled off a bit of a Harry Houdini against the Sweaties . . . . but 'the' comeback of the day undoubtedly came this morning !!
Following some drunken discussions in the shout-box last night, a plan was hatched to do some fluff-chucking this morning. The beer was curtailed, and with only a mildly thick head this morning, i set off at 6:30am to go and pick up Marc Westwood. We worked out last night, that the last time i went Trout Fishing / Fly Fishing, was 16 years ago (christ, where did 16 years go ??). Marc very kindly let me use his back-up set-up, and all i took was myself & some grub / drinks.
I hoped that i'd be able to get my casting up to scratch, and not disgrace myself, and although i did fluff a few, generally i didnt do too badly.
Things started well enough, when i hooked into a fish on about my 4th or 5th cast, but after a 20 second battle, the fish was off. Still, grinning from ear to ear, i was enormously encouraged by such a promising start. Another couple of follows later, with plenty of fish rising, and we were eager to land our first fish of the day. Marc was first on the score-board with a beautifully coloured Brown Trout . . .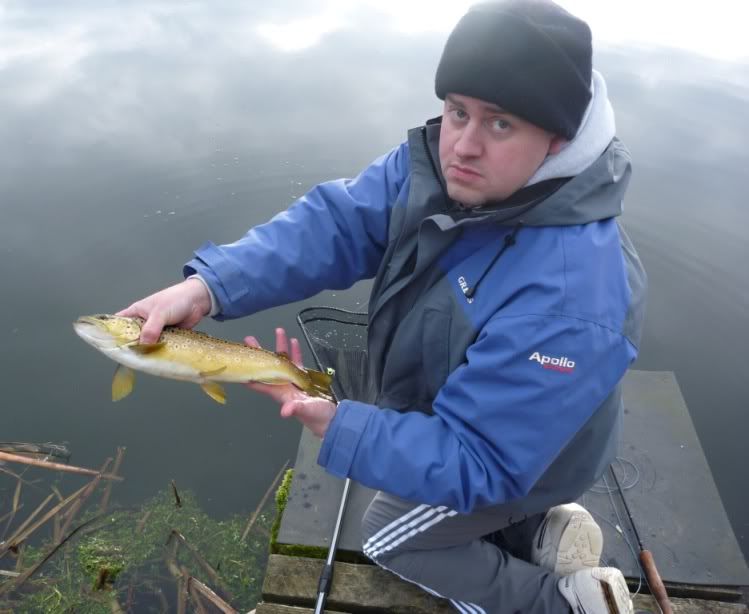 We then had a quiet spell, where a cold biting wind came into play, and we made a move across to the other side of the lake. No joy there, and we were trying to find a pattern that would get things going. Marc then asked me whether i wanted to try an "experimental fly" ??? I was up for it, so tied on a white & blue pattern. Marc had bought them last year after reading an article that had tipped them as a good cold conditions fly. He had never used them, so it was up to me to give them a crack. Within about 5 minutes, my rod was bent into a really scrappy Rainbow Trout . . . . after several really strong runs, and much giggling & chuckling from me, it eventually found its way into the net (expertly handled by Marc). . . . . .
A fine fish, and a wonderful way to come back after a 16 year gap . . . . .
Absolutely delighted with myself, we fished on . . . Marc also changed to the white & blue pattern, and the fish came on the feed . . . .
A 'very' tidy Brownie for me (a pb at around 2.5lb) . . .
Marc in action . . .
Fish-on for Marc . . .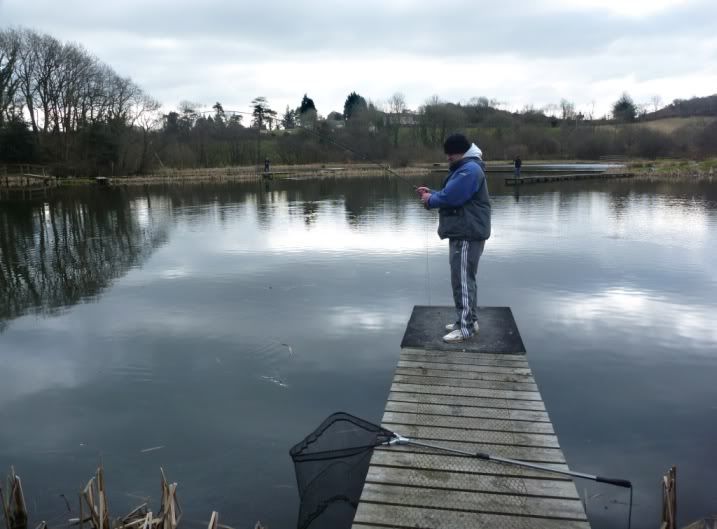 . . . & a Brownie landed (& returned) . . .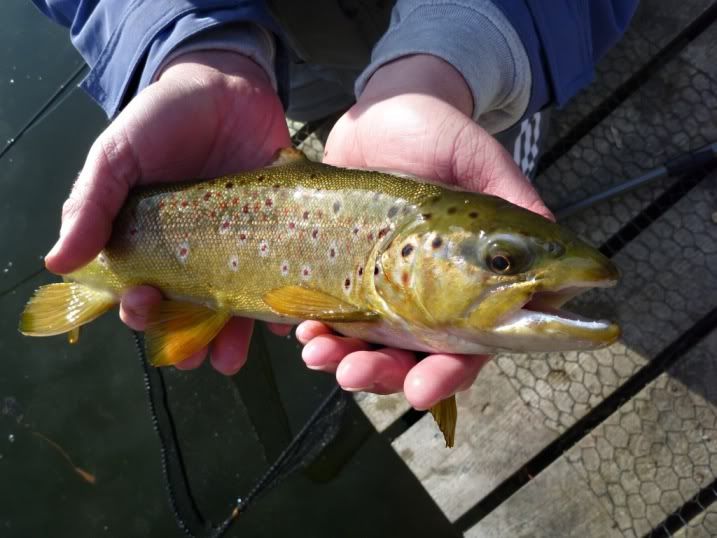 A beautiful scene . . .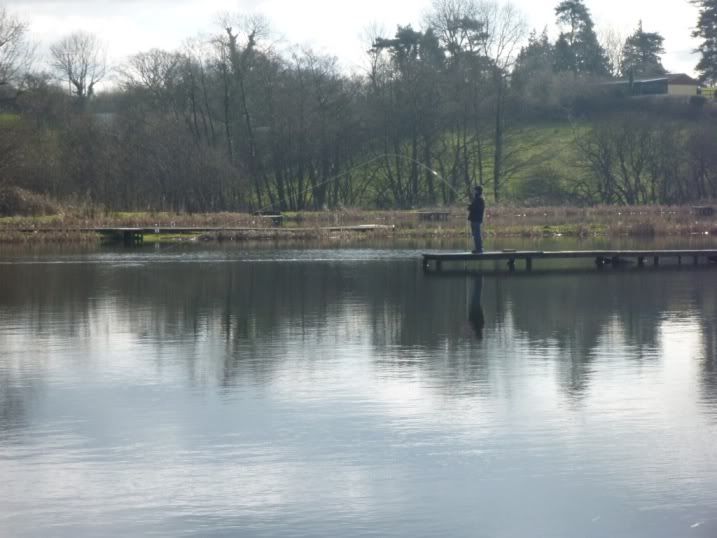 . . a 3rd Brownie for Marc . . . .
. . . and my 3rd Rainbow of the day . . .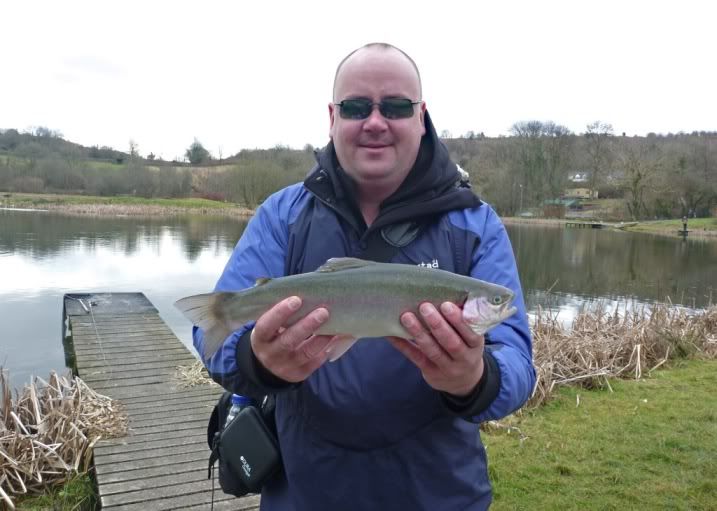 So, the final tally was 3 Brownies for Marc, and 3 Rainbow & a Brownie for me. A very successful, pleasing & peaceful morning.
Looks like i'll be investing in a fly set-up of my own this week !!!!!