Back in the deepest darkest winter, when we were discussing our aims for the season, i think that most of us identified s/p's as an area for development, and this is something that i have been working on recently.
So on Friday evening my plan was to fish s/p's only. Walking to my mark, i passed an old guy with a fishing rod walking the other way. He'd blanked (bait). He looked at my gear, gave me 'the look' and said "going spinning for Bass, yes", i said yes, and asked him what the water clarity was like. He said that it was very murky close-in, which wasnt really the answer i was looking for :???:. He clearly didnt have much confidence in my plan, but i bid him farewell and walked-on.
I arrived at my mark to find that indeed, the water clarity was pants. There was a band of murky water for about 30 to 40yds out, and then it seemed to clear a little. Hmmmmmmm what to do, what to do. Id travelled too far to turn back. So, i abandoned Plan 'A', and clipped-on the Z-Claw. My thinking was to punch a lure out beyond the murk, and to work it just along the clear fringe. I could just reach the clear water, and stuck with that plan for about 15mins.
No joy with Plan 'B'
. So it was time for Plan 'A' again. The water clarity close-in was no more than a few inches, so i went for a paddle-tail s/p with the thought that the vibration may be the key. I continued to fish the s/p for another half an hour or so, covering as much water as possible. Nothing. Then just as high water was approaching, and the light was fading, i was debating which cast would be my last of the evening, the water clarity shifted a little. Not much, but enough to allow maybe a foot of visibility. I dont know why, but this gave me a burst of renewed enthusiasm and confidence !! I bolted-off across the rocks to a gully i'd felt looked good earlier. The light was fading fast now, and i continued to work the s/p, then just as the lure reached the rock, no more than a foot from the shore, everything went tight . . . then 'tug' 'tug' . . . "FISH ON" !!! A short fight ensued, because frankly, the fish was so close in. I got hold of her, moved back from the water, and here she is . . . .
. . . to say that i was chuffed would be an understatement !! It was one of those little moments in fishing where you feel that real progress has been made. Then over my left shoulder, i noticed a light - it was moonrise !! I'm thinking "oh yes"! Two casts later, and with the lure approaching the rocks at my feet (less than 2 foot out), "thump", 'tug' 'tug' . . ."FISH-ON" !!!!
There was very little light remaining now, so i got the fish back from the shore and into a rockpool to take the pic . . . .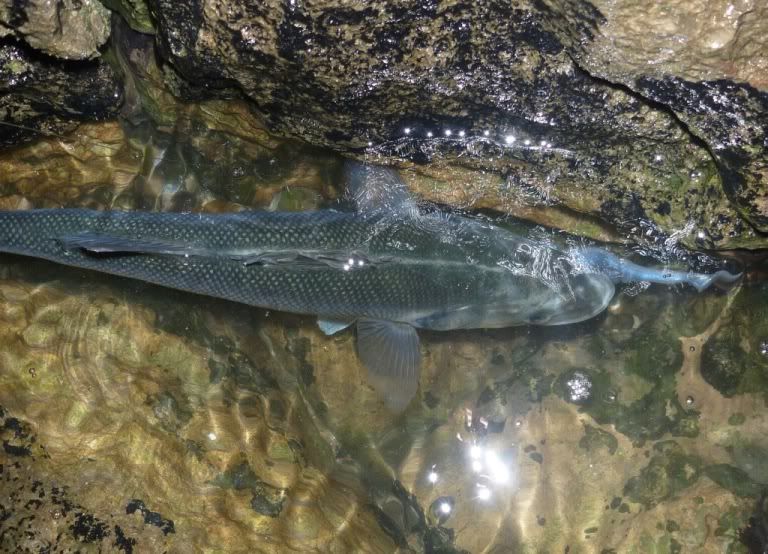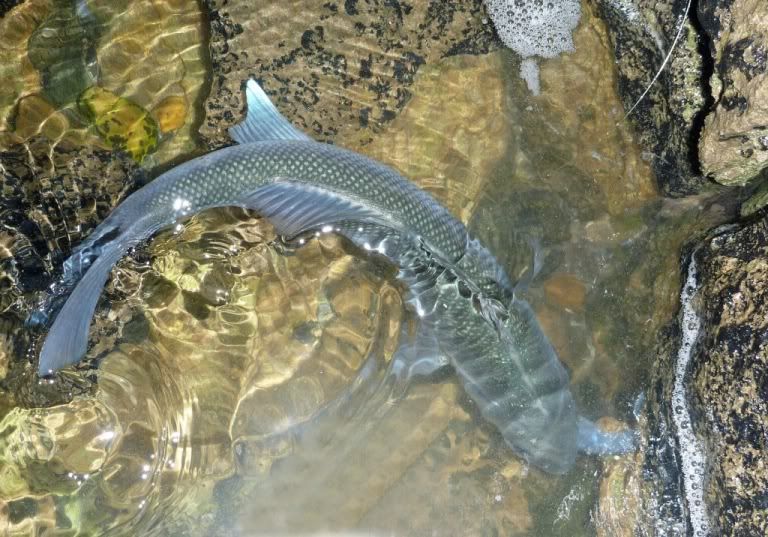 Both fish had gone back strongly, and with no light remaining, the tide receding, i decided to head back to the car. Brimming with confidence though, i decided that this was no time to head back inland and to home, so i spent a few restless hours sleeping in the car, and headed back out to hit first light.
I rigged-up my new combo just as the very first hint of first light appeared, and cast into some white water. 2nd cast, and the sensitivity of the Infeet was just incredible as i felt the fish take the lure . . . . the rod arched into the fish, and i had to quickly adjust the drag, as the line was peeling from the reel. I bent into the fish, and got it onto the shore . . . .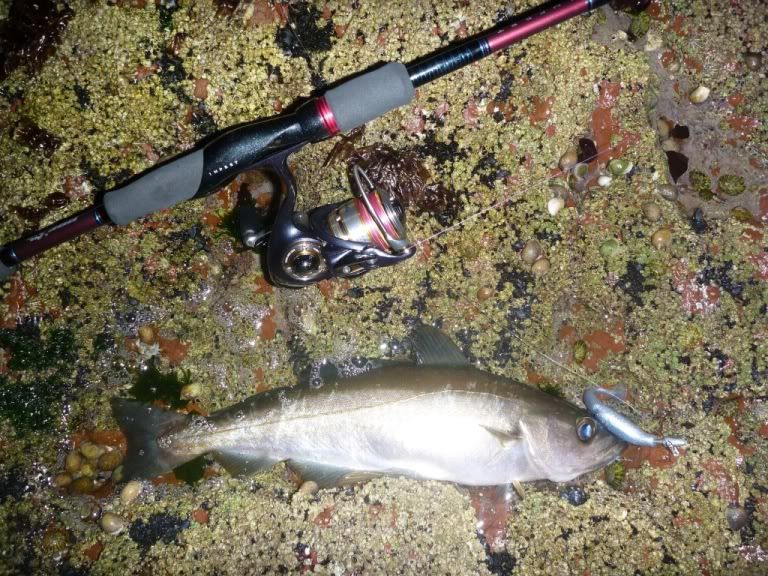 . . . at a shade under 3lbs it was a beauty to christen the new combo. The next fish (on the next cast) was a solid 3lb'er . . .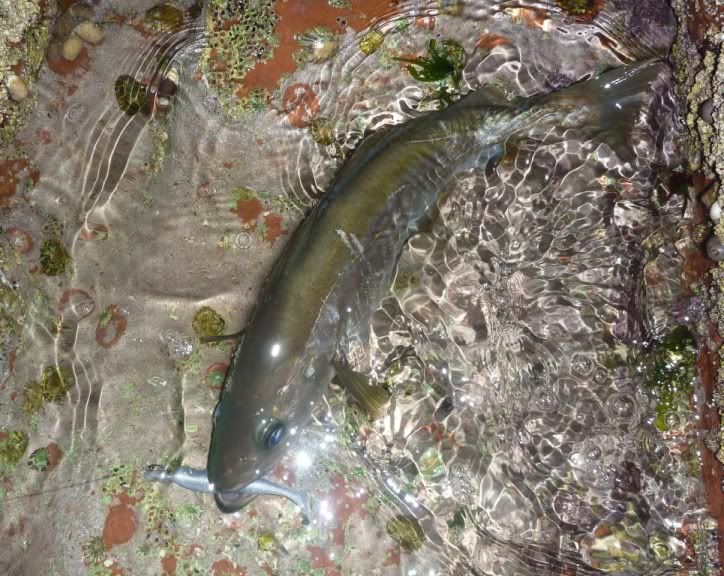 I went on to catch a dozen Pollock, and a couple of these . . . .
The swell had picked-up by mid-morning, and it was getting a little wild. I got absolutley 'creamed' by one particular wave when i made the school-boy error of turning my back to the sea while i unhooked a fish :shock:.
So i headed back off home to get into the comfort of a 'bed' :-D.
16 fish landed across the trip, and not one on a hard lure :mrgreen: !!! Definately progress.