Discussion Starter
•
#1
•
I'm writing this on behalf of Pops Clapham........his typing skills are such that he's getting logged out by the time he's finished the report :-o
Anyhow, no doubt he'll add to the scene I will set:
After another phonecall this morning, telling me that he was off fishing, again, and would I like to join? Now, work are starting to suspect something here......numerous 'short' days a couple of times a week, so the answer was a straight 'No'....so off he ventured, a lone bumbler
, many casts later with the feed shallow mullet but still nothing to show, meant a sit down and snack time (kept the pastie dry this time mate did you??) While considering the wonderful view and pleasant swell lines rolling in, he thought he'd try the 'cheating stick' aka xlayer ;-) He rummaged around in the sandwich box and located a beaten up old Ayu, on with the beastie and flip out along the reef edge........a gentle 'suck' and 'FISH ON'...............Pops fishes with a little baitcaster which was soon to be tested.........after a powerful run and head shaking, Shirley broke surface twenty yards out.......Oh Shite :shock: and he thought he was into a Tope :shock::shock::shock:
After a lifetime of to you/to me/to you/to me with her taking line, he managed to get control and brought her to shore and slid onto the kelp.......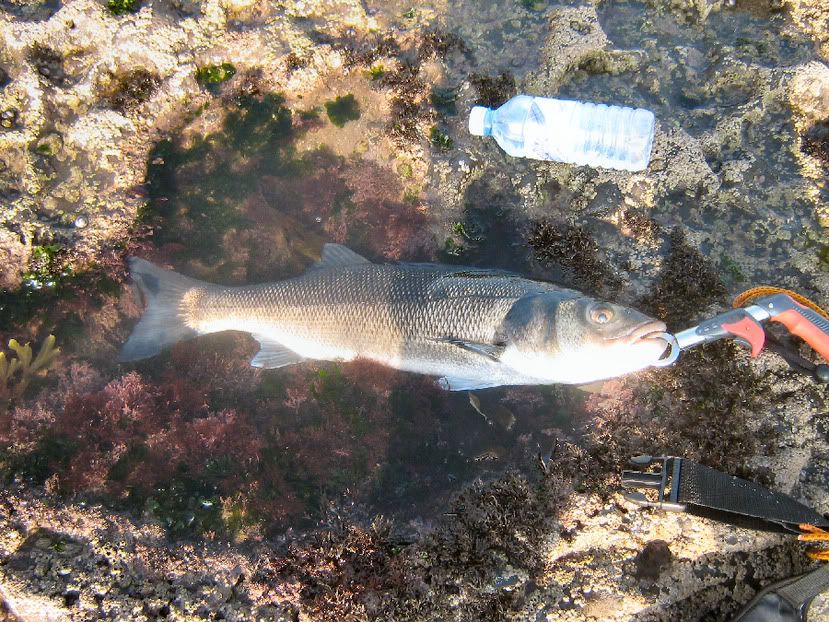 A new PB and measuring 64cm, shall we agree on 6.5lb???
Needless to say, she swam off with a big kick of the tail
Well done on a new PB mate, top angling but you did resort to the cheating stick :wink: