Discussion Starter
·
#1
·
.... they started building an outer breakwater in Port Erin. The idea was that many more ferries would be able to land there, they even built a railway line so that the expected hordes of Victorian visitors didn't have to walk the 1/2 mile into the village.
Anyway, in 1884 there was a very severe storm and the breakwater was destroyed and we were left with what we have today:
This photo was taken the day before at low tide.
This was the venue for a couple of hours fishing for myself and Daws. I whipped my rigged rod out of my carry case eager to try out my
new rod
. I really rated my old Firefly but the ULX is a big step up. I don't know about"fast/slow/tippy actions", all I know is this rod feels much more "quality".
I tied on a 3g jighead a stuck on a new-to-me lure, a
Savage Gear Dying Minnow
(the top one). Flicked it out over the blocks to retrieve back over them, as soon as the lure hit the water I felt what I thought was the kelp snagging, then the kelp started swimming away so I set the hook - fish on! A lively scrap was had, trying to steer it away from danger and the result was this: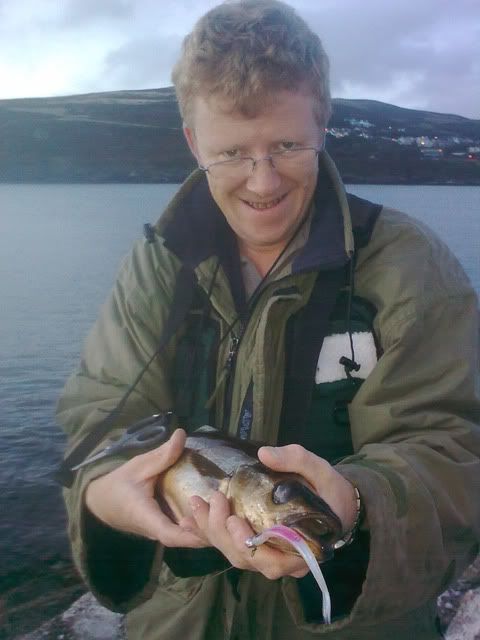 A Callig of about 3lb, new rod first cast, let's hope it's an omen!!!
We fished on for an hour when I took another 4 Callig and Daws ("my sandeels are too big!" :shock
caught nothing, to his absolute disgust. All the fish were about the same size.
Then the divers came for a night dive with their big shiny lights, we tried to scare them them off by telling them about the 6ft Conger Daws had pulled out last week but they weren't having it. We gave in and went home, me on a high having christened my new rod in fine style, Daws with his tail between his legs.
Lures 5 - 0 Bait :-D