We hit our first mark around 9am this morning (after George's haircut!) and although the water just either side of the beach was quite clear, the area we wanted to fish was pretty murky. There was a fair swell but nothing to worry about, it was the visibility that made us move. We did have a go on the reefs on one side of the beach which looked terrific and I was surprised we didn't even move a fish.
We then headed up to a sheltered mark just up the coast and fished some rocky ledges before climbing over to a deep water point around high water. I managed a bass of 45cm in the deep water just inside the point, using a 4 "Senko worm fished on the drop. It went like stink and I was amazed it wasn't bigger when I landed it. Cleanly hooked in the top lip, it was easy to return. I was doing precisely nothing with the lure when the fish simply hammered it. We then went back inside to the rocky ledges but nothing showed despite great water clarity (2-3m easy). So last port of call was the sandy beach in the Bay as the tide dropped. I hooked a schoolie on a Feed Shallow just off the front of the beach but that was it. Disappointing really given the conditions as it promised much more. We caught but 2 hook-ups in 6 hours isn't brilliant.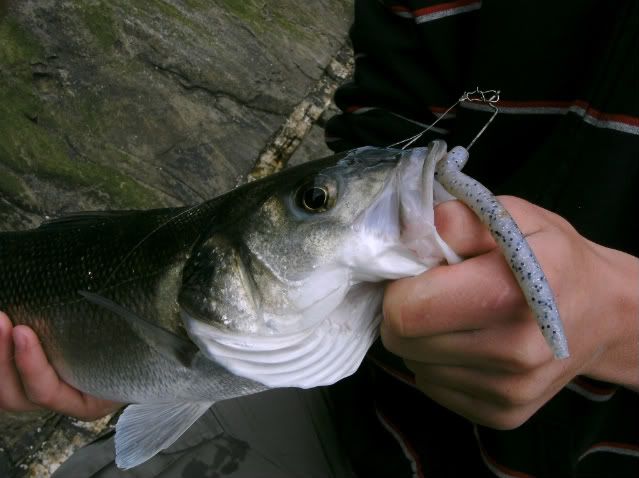 However, my first fish on a Senko and on the drop. Hoorah! Some of you will know where this is. Gorgeous isn't it?