Discussion Starter
·
#1
·
During our Nantes trip Vidar, Andy, Alex and myself got talking about Thames piking and the fact that there wasn't long before the end of the season. Vidar was keen to go, so was I, so a trip on the last Friday of the season on Vidar's boat was arranged.
We met at Penton Hook Marina at 6.30am and no surpirses to find very few people about and not many boats moving. I have never been there before and the place is massive. Absolutely choc full of boats from little dingies through to £1m gin palaces.
As expected Vidar brought a selection of baitcasting kit that any US bass pro would be proud of. I bought a baitcaster and a fixed spool outfit (hmmm, was I undergunned?). We started off having a few casts from the mooring with the intention of catching perch. Vidar had said that they usually catch a few around the moorings, occasionally some good ones. A bit awkward to cast in certain directions but a start. That start came to an end when I caught a boat. Now my little soft plastic rod has a fair bit of low down power but the boat was tied to its mooring so it wasn't an even contest. We unhooked my lure and set off for the proper fishing.
We tootled off down to a big weir, casting at known hotspots on the way down still trying for perch on smaller lures but the river was running far too fast to fish properly. So it was back to the marina entrance. We ended up about 30M from where we started but in the entrance to the marina and quite close to the junction with the main river. I decided to use the baitcasting rod, a Major Craft 7ft rated up to 1.5oz. Vidar chose a lighter swim bait rod.
Water was a bit lively around the weir.......
A picture of concentration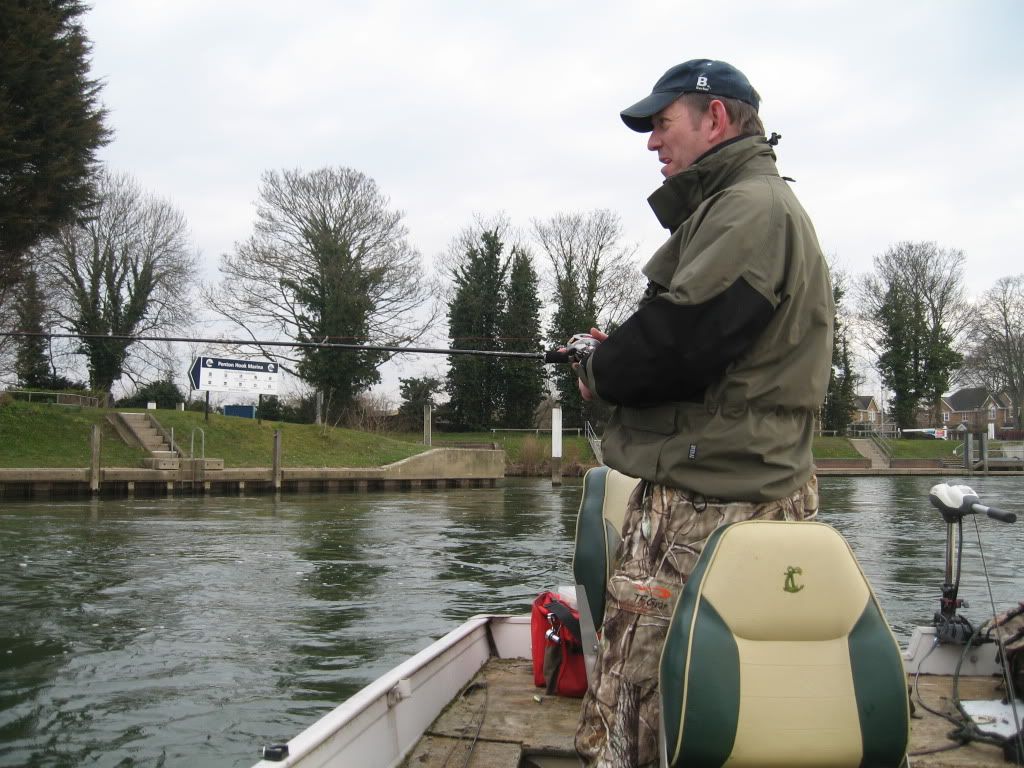 First cast and a minor overrun. I pulled a couple of feet of line of the reel to free it, started winding and fish on!!!! At first I thought I had caught the bottom or something but no this was fighting back. Anyway, the fight was over pretty quickly and the fish returned without any pictures taken. The fish weighed about 4lbs or so and I think Vidar was embarrassed to have it in the boat, nevermind take a picture!!! A good start though, first cast on the new rod too.
After about ten or so minutes Vidar had a good take on a lure that can only be described as a bit 'in your face'!!! About 2oz, and orange, yellow and black. Visibility was surprisingly good so it could proabably be seen from a fair few metres away. The fish took just under the surface and shot off downstream. It was pretty obvious that it was a bit bigger than four pounds....
Big tail pattern....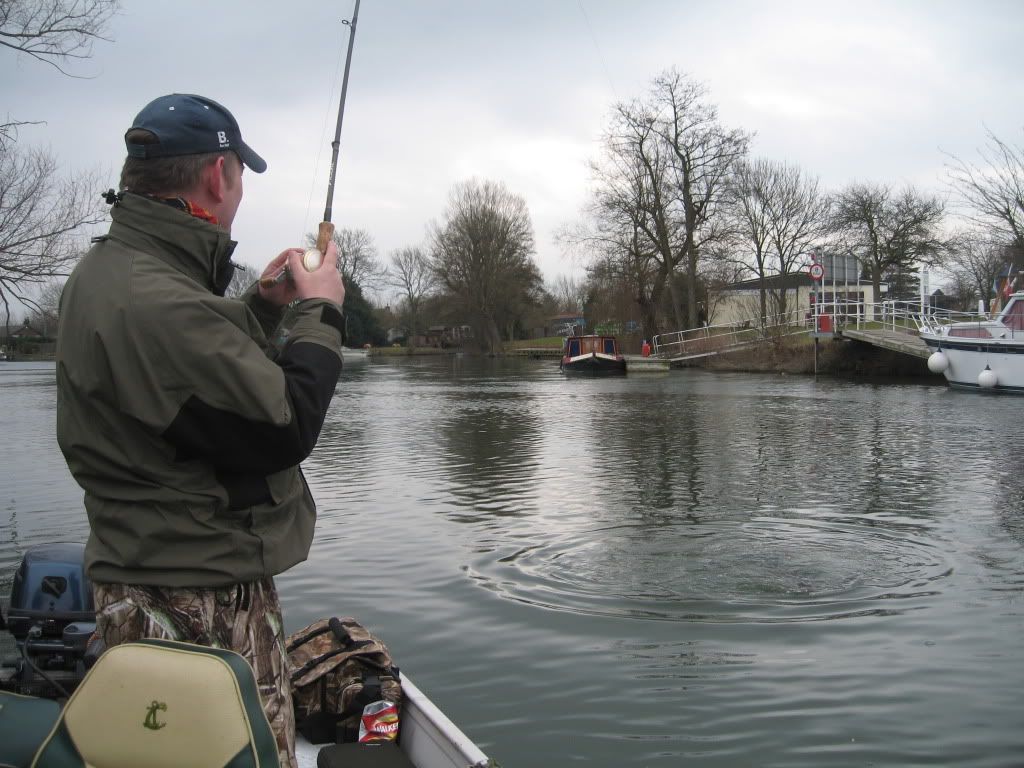 It gave a good account of itself and it was definitely a bit of a croc! Of course it was no match for Vidar's tackle and it was duely lifted into the boat. At this point the memory card was full on my camera, I had borrowed my girlfriends as it was smaller and didn't check the card before using it. Muppet! So there are more pictures but Vidar has them on his camera. The fish weighed 17.5lbs and was in very good condition.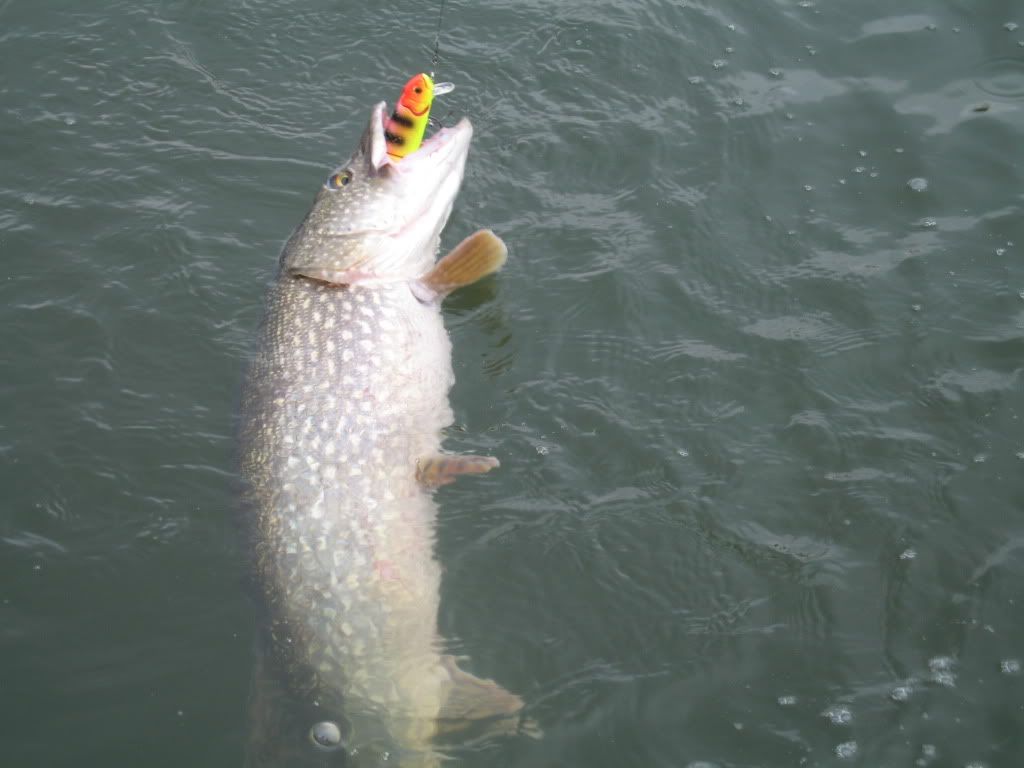 That was it for the day fish wise. We were limited by the amount of water coming down the river as to where we could fish. We tried lots of different spots but there was just far too much flow and the pike were hiding away in whatever slack water they could find. After roving about we ended up back at the spot where we caught the two earlier but nothing doing.
A great day out, great company but at least we caught fish. Vidar's fish was in fantastic condition and hopefully he can post some pictures of it later and anything else I missed.
It never ceases to amaze me on the Thames, fishing and being surrounded by green parakeets is just weird. Very weird.