This really is a mini-report, as it's too cold here to think clearly :rollineyes:. It's a belated report, as i got home late on Sunday evening, and then left the house early on Monday morning on business, and only got home last night.
Firstly, Luke & i had a great weekend in Cornwall. The company was just first-class, and that part of the world is simply gorgeous . . . . i'll be back down there soon to explore some more of it.
We arrived on Friday night, through the snow, and proceeded to have a little drinky-winky
. We were suprisingly fresh on Sat morning when everyone else arrived, and enjoyed a full day of fishing (although it was fooking cold :shock
. The fishing was tough, but that really doesnt matter on a Bumble, and we were delighted that Trev sneaked one at last knockings in the evening to give us fresh hope for Sunday morning.
Saturday night was a little more subdued, as i think we were all so tired from fighting the cold all day, but we still managed to drink a few. Enrique tried to poison us with some shots, but we were still up and at it for breakfast with 'Doris' on Sunday morning.
The location we fished on Sunday was amazing, and just screamed fish, although not many put in an appearance.
I did manage one 'off the top' though, on a Z-Claw Medium . . . .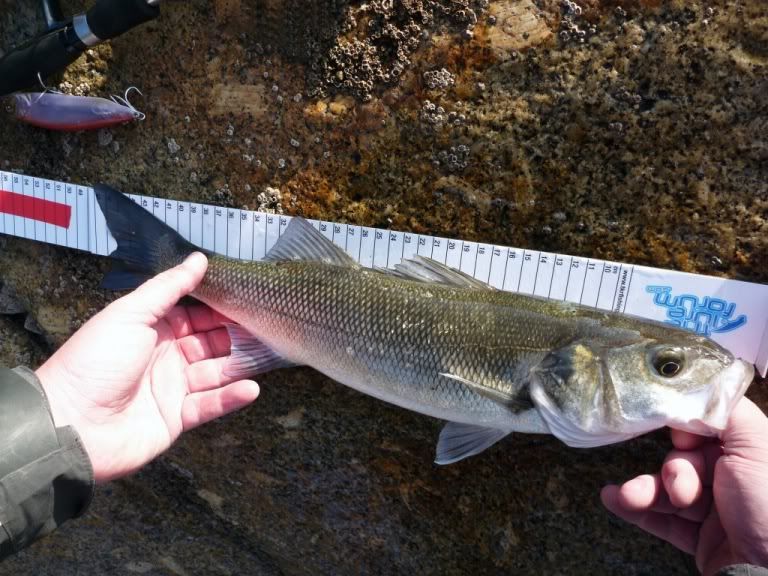 She was a welcome sight in another hard (but enjoyable) days fishing.
So that was that. I had a great weekend, in the company of both old & new friends. The Junior members all had a ball, and struck-up some great friendships. & we got to have a mooch around Nath's new shop :wackit:.
Thanks to the guys who organised it, & i'll see you at the next one
.
Oh, and Nathan . . . . . "Harden Up"
.
Tip of the day: Those of you who dont stay at the main hotel, miss-out on a big part of the fun of a Bumble
.