Littlehampton Bream Fishing
A few of us decided to have a days bream fishing out of Littlehampton. The motivation was a) to catch some bream and b) to try and catch them on lures. So on Bank Holiday Monday, Vidar, Vidar's wife Faye, Andy Mason, Brian Limage and me set off on Colin Baker's boat Sally Ann out of Littlehampton.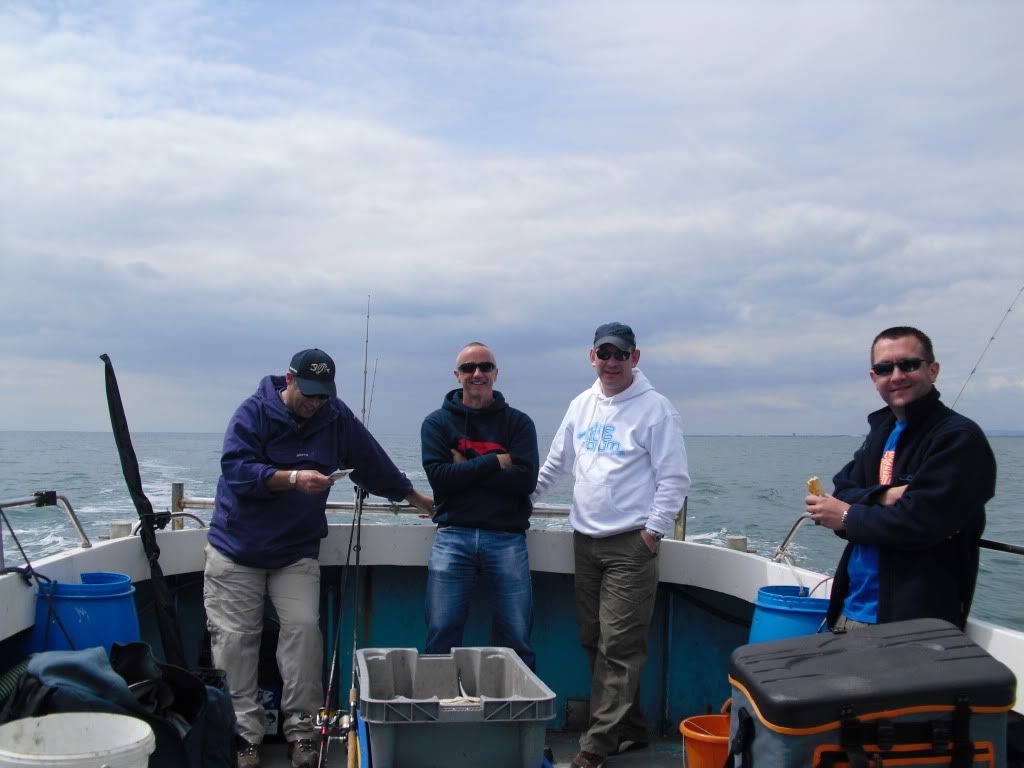 As we were heading out Colin suddenly shut down the engine and wandered around the boat with his landing net. We all looked dismayed until he pulled out a cuttlefish that had been on the surface, robbing a seagull of its breakfast in the process.
A little further out Colin stopped again on seeing plenty of fish on the sounder. We dropped down feathers in the hope they were mackerel but none of us hooked up so we moved on to the bream grounds.
As we were trying to fish lures Colin suggested drifting to start with as it would give us a better chance of getting to the bottom with light gear. I started with a 7ft Lamiglas popping rod, half ounce lead and a couple of small soft plastics drop shotted. The bottom once was a red 3in crayfish pattern the upper one was a 2in grub. Everybody used a lure of some sort to start except Faye who started on baited feathers.
Colin the skipper was first in, I hadn't even got mine in the water yet. He had dropped down a set of feathers with a 2 ounce Dexter on the bottom in the hope of catching a few mackerel for bait should we struggle. We were all expecting a mackerel or two to appear but no, to everybody's surprise the first fish was a bream on would you believe the Dexter wedge!!!!!
I won't bore you with a blow by blow account as my memory is not that good! We struggled with lures and nobody caught any bream on lures despite trying very hard at the start. Most of the fish were caught on baited feathers or drop shotted squid/cuttle/mackerel strip. We caught bream to about 3.5lb, Pouting to a couple of pounds, mackerel, garfish and a lone dogfish. In fact Brian had the most species with all five of those listed.
A bit of a lump for Vidar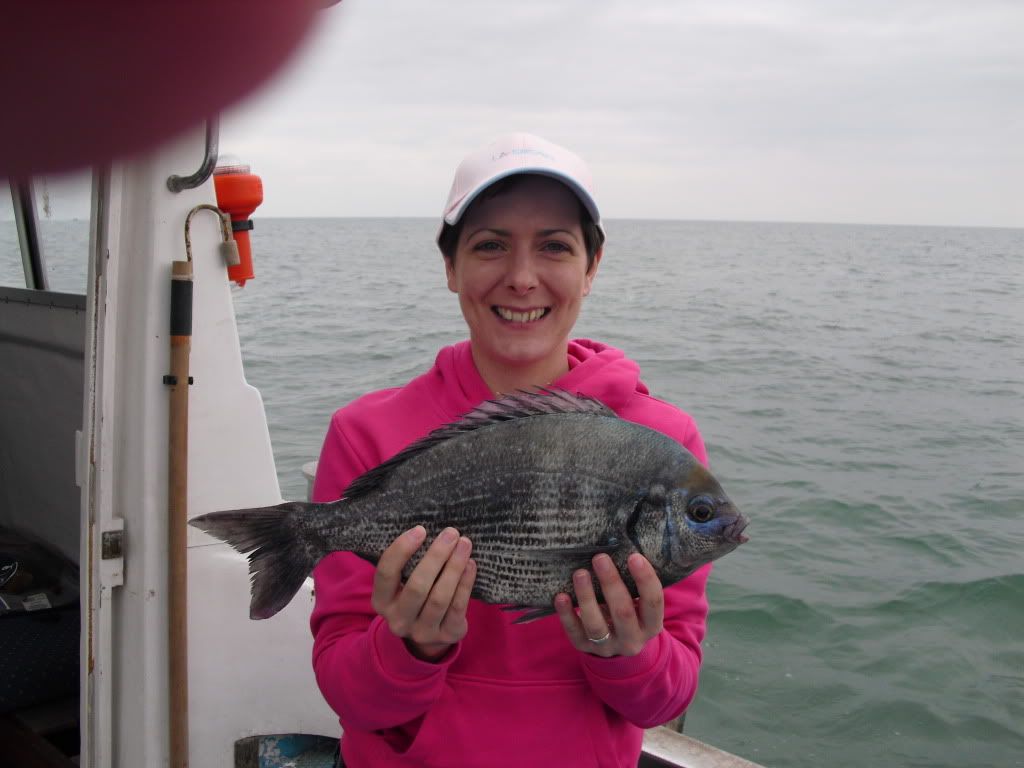 Faye showing that anything the guys can do she can do too!!!!
The trip highlighted for me what a great sportfish the bream is. We were all new to fishing for them from a boat but we all came away incredibly impressed by how hard they fight. Brian was using a ten foot (I think) heavy lure rod some of the time and you would think he had hooked a double figure bass judging by how hard they pull. And they fight from the moment they are hooked to the moment they are netted.
Faye surprised us all (except Vidar) by catching as many as the rest of us and at time being the only one catching. Well done Faye!!!!
For me, the trip was an experiment. I have fished for bream before on LRF gear but in no tide. In a strong tide these are a different prospect altogether. At various states of the tide I used HRF and LRF gear and feeling a 3.5lb bream taking line of a tight drag on a baitcasting rod rated for 25lb line was quite amazing. At the other end of the scale, on slack water, I fished a Daiwa LRF rod and 4lb Fireline!!! That was just amazing. I have not spent that much time not being able to get the tip out of the water with the drag screaming!!! Unbelievable. Best of all though was my Lamiglas popping rod, New Certate 2500 and Yamatoyo PE1 (10lb) braid. Without that braid I would have had to fish heavier leads to hold bottom. Very impressive.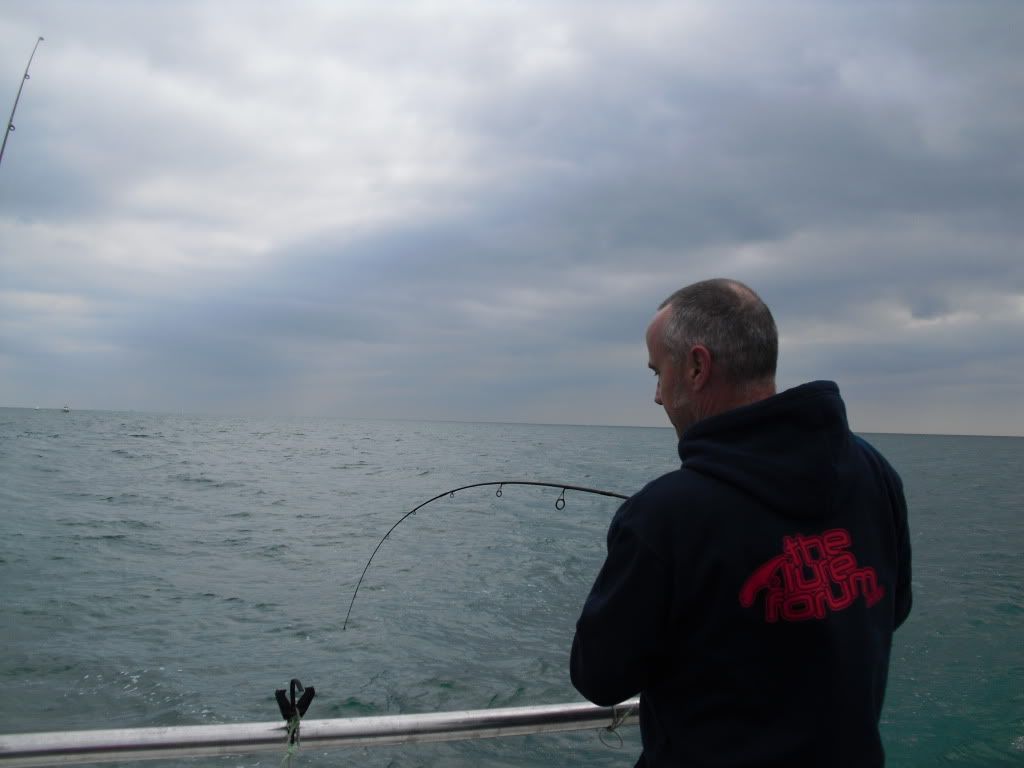 They do pull a bit.....
I will add some pictures in due course but for now, if you get the chance to go breaming on light gear don't turn it down. I didn't take as many as I wanted to but I was having too good a time catching!!!!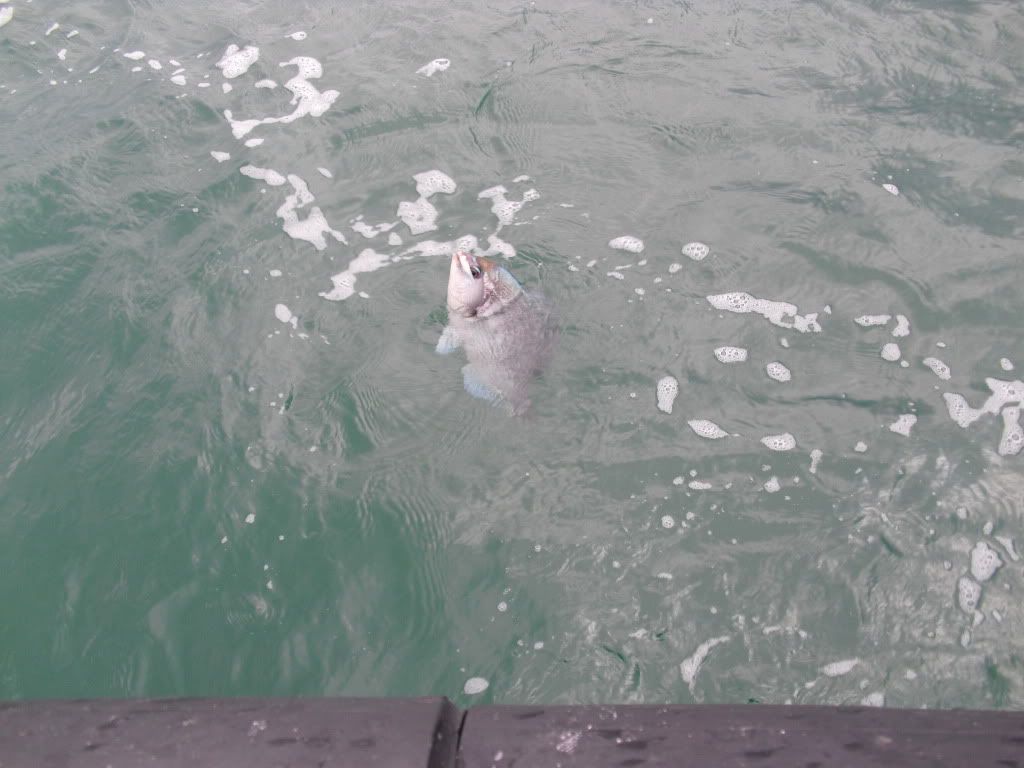 The only downside was we didn't catch on lures. This was just a recce trip really and we learnt a lot about the fish and the habits. I am sure we could catch on lures if we fished the same place again. We will be back.
Finally, a lot of credit must go to Colin the skipper, plenty of other boats out there caught very little that day. We had well over 40 bream between us with the average size probably over two pounds. We all got on well and had a great time, Colin was only too willing to try anything that might help us out to catch more fish. Top man.