Well the Welsh Crocs now have a powerful new adversary !!!
This evening, after a day out mooching around a couple of shops, a spot of lunch, and a couple of cheeky beers
, we decided to have a little family trip over to the local lake. It was just a short 2 hour session, but again proved to be good fun.
Luke decided that he'd teach Mum how to cast & work a lure - so he set about giving Lyn lessons. After a short space of time, he had her casting very nicely, and working the lure correctly (JTS). Lyn then missed a couple of fish which had a lunge at her lure - this just spurred us all on. Shortly afterwards, she hooked & landed her first ever lure caught fish !!! A small Jack of about 2lbs. She was absolutely delighted, and fished on.
Seeing the success that Lyn had on the JTS, i decided to swap to a sub-surface lure, having had just a couple of follows to the surface lures, but no takers.
After about 3 casts of my little Savagear lure, i had a very solid take!!! This is was the hardest fighting fish that i've had from this particular water. The Injection was bent heavily into the Croc, and it shook it's head aggresively all of the way in - a propper scrapper !! Brilliant !! It weighed in at 4.5lbs, so no monster, but a really hard fighting fish . . . . . .
We decided just to have a couple more casts before calling it a day, when there was a massive splash 20yds out infront of us, & this happened . . . .
Lyn declined to hold the fish, but this is her new pb, weighing in at 5lbs . . . . . .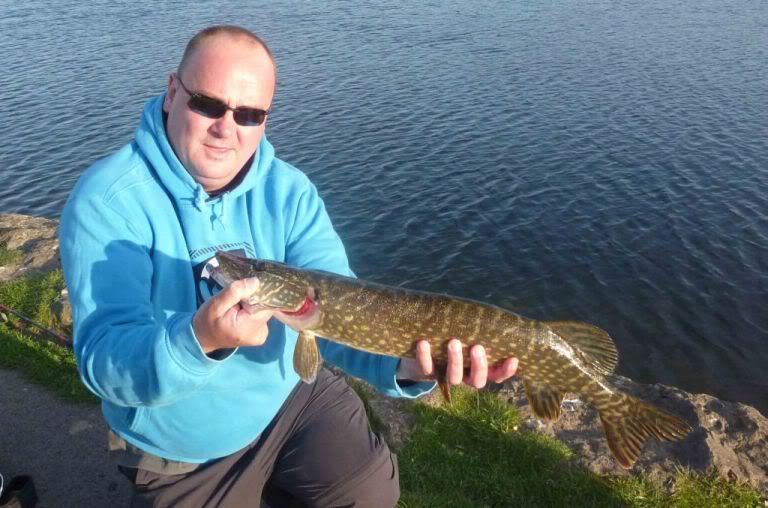 So we had a great time, Lyn was 'absolutely chuffed' to catch her first ever lure caught fish, and those Crocs had better watch out, as i think she's hooked !! & a very well done to Luke for some superb guiding :clap::clap: