Although there are still Bass about and likely some big ones my plugs have been washed down and put into hibernation for the winter as I'm off to Florida for 3 weeks(of fishing) this coming saturday. Yes I can't wait for my trip but it's always a bit depressing knowing I won't see another Bass for a few months!
Anyhow I thought i'd do a little(big sorry) round up of my 4th season chasing the Bass with plugs.
As with many of the guys on here I headed into the new (2010) season with my head overloaded with info after a winter spent reading every thread on this great forum, and a lure box equally overfilled with lots of new shiney plastic too try, not to mention a few new s.p's. i'd aquired during the longest and coldest winter in a long while.
For the first time I set myself a target number of bass i'd try too aim for, aswell as other targets such as finding new marks, making the effort too meet a few of the folk off this forum and putting into practice a few of the methods i'd read about on here. I felt my fishing in previous seasons had been limited by the fact I only really fished a handfull of marks and was therefore hindered by the weather and more importantly the movements of the bass.
Little did I know that by meeting up with people off the forum I would go on too achieve all of my original aims.
Thats not too say things were great right from the start. In fact the season on the whole I have found quite tough. The main reason bieng the fact that the mackerel have been pretty much non exsistent along much of the N.Wales coast. Wether this was due too the cold winter i'm not, sure although I feel it's mainly down too the fact that we had no consistant period of high pressure during the summer. Therefore the sea never really settled and cleared, meaning the whitebait, Mackerel and more importanly Bass stayed off shore for more of the season. Thats my theory anyway.
My first Bass came using a new method that Kev and Keith White had talked about on here. They talked about 'Waking' plugs very slowly across the surface when the sea was flat and light levels dropped very low or even better at night. By employing this method early in the season my Brother and I enjoyed some success-
[/IMG]
A nice 5 pounder that started my season, caught using a method I learnt off the forum.
This is a technique I have used many times this season and has been really effective and is great fun in the dark. So that was one aim done early, try a new technique! Cheers Keith and Kev.
My early season then plodded along slowly as I fished when the weather allowed. I had varying levels of success and plenty of blanks, but was undetered knowing things would pick up as the season went along. An early season highlight was 5 bass taken off the top on a Xorus Frosty in horrendus conditions.
But it was a one off, as things got harder through July and August with bad weather and my workload increasing but I still managed one or two here and there.
Things then took a turn for the better when I met up with fellow Forum member Trevor Jones. He was kind enough too take me out on his boat for a day bumbling, something we'd talked about since early season but due too weather didn't manage till early september. It was a day i'll never forget! Flat calm, clear water and structure too fish. The highlight was 20-30 minuites of madness that started with my Rudra being chased by about 30 odd Bass and ended with Trevor and I landing 3-4 bass each and losing more on a veriety of soft and hard lures, all the while giggling like little girls!
Trevor enjoying himself-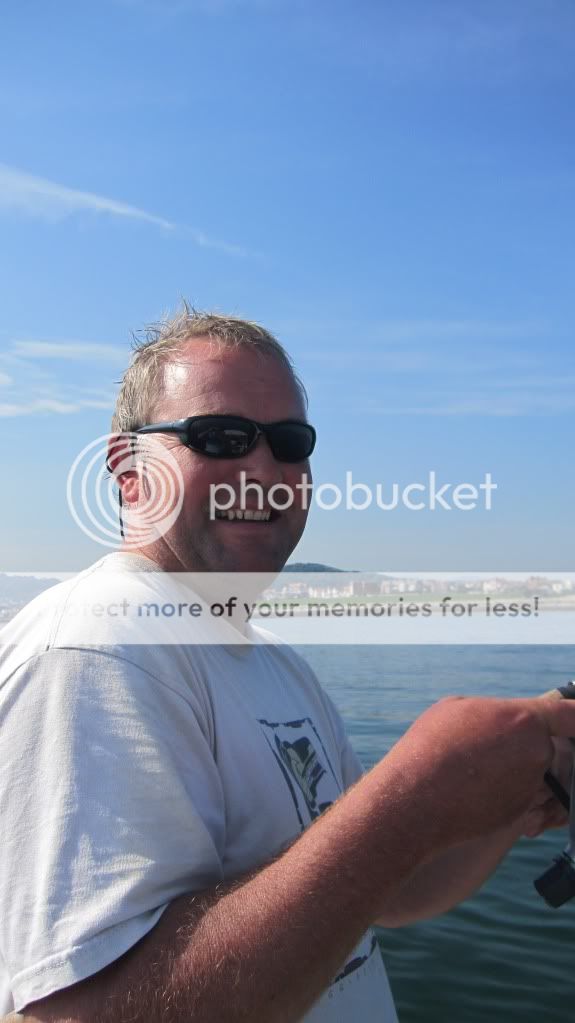 Trevor with a nice one(shame about the smudge on the lens)-
It was a great day and one i'll never forget, Cheers Trev!
Trevor then introduced me too a few other guys off the forum, namely Fin C and Daz Edwards.
We went on a mini bumble that resulted in more firsts, and a car crash! and helped forge some frienships that will last a lifetime, Here are a couple of pics.-
First Wrasse on an X-layer-
Fin C-
Daz-
My Brother and I then had the privilage too visit Jersey. Although the Bassing was tough and my wallet took a hammering it was a fantastic trip and we'll be going back next year. Highlights including an incredible night in the gutters with Keith and Kev, the knowlage they shared and the experience of being in that enviroment at night was just magical.Thanks too both of you(if you read this) It also resulted in a few Bass-
Another highlight was our visit too ***** and getting too meet some of the stars i'd only read about on here (Douggie, Nicola, Paul B, Jamo, Krashtest and Bob J.) A pleasure one and all. Apologies if I forgot anyone but I was dazzled by the shiney stuff coating the walls. A special mention for **** as he was kind enough too take us out on his mates rib. Something my brother and I had dreamt about since watching Mr Gilbey do it years ago. A great day that resulted in some nice fish-
Bobs wrasse-
***** Bass-
Fish of the day for Bob-
Vid of us putting her back-
CHEERS ****
We also fished some marks alone that Keith had kindley put us onto, resulting in this 5 and a half pound beauty for Bob-
All in all a great trip. Although sad too leave and head back too reality I was looking foward too the bassing back home as september and october are usually when the bassing hots up. I wasn't too be dissapointed!!
On arraival at home I was greeted with grim weather which was gutting as it was the weekend our first N. Wales bumble. Although the weather didn't play ball it was still great too meet some new faces and fun being in the company of other like minded souls who don't mind letting you have a play with there tackle!!!!!!!!!! Next year we'll get things sorted earlier and pray for better weather.
By late september Daz and I started fishing together regularly and by sharing knowlage and more importantly marks the fish started too come thick and fast. Into October I had my best session ever off the shore, including my season best-
Six and a half pound off the top, Chug Bug.
Another from the same session-
I then went on too beat my best ever session when my brother and I managed ten fish each in a mad couple of hours early morning before work!! All fish fell to surface lures. It was the stuff of dreams-
Another mini bumble was then planned when Daz, Fin C, John Orrels and myself headed off to a mark with the hope of getting a few shirleys off the top. We were to have the day of a lifetime with the bass shoaling up and blitzing the bait fish just off the beach. It was like something you only see on TV but we were there! I hit my target number for the year, something I didn't think possible after such a poor start too the year and frankly shocking August. I was delighted but even happier for John as he had never caught off the top and ended the day with six too his name.
A simply stunning day that will stay with me forever.
Over the last couple of weeks work has kept me off the shore line and here but when Daz calls I just havn't been able too resist. We have been out a few times and i've gone on to surpass my target by quite some way, both of us getting into fish-
Daz with a beauty-
So looking back it's turned into a great year chasing the silvers. Although it's been a year with a differance. The key has been that my fishing has become more social. It's been said before but fishing in great company has increased my enjoyment of this great hobby ten-fold. Sharing 'your' marks and methods with someone else and seeing it work for them is truly rewarding in itself. It even takes the pain out of blanking. It works both ways too, Daz put me on a mark on saturday, told me where too cast, and we both watched as my Patchinko got crunched off the top. I genuinly felt he was as happy as I was!
It's truly been a great year Iv'e been too Jersey!! Spent lots of money on new shiney stuff.
I've made some good friends, met some fantastic people, found some new marks, learnt some new techniques. In fact I've achieved all my aims. What I have learnt is that my main aim for the year,(hit a certain number of bass) is actually the least important. (sort of!!!!!)
I'm sure you'll all agree i,ve gone on long enough. But a quick thanks too everyone involved in this forum. From the big boss guys running it too the guy who has just started posting THANKS. You have all improved mine and I don't doubt others fishing and long may that continue.
It's been a great year, good luck too thows of you still fishing, tight lines! Now roll on Florida. (hopefully lots too report when I get back)
Cheers Nath.
PS- BEST PLUGS-2010-
SURFACE- XORUS ASTURIE
DIVER- FEED SHALLOW(P-4)
SMALL PLUG- DICE BAYCRAP
S.P-AYU X-SLAYER
BEST NEW BIT OF KIT-
-DIAWA TOURNAMENT 8 STRAND BRAID (20 LB)
HIGHLY COMMENDED- CHUG-BUG