Discussion Starter
·
#1
·
Headed off to my usual West Cornwall spot, on the South Coast. Sun, light offshore winds and generally a beautiful day, with very clear deep water spots to fish from. Started fishing an hour before low, and on the flood for the afternoon.
On the low, checked out some spots that are usually cut off by the tide. Looked so promising, but not even a sniff! Thought with the calm conditions, would try out my Zclaw, see if I could work it out. Alas, no, think someone is gonna have to give me some pointers for this one, maybe at the Bumble :wink:
Moved a long way along the coast, throwing various lures out as I went. 4 hours went by and NOTHING. Did some good rock climbing round the points tho! :-D Arrived at my trusty pollack spot, and after about half an hour, finally hooked a fish. Just a small Pollack, but was a long wait for it!
Thinking now I had avoided the blank, time to head off after a couple more casts. I was using the Xlayer, but with the calmer conditions, a lighter jig head than I usually use, a 3.5g Decoy Violence. Felt nice, the Xlayer seemed more 'natural' with the lighter head in the calm conditions. Bang, another bite, much more fight than the first fish, hoping for a bigger Pollack.... Once landed, I was extremely happy to have caught my first ever Wrasse (can anyone tell me what kind??). Setting the benchmark, weighed in a 15 1/8 oz on the digital scales.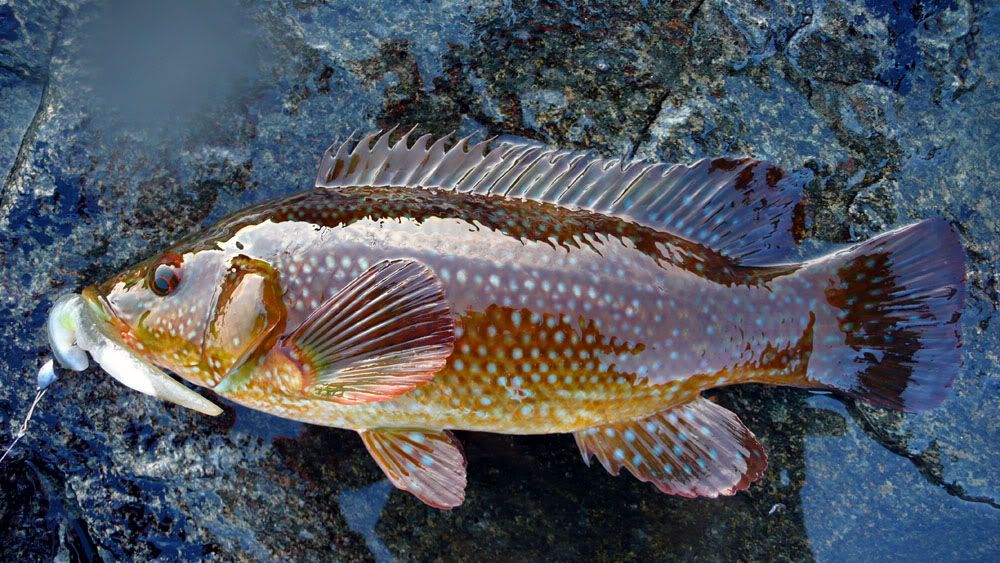 Really nice looking fish in the flesh. Have fished the spot I hooked it from a lot, only ever had Pollack, so happy to find there could be more Wrasse there.
So a long day, with all the action at the end. Learnt a lot tho, with the calm conditions, clear deep water, I was able to run through my SP and plug collection, see the action of them all, put it to better use when the conditions are more favorable.