Discussion Starter
·
#1
·
Another calm day, another session. Decided to revisit a spot for the second time, one I fished last Monday. MUCH calmer conditions today, and spurred on by yesterdays first ever Wrasse, I was convinced this was the place to find more. Tackle loss was high last time, some snags, some carelessness! Fishing the drop 2 hours after high down to low, meant I would be able to see where the big granite lure stealing lumps and kelp heads were.
Arrive at the first granite outcrop that held promise, dropping off sharply into dark, rocky water. Having read about various HRF techniques, I was basing my fishing loosely on those ideas. An Xlayer, rigged with a Decoy Violence 3.5g head, tossed out, left to settle, and twitched every 10 seconds or so, taking up the slack. Wasn't long till I was well and truly snagged, lure lost. On with another, and soon felt a tap, different to the feel of the lure bumping rocks. Wound into the fish, and a good connection. Strong runs, gaining line, then stuck fast. Guess it found a nice hidey hole - Kept the pressure on, waiting for its next move, when it bolted, gained more line and brought it up in the water, away from the bottom. Once landed, lovely looking wrasse (what kind??), weighing in at 1lb 12oz, much bigger than yesterdays, and so a new PB!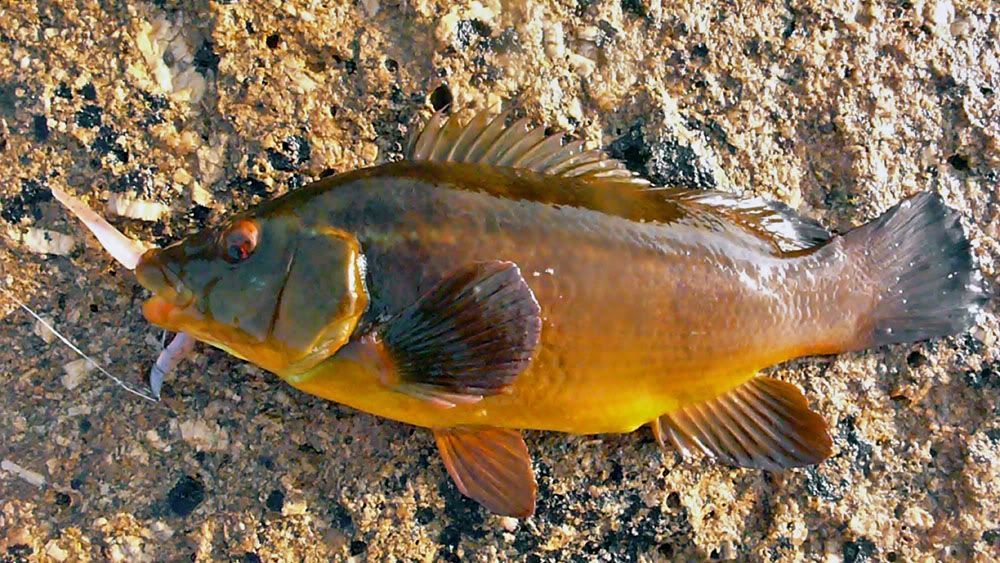 Cast out some more, but then found another large submerged granite head, and lure lost again. Decided to head down the coast to the slightly shallower water, see what else I could find. Now fishing a 4" Reins Rockvib, with the same jig head as before. First cast at a new spot, snagged and lost the lure. Decide to try some shallow running plugs, as the tide was getting low. Maybe should have had a good look before casting at a new spot, as 10m from my feet, my lovely faithful Duo Tide Minnow 125 SLD found a monster kelp head, and decided it wanted to stay.
Feeling like I was throwing money away, decided to go with an old plug, overlooked by me in more recent times, a Rapala MaxRap in sand eel colouring. Was not long till the old overlooked lure brought in 2 fish, a couple of small Pollack.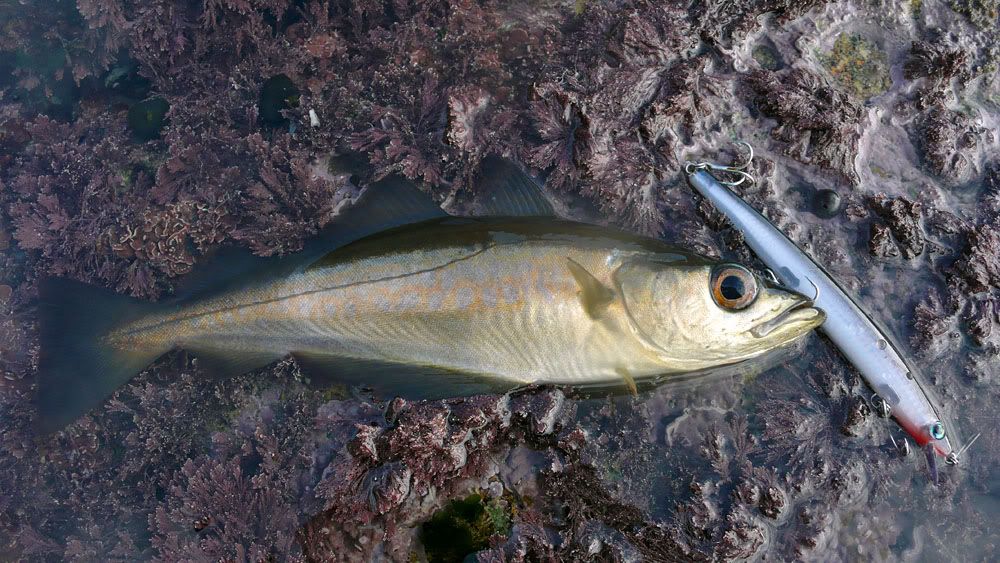 It was approaching dead low, so decided to head back to where I had the first wrasse, to check out where more rock etc... was for the future. There were some very obvious granite towers, with channels in between. Slipped on another Rockvib, with the 3.5g head. Few casts, and felt a tap, but no take. Cast back to the same area, and soon had another tap, patiently waited, then wound into it, and BOOM, definite connection. Drag went crazy, rod bent over, manic for around 10 seconds, then stuck fast, holed up! Pressure on, had to play a waiting game as it would not budge. Felt it move, wind in, gained a bit, then stuck again, before another run. Felt like a decent fish (for me :-D), and finally had it onto the weed covered granite. Another Wrasse, this one weighed in at 2lb 6oz, my new PB! Caught at around low tide. Shame the sun was bleaching the photos, but fish first, photo quality second.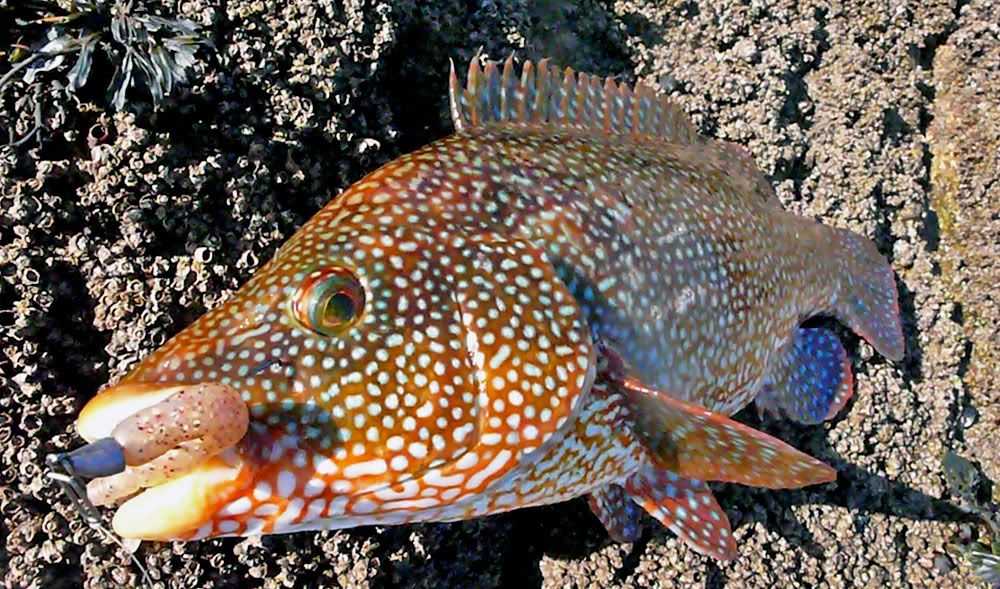 So, even with more tackle losses, I definitely understand this spot a lot better now, having seen where the features are at low tide. Having found the wrasse as well, definitely will be heading back there. Also, think that my loosely based HRF techniques are there to improve upon in the future. Would say I am definitely hooked on the wrasse now, love the way they fight, and the way you fish for them.
Big thanks to all those who have posted various information on the forum on HRF, with particular reference to Keith White and Andy Marquis. Cheers.