A freak window in the weather opened up and The Captain pinged me whilst I was having a boiled egg eating competition. See you at 03.30 he said, I'll be up at 02.00hrs Pete, flushing this out my system
but yeah, see you then. Safe to say, don't have a boiled egg eating competition before you go fishing. I must add, my claim to fame is always a vindaloo, but this was a little different.
On the whole it was a tough but beautiful morning, too much bloom in the water, gash tides, but you can rely on the skipper to work his magic - whatever the conditions.
5 hours on the water rewarded us plenty of mighty-fighting ballan wrasse to 3-4lb, bass to about 4-5lb, pollack to, who cares, some pout and few sponges
Anyway, during this time I got a take and it was fierce on the light gear, wrasse I thought but it was kiting about like crazy, digadigadigadigadiga it went, zipping upgrade off the spool (a little), fast as flip this critter, then it appeared like a glistening blue discus belting around the boat, WOW, check that out I yelped, I'd had a bream before on Pete's boat on a lure but not as tasty as this one.
The Captain netted him and presented me my prize, what a corker specimen of 3lb and new PB bream on a lure. Cracking morning with another PB this year. Thanks Captain Pete, great morning fishing.
Black Bream on a lure!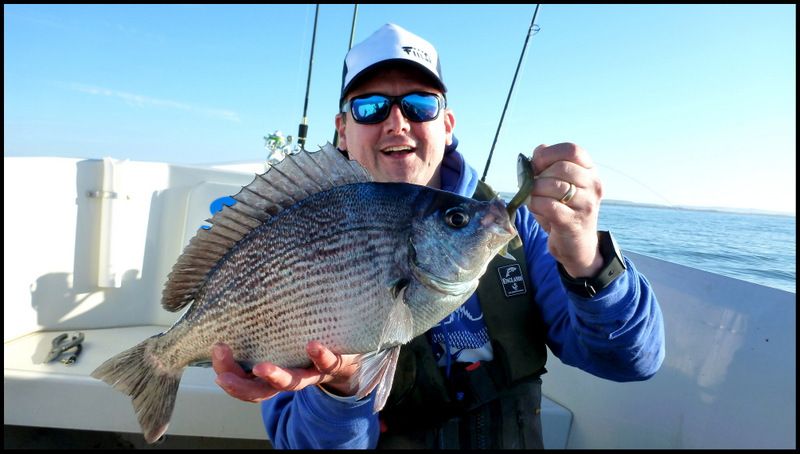 A bass