Discussion Starter
·
#1
·
Between one thing and another, i havent been out Bass fishing locally since before the Jersey Fest :shock:, so with the snow thawing up here in Caveman Land, i decided that a trip to the Gower was in order this morning. Luke opted to have a lie-in (not that i set-off that early), so it was a one-man Bumble
.
As the winds & swell were both low, it seemed an ideal opportunity to give my new
Red Luck Tactical
a run-out :wackit:. I packed a nice selection of s/p's, some light Jig Heads, and i was ready to rumble (no hard lures made the team this morning).
The water clarity was fairly pants, but doable :???:, & i decided to start-off with a paddle-tail. What became quickly apparent, is that the Tactical has far more backbone than it's slim-line blank suggests . . . it's a little beauty :wackit2:. I was able to feel everything, demonstrated by the fact that in a 3hr session, over a pretty gnarly reef, i only lost one Jig Head & s/p.
So, 20mins into the session, and whilst working my s/p 'slow & low', everything went tight !!! FISH ON !!!! The Tactical coped very nicely with a fit, hard-fighting, Welsh Shirley, & i got her onto the rocks for a photo-opportunity . . . .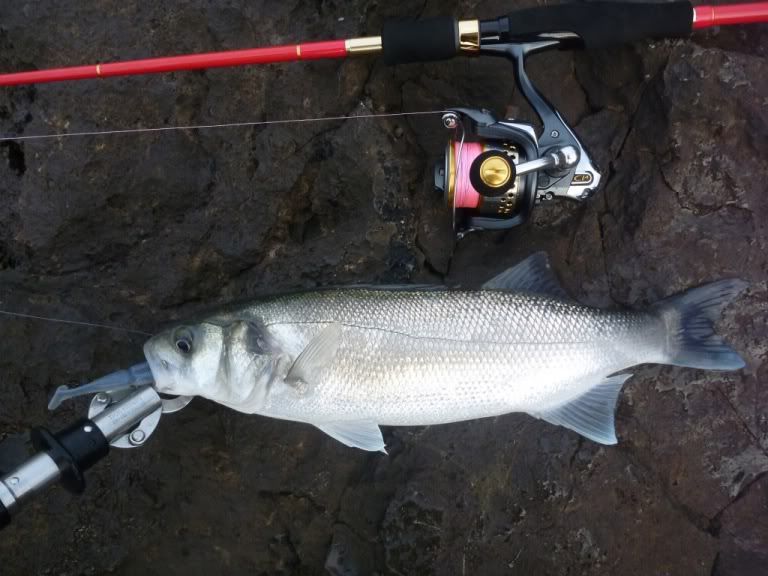 & a close up . . . .
The fat, fin-perfect Shirley was quickly returned into the warmth of the water, and she shot off strongly
.
I fished-on for a while hoping to connect with some of her friends, but nothing doing. So, i was home in time for dinner and to decorate the tree, with a full set of Brownie-Points in tact . . happy days
.
I have a feeling that the rod may prove to be a cracking HRF tool, and i cant wait to try her out on the Wrasse . . . . . . . early days, but i'm seriously impressed with her after the first outing
.