·
CoFounder & Retired Admin
Discussion Starter
·
#1
·
I have put this thread up for guys to please contribute to about the reel they use and its pros and cons. I will then edit the thread and post it in the library, if in the future anyone else has a reel they would like to add there views on then I will add it to the library. It will just be handy for new guys to have a good look through to see what they fancy before buying. I will start it off;
Daiwa More Than Branzino 3000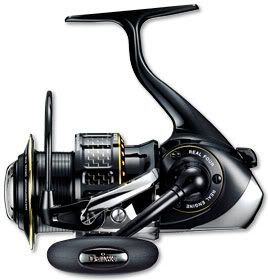 I have been using this reel for all of my lure fishing for 18 months. The reel is very light and the drag is the smoothest drag I have ever felt on a fixed spool reel. Line lay is perfect and I rarely got into much trouble with tangles etc unless of course it was my fault.
The rate of line retrieve is ideal for all aspects of UK style lure fishing, slow enough to make the slightest of twitches when wanting to walk the dog or twitch surface lures.
The Branzino does need some TLC though, it is not indestructable. I found within a few weeks I had wrecked the super smooth drag by not placing the spool on corectly before tightening the drag knob one time. This resulted in the drag washers being squashed down at one side and that allowed the first felt washer to be squeezed out the side of the metal ones! Make sure you turn the spool around on the spindle a few times before you put the drag knob back on, you will think its in but its not, it kind of drops again about 2 or 3mm and then is correctly placed.
I didnt look after my reel at all, I has managed to wreck 2 sets of the bail roller bearings, the originals and the first replacements totally collapsed due to me never washing the reel after it being dunked more than once. Yes I know I dont deserve a reel like this. My fishing buddy Bob bought his Branzino at the same time as I did, he has looked aafter his very well and it still looks and performs perfectly.
In all a beautiful reel if you look after it, I didnt, and one other word of warning is the spares, I just could not get any from Daiwa UK, the spare spool I ordered took 6 months to arrive.