Following some long-range Croc Hunting sessions down West Wales a few weeks ago, i thought i'd try a local Lake this morning. It's only about 5 mins from my house, and i've been told that there are Crocs in there to 24lbs !!
So, we set off this morning with our Bass gear to have a reccie.
It seems to be more of a Carp lake based on all of the little bivvy's and people in Camo (not that i could see them
). And judging by the solar-panels, Camping stoves, radio-controlled boats & bite alarms, some of these lads take it all rather seriously. I did have a chat with one of them who mentioned that he'd been there all night. He didnt seem that clear on what he'd caught, but was absolutley sure that he'd seen-off a slab of Strongbow :shock:.
Not knowing the water at all, i decided to do a full lap, and cast at any likely looking spots as i went along. I was quickly able to spot Jacks moving amongst the weed in the shallows, which gave me considerable hope. The fringes were so shallow that it had to be 'very' shallow runners, or surface lures. At the last minute before setting off this morning, i decided to pop the Megabass Anthrax into my bag, and this was the lure that i experimented with for much of the day. The action of the lure, and the 'v' - wake it leaves, are stunning.
I got an early follow, right into the bank which was very encouraging, but it all went a little quiet for a while after that. I experimented with some s/p's, and a JTS, and managed to induce a couple more follows. . . . but still nothing on the bank.
I moved further around the lake, and had now covered about 3/4 of the available ground (other than the territories occupied by the 'green tents'.
Then, whilst working the Anthrax across the surface, there was a big boil behind it, and splash !!! Fish-on !!!!
A spirited fight resulted in a small Jack being brought ashore. He sat still for a photo, then was quickly returned . . . .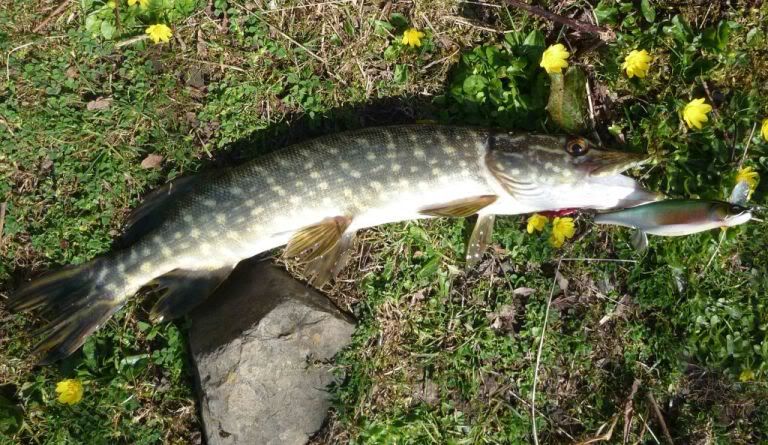 By this stage, the lake was becoming pretty busy with people out for a stroll (gorgeous sunny morning), and i was thinking of calling it a day. Then, i spotted a reasonable sized Croc sunning himself in the shallows close-in.
I cast the lure past him, and brought it back infront of his nose . . . he had a slash at it, but somehow, i didnt hook-up !!! Damn !!! A few more casts resulted in a few very very frustrating follows. I tried varying my retrieve speed, inserting some pauses, speeding up (as per Iestyn's advice), but couldnt seem to get a hook-up. I must admit to it being very exciting sight-casting for a fish . . . .
I was casting at this Croc parallel to the shore, so Luke got his Video Camera out, and took the following footage - you'll see the Pike come up behind the lure, and follow it at close range . . . .
Then, a few more frustrating casts later . . . this happened . . . . .
. . . so it was fish on . . . . . .
Small Note: Apologies if that isnt the correct way to handle a Pike - i'm still learning.
So that was that. Took me about 10 mins to hook that fish !!! We got to look heroic infront of the assembled masses, and then called it a day.
An extremely pleasant way to spend a Saturday morning, 2 Pike off the top, with a few more fish moved - i'll certainly be back for more