Discussion Starter
·
#1
·
I wasn't sure whether to go sea or river today but decided on the river as I fished the Cornall bumble all last weekend and I haven't fished the river for ages. So I dug out the UL gear, tied on a 20lb titanium leader and off I went.
2nd swim upstream I hooked a little jack, about a pound or so, on a Rapala jointed Shad-rap 4cm. Good, I thought, the fish must be "on". But spoke to soon as I didn't get another take for nearly 2 hours. Had a pike of about 5lb on for about 5 seconds, then it was off.
Nothing again for 1/2hr so I thought I'd start making my way back to the car, and maybe go bassing somewhere. Fishing back downstream, I then had 2 jacks, both in the same swim. One about 4 lb and the other about 5lb.
Moved down to the last swim and decided "last cast".
Fish on!
After a short fight I landed and weighed it at 13lb7oz. My best pike this winter so far, and a beautifully conditioned, plump fish. By now it was raining hard so I had another couple of casts (had another tiny jack) then packed up, back to the car.
On the way home to pick up the bass gear I changed my mind and thought I'd fish a different stretch of the same river. 3 casts and I had this lovely, deep bodied chub - 6lb4oz.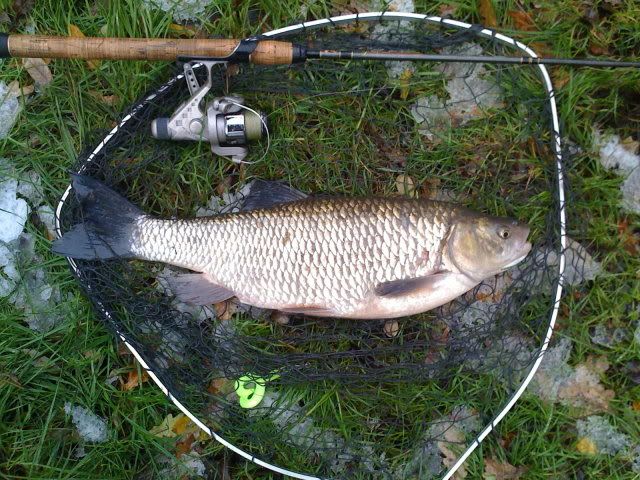 That was the only fish in about and hour and a half. It was still raining hard, so I packed up and called it a day.
All the fish apart from the 1st one were caught on my favourite 3" twintail on a 3g jighead.