The title of the catch report comes from a txt that Greg sent me on the way home this evening - it kinda sums up the humour of the day nicely
.
I left the house at 'Nonsense O'Clock' this morning, and barrelled down through the Valleys to my first stop, which was Marc Westwood. Once safely on-board, we then bombed down West to arrive at the first mark bang-on schedule. We were greeted there by Gwyn, who was already tackling-up. Within about 2 minutes, Greg joined us
. We got kitted-up, and were just noisy enough to wake a few of the people in camper vans
.
It was a beautiful misty half-light as we scrambled our way over the reef to get our lures in the water. Marc then made the basic error of pottering around as we reached the mark. I forged ahead, waded waist deep through a gulley, climbed a rock, and then spotted the target for my first cast. I flipped out the Feed Shallow (Sardine, with Red Belly), cranked the handle about 4 times . . . then . . WHAM . . . "FISH ON" !!!! First cast, and i'm bent into a feisty Shirley that had some awesome ground to use to it's advantage. It gave me a tremendous scrap, and at one point ran straight back at me, causing me to have to wind the reel at full-tilt to ensure i stayed in contact.
Marc in the meantime, having not yet got a lure into the water, was wading his way across the gulley to get to me. For some inexplicable reason, he chose this moment to have a little swim
. Now he rekoned it didnt go up & over his waders . . but i think that Gwyn may have an action shot, and from his vantage point, Greg described it as being 'up to his armpits'
. Either way, he was "wetter-than-an-otters-back-pocket", but i was very grateful for him coming over to assist in the very tricky landing of my Shirley. During the course of the landing, somehow my leader snapped (hence the lure in the mouth below), but the fish was mine . . . . .
She weighed-in at 3.7lbs, and was safely released
.
However, as i was releasing her, i looked across at Greg, to see his rod bent into a Shirley. I shouted to ask him if he thought it was a good'un, but then i looked at his Rod Bar, saw the enormous bend in it, and decided it was a silly question :shock:.
Marc ran off to get his rod, and i waded across to help Greg, who was getting a proper-scrap from a feisty-spikey !! Greg guided her to me, and we got her on the Boga . . . . .
A new pb for Greg at 5lb 10oz. This Shirley had 'smashed' Greg's lure on about his 5th cast, and Marc 'still' didnt have a lure in the water :shock:.
Greg safely released her to fight another day . . .
Within another 10mins, we looked across the reef to see Gwyn landing a Shirley. It looked a very respectable Bass of around 2lb's from where we were, but he modestly called it as a Schoolie, and returned it before i got over there for a photo.
Gwyn in action . . .
Me, on 'my rock'
. . . . .
We fished-on, all the time watching a spectacular display about 300yds out, as Gannets & Terns were dive-bombing a huge shoal of something (this display continued all day). We worked up & down the reefs, gulleys, troughs, and beach, casting at anything that looked likely. Gwyn then left us to head back to the family for breakfast, and his position was taken within an hour by Ben. We had another hour or so on the reef, and i managed to spook a 5lb'er in the shallows - Damn ! I would have loved to have had a cast at her ! Marc also had a follow from a big-girl, but i'll let him tell that tale.
Out next move was to head 5 mins up the coast to do a little Croc Wrestling
. Surface lures were the order of the day, and for both Marc & Greg, this was their first Croc Wrestling expedition. The lake was looking stunning - check this out . . . .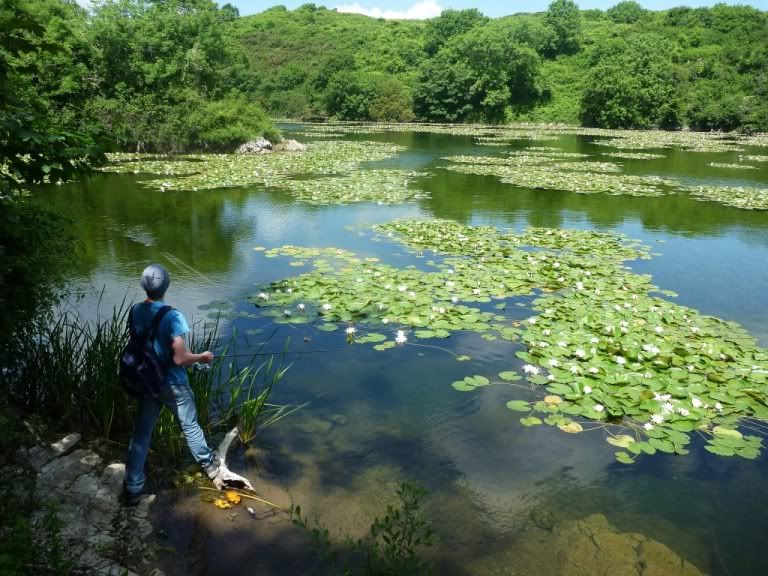 Greg didnt waste any time, and continued the 1st-cast theme of the day, by getting nailed on a Gunfish on his very first cast ! The Croc took him into the lillies, and he had a fabulous scrap on his hands, as he bullied the Croc through the heavy cover. Ben has the pic, and hopefully he'll upload that later with his account of the day.
Well that first fish seemed to kick things off, as we then started getting hits on the surface at just about every peg !! :mrgreen: I'll let Marc tell the tale of his first Croc, but suffice to say that he had a titanic battle to get her to shore ! While we were waiting for Marc to eventually get his first Croc to the shore on his 7' Whacker, Ben had a little flip along the fringe. The first Croc missed the lure, but the 2nd one didnt - it then shot-off under the lillies in a really powerful quick run that had us astounded !! Awesome ! After some aerial acrobatics, we got her landed & returned.
Marc's first Croc . . .
I went on to nail 3 Crocs off the top, and the full Bumbling Team landed Crocs !! Brilliant !!
The Bumbling spirit was particularly strong, as everyone helped each other out, landing fish, sharing pegs, and taking it in turns to cast at likely looking spots. Again, we all have tales to tell about the session, and i'll leave the guys recount those.
Marc though did score big on the Z-Claw when after a couple of casts to get the lure 'exactly' where he wanted it, it got NAILED BIG TIME, by this Croc . . . .
So, after a short session there, and 9 Crocs landed, and countless other hits, takes, and general aggression from some feisty Crocs, we decided to head back to the coast. By now though, the wind had picked-up, and made things decidedly spectacular, but uncomfortable on our chosen mark . . . .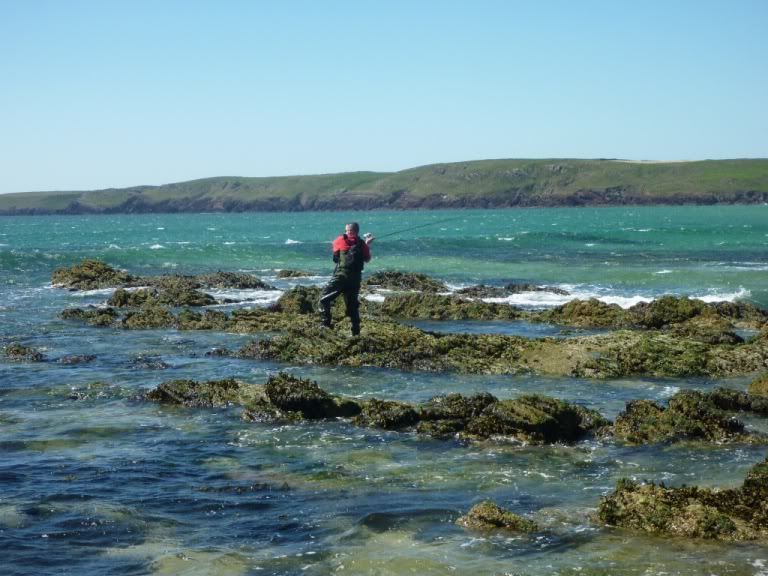 So after a short while, we headed back to the car park for a cup of Tea, an Ice Cream (Raspberry Ripple . . YUM
), and some Welsh Cakes
. Following a Bumbling Committee Meeting, we decided that we'd had a belter, and that the best course of action was to head home, wash our gear, get a bit of sleep, and do it all again in the morning !!!
I cant bloody wait