A plan was hatched in the Shout Box on Wednesday night, which resulted in Steve, Iestyn & I meeting up after work yesterday. It was an absolutely glorious evening with a light warm breeze, the pub that we met outside had beautiful cold lager (eh Iestyn
?), and we set off along the cliff path putting the world to rights.
We arrived on our mark to see birds working the water further out, and a 'nice' swell hitting the rocks. The water was like Gin, and we all seemed to concur that 'large' top-water lures were the order of the day to begin with. I was using a BIG 46g lure that i've been saving for just such occassions. It works just sub-surface, and is basically a Mackerel imitation jerk-bait.
After a short while with nothing showing, we all started to ring the changes. We were fishing in to fairly deep water, so we started searching the water column with a variety of lures from metal flutter lures to deep divers (Live-X Revenge), DTM's, Zonk's, etc . . .
Iestyn then thought he had a knock working a deep metal lure, and sure enough on the next cast, he was in . . . . . .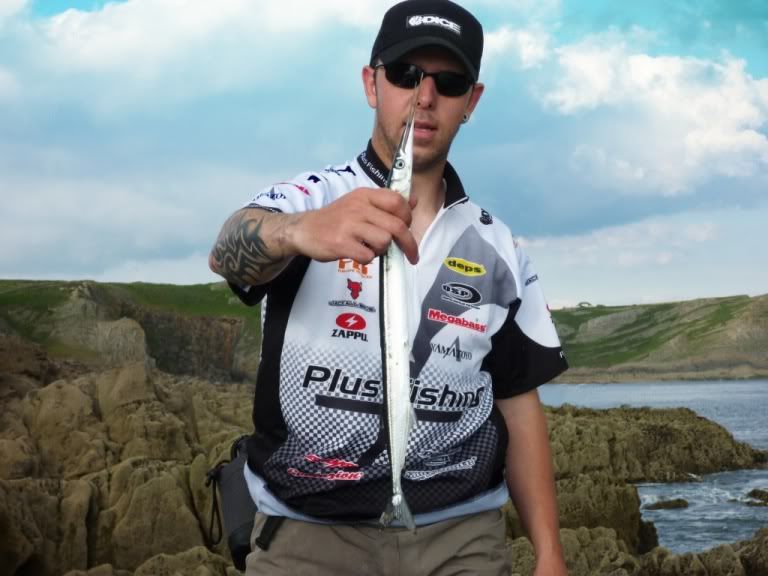 After a couple of pics, and some wriggling, Captain-Beaky was shooting off back into the water. Iestyn was pretty chuffed with that, as it was his first Gar for a few years.
We fished on, and kept moving around the small headland.
The swell continued to pump, and we all got nailed at some stage - that perfect swell, when the odd-one catches you out !! I absolutely LOVE those conditions !
I clipped on my DTM 120 Slim in Chartreuse. It's a favourite lure of mine. I've never scored anything big on it, but it's been consistent for me. A couple of casts later and i was sure that i saw a follow as i brought the lure over a chunk of reef ahead of me. Next cast, sure enough, it was fish on . . . . .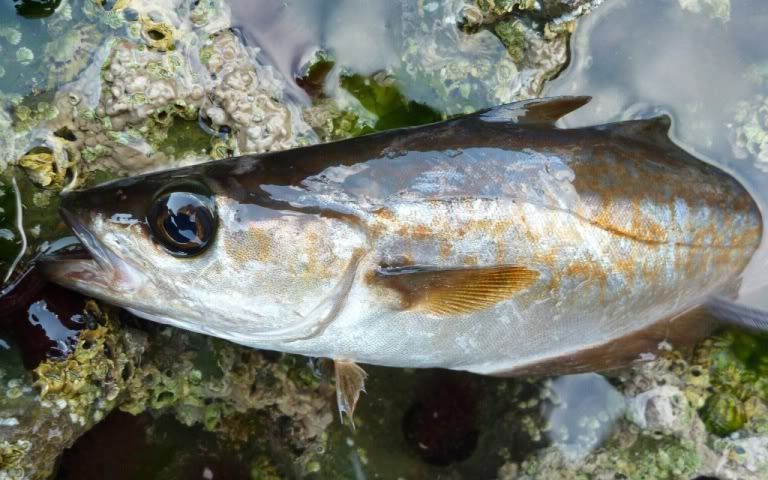 It was actually my very first Welsh Pollock, and following on from last weeks Cod, i'm getting through the species nicely
.
A couple of casts later, whilst gas-bagging to Iestyn, and not really paying attention, i got hit much harder (same lure), but missed it.
We kept moving, and were getting pushed back by the tide and swell. Iestyn then got nailed by a 'beauty' of a wave, that reared-up and droped down on him :rofl:. He got tremendous sympathy from Steve & I, which basically consisted of us howling laughing at him !!!
We saw a couple of other indications of fish moving (& a seal), and apart from one more knock that i got on a Feed Shallow, that was that. Just as the last light drifted-off, we packed up and headed back to the car.
As we walked back along the cliffs and de-briefed on the session, one of the interesting features was the sheer number of lures that we'd all cycled though. We'd bumped s/p's along the bottom. Fired metal casting Jigs out & drawn them back deep. We'd tried the top, shallow, deep, slow, fast . . . . . All in all, a really interesting short session, with a lot of water covered, and bouts of laughter along the way.
Another cracking evening gentlemen. Thoroughly thoroughly enjoyable