SPITTY'S BUMBLE PART 1...
Hello, as you know Tom is currently back in Gods country and just like last year he was kind enough to let me join him on his west wales bumbles,
we both knew that the water temps didn't hold much hope for us catching alot (if anything), but in the good ol' spirit of "you gotta be in it to win it" , we set off to one of Tom's favourite marks and trust me it was blowing a freezing cold northwesterly hoolie, and threatening to snow,
but ignoring the wind, the rain and hail, we got to the mark only to discover that the water at the said mark was literally like chocolate, in fact i think the Severn estuary probably had less silt particles in the water
So the only place i could think of with any shelter from all the freezing cold wind, and murky water was stackpole quay, so off we toddled in the car, took the wrong turn, and ended up in some posh estate where some elderly gent kindly pointed us in the right direction,
then on arrival, we were gripped again by the freezing wind and hailstones, and i wasn't looking forward to standing about in all this nasty stuff, but this being "GODS COUNTRY" within an hour or so of us starting to fish, the skies cleared and we were greeted with this...
Tom was happy wrapped up nice and warm and giving his Zonk a good thrashing, (what a lure that is, gotta get one soon)
Anyway, the fishies didn't want to come out and play on such a cold day, ( we did mistake a seabirds arse as a rising fish at one point..
) but the good company made up for a fishless day...
SPITTY'S BUMBLE, PART 2...
Right, seeing we didn't get any joy on the first bumble, last Wednesday we had an earlier start, and on route to the fishing grounds down west we went and picked up Simon Claphams dad Jeff,
the weather conditions were alot better than the previous trip, but we still had a strongi wind and large swell to contend with, when we got to the first mark, we did a bit of gentle mountaineering and got to a point down the cliff where the first large wave decided to break all over my back soaking me,
(sorry no pics of that bit guys )
Then because it was getting a bit dangerous, we decided to move and climb down into a little bay full of gullies, boulders, weed, etc (a bass's paradise)
Here's a couple of flicks from down in the bay...
Tom fishing a gulley...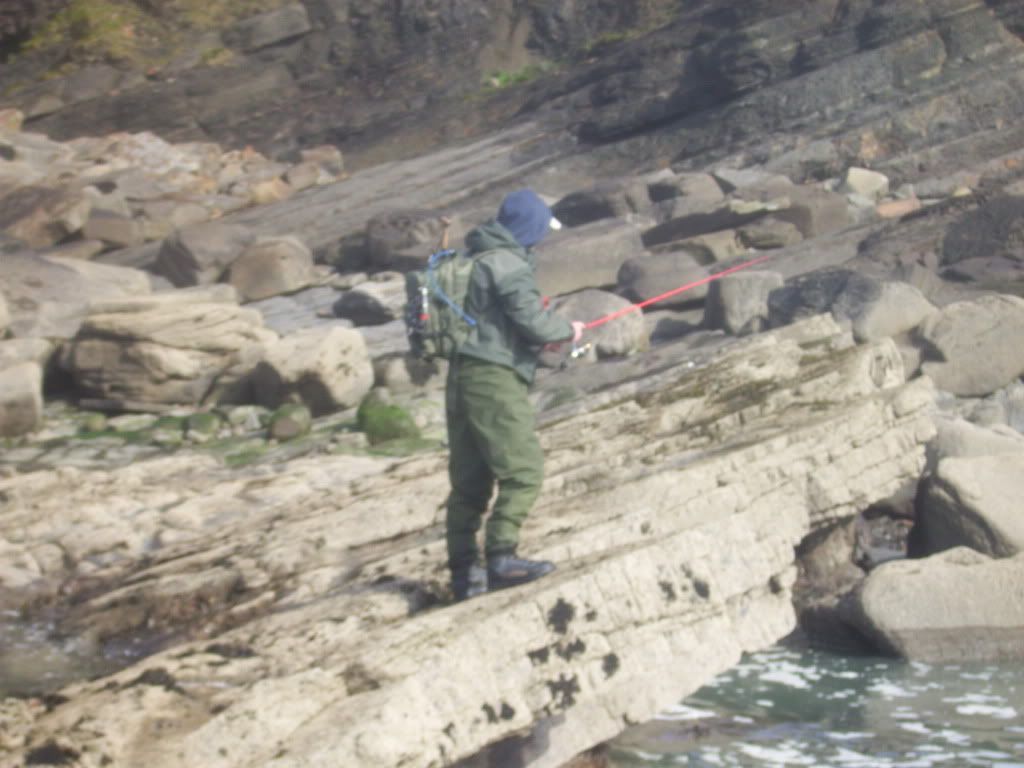 Jeff giving the sea a thrashing...
With the Tide making ground rapidly, we thought it may be a good idea to get out of this bay before all our exits were cut off, so we climbed out and made our way back to where Tom had parked the car,,, once back we had a look at the little sandy bay surrounded by rocky outcrops and decided to give that a bash
where Jeff made his first (and only) catch of the day...
His Hand....
We managed to free the lure from the hook, but alas we couldn't get the barb out of his hand (even though we had a hammer and chisel
)
So off we trotted to the nearest hospital,
(Tom has got some cracking pics of the operation itself, but you'll have to wait till he finds his camera's USB lead..
)
Then after just 40 minutes or so we were back on the road to do a bit more bumbling, and within a short drive we had found a mark that was out of the way of the wind and swell,
where we could have a nice session that wouldn't involve climbing cliffs, falling into gullies or any of the usual hazards associated with a good days bumbling..(even though i did manage to slip over the only bit of weed weed on the beach.
)..
So, all that's left now, is to send a BIG THANKYOU, to Tom and Jeff for a great day out, and to say that i look forward to our next great adventure in GODS COUNTRY...