Discussion Starter
·
#1
·
Headed off to a local(ish) spot this morning, East of Salcombe. Fine weather, but a good swell running, big lulls between sets, so keeping an eye out for waves was a must when out on the rock ledges. Was fishing 3 hours on the push, but small tides.
Treked quite a long way down the coast, hitting a few spots in between, fishing on and off for around an hour till I reached a location I had a bass on in the summer. After about a good few casts, had a fish on, and a good fighter. A flash of silver on the surface signalled a bass, and landed shortly after. Turned out to only be a small fish, so a quick photo and weighed on the scales at 1lb before being released. Caught on my new Duo Tide Minnow 125.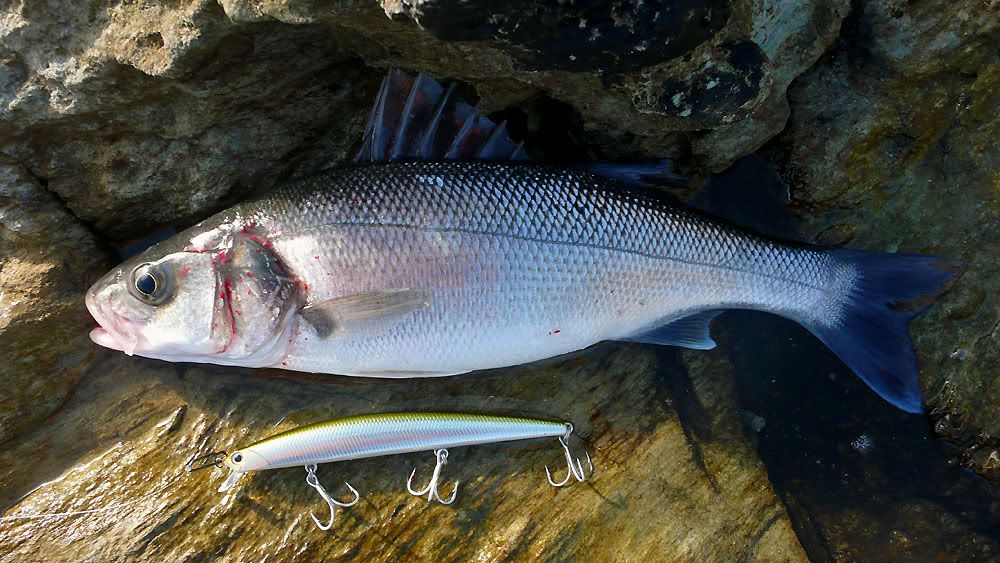 Fished around the same spot for a while longer, but no takes. Headed right back to where I started, to see if the high tide was producing. Switched over to the Megabass Xlayer Shrimp & Minnow, and worked it close to the bottom. Wasn't long till I had a fish on, and landed. Just a small Pollack, at 7 1/4oz, photo and back in the sea.
The water had some good depth off the rocks, so gave my new Zonk a try out. Seemed the Pollack like it, as soon I hooked and landed a slightly bigger one at 9 1/4oz.
Happy to see the new lures catching, only one I didn't catch on was my new Feed Shallow, but only tried it out on a few test casts, hopefully will get a chance to use it properly soon.
I have a new Shimano Rarenium 4000 reel turning up this week, to go with my Lucky Craft ESGII 7'7, replacing my Shimano Exage 4000FB, so next trip out will be testing with more new gear. Still looking forward to catching my first 4lb+ fish :-D