What a fabulous weekend
!!! It's not easy to tell the tale actually, as so much happened, and there were so many great moments . . . . . here's our weekend though . . . .
Luke & i left Wales at lunchtime on Friday, we got to Weymouth, checked into the hotel, and then set-off to find Reels & Deals. We paid for the first of many parking charges, and tracked-down the shop. We got a lovely warm welcome there, and met Mike, Ben, Roger, Dave, Rob, Andrew and a few others (cant remember who was there all together). We then made a group decision that it would be rude not to partake in a little beverage, so we popped next door into Yates, and had a sociable little hour. Roger regailed us with tales of Norway, and we all got to have a great little gas-bag and a beer.
Then it was time to head-off & find some fish. Not knowing the area at all, Luke & i just headed to the end of Portland to see what we could see. As it happens, there were loads of others there, which was great, and we all headed off in little groups . . . The swell was a little tasty, but perfectly fishable. I took my HRF set-up, and decided to try soft plastics into the deep water. After covering some ground along the cliffs, i stuck with one particular spot for around 20mins, and was rewarded with a good solid take, and scrappy fish . . . . . .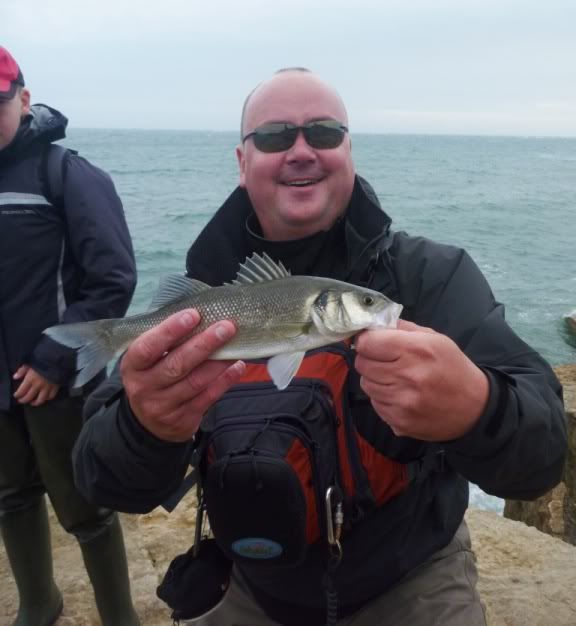 Thanks to Tim, for taking the pic for me
. It wasnt worth taking the bubble-wrap off my measurer, but i was off the mark, and was completely delighted at landing a Bass on foreign soil. A few more fish were landed on that stretch that evening, but nothing that scored. We fished into darkness, and then set-off back into town. We managed to find a cracking little chip-shop, and Tim, George, Luke & I enjoyed a lovely tray of fish & chips each. We then found out that some of the guys were just around the corner enjoying a curry, so we popped in to see Steve, Mike, Sean & the Jersey lads. We stopped there for a beer, and then left them to head over the the harbour for more pressing business . . . LRF . . . . the 4 of us pottered around there until gone 11pm (some huge Mullet were speeding around :shock: !!).
The weather forecast for the morning was pants, so i decided against a dawn raid. When we did set-off, the weather was indeed 'challenging'. We went back to Portland (in the absence of really knowing anywhere else to go), and were joined by Steve & Adam . . . . .
The conditions were wilder than the evening before, & i was more than happy for Luke to stay back away from the edge. We struggled throughout the morning, and although the conditions were fishable, we had nothing to show for it (other than the highly amusing sight of Steve getting nailed by some waves :rofl
.
Conditions improved a little on Saturday afternoon, and we sat at a Cafe and had lunch with Jon, Andy, Vidar and Chad. We then set-off for an afternoon session over LW. Again, it was a bit of a struggle, and we didnt manage to find any fish (did get to see Steve Mullins' secret weapon though :shock
.
Steve & i decided to head down to take a look at Chesil, from the superb vantage point of a pub
. A couple of beers later, we decided to give the beach a go, so fished that just into darkness (that was the only time i used hard plastic all weekend). Then it was back off to the chippy again, before heading for the hotel (armed with cans of G&T . . and wine for Steve :rollineyes
.
Sunday morning, and Luke & i headed off just before dawn, we passed some tired-looking Jersey folk, and got out onto the rocks at first light. On my 2nd cast, i got a take . . great news . . there could be some fish around . . .
. Just a short while later, i was into a fish . . i knew it was a potential 'scorer', and Luke helped me to land her successfully !! Time to get the bubble-wrap off :wackit:.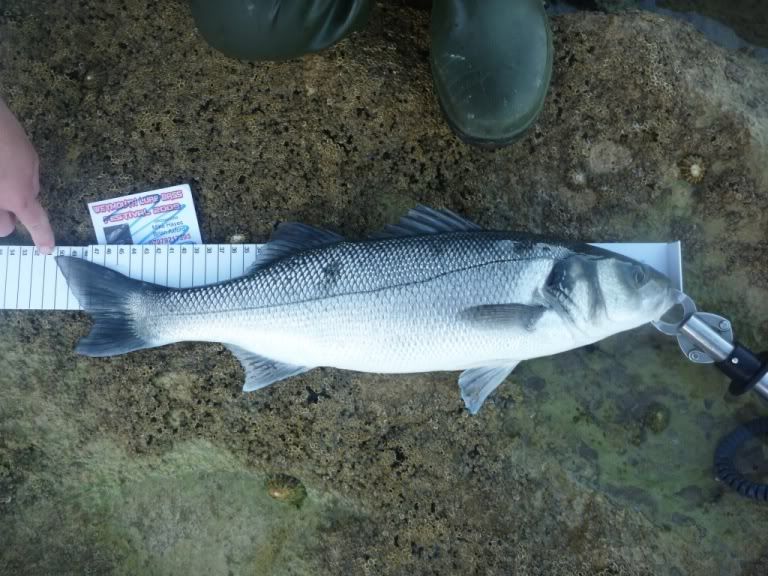 She was just over 3lbs on the Boga, and just over 50cm on the measurer. with all the fannying around trying to get a competition shot though, i forgot to get a 'grip & grin' :evil:. I txt Steve to tell him (just another 3 of these Steve, and we'll be in with a shout
), and cracked on to try & get another. I then landed a reasonable Pollock, had a few more takes, and a couple of follows from a small Wrasse, but no more fish from that mark.
Later, i managed a bloody big Mackerel from the beach, but no more Bass. I decided to enter the one Bass even though i felt that it would be trumped by many others, but as it happens it was one of the four in-size fish that was landed, so ultimately, a reasonable result (which put me in 3rd, just 2mm ahead of Nath
).
The evening social session was excellent, but far too short, we need to allocate more time to socialising next time - far too many quality people to have just such a short space of time with.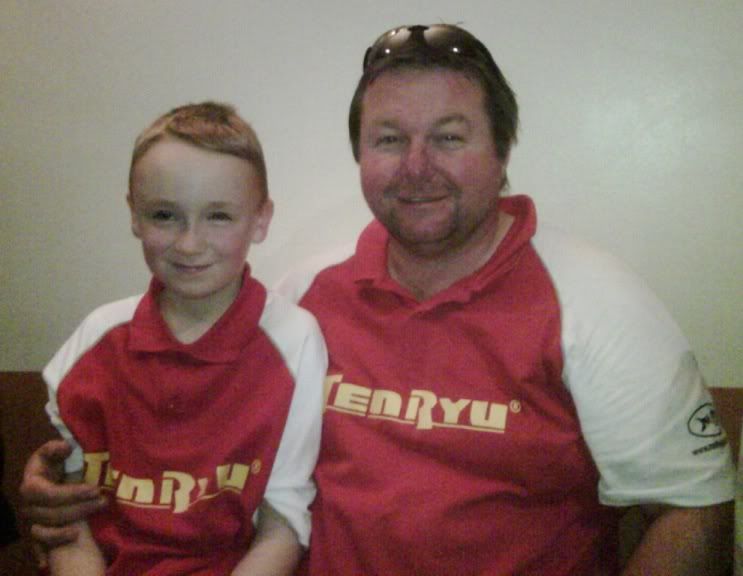 & that was that. On a personal note, it was nice to score with the soft plastics, and to at least manage one in-size fish (although i was delighted on Friday evening just to get a Bass). I should also just mention that although people did want to do well in the comp, we recieved plenty of advice & pointers along the way . . . . felt like a Bumble at times
.
Luke & i both struggled to get out of bed this morning, but both thoroughly enjoyed, and will certainly be back next year (with a few more likely looking spots up our sleeve
).