Now available through this link
http://lurepod.spreadshirt.co.uk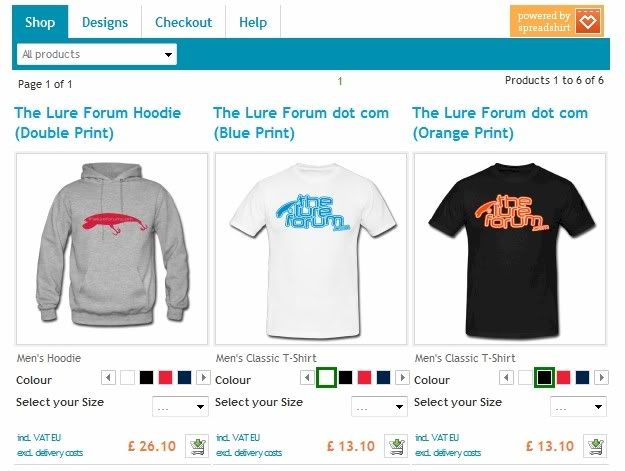 All profits are going back to The Lure Forum to raise funds for financing the forum website and future projects. We receive a commisson on the sale. Thank you for supporting your forum.
We have an endless choice of clothing that our logos can be printed on, not just simple t-shirts or hoodies. Kids and ladies wear is also available. If there's anything you fancy putting up into the shop then please say so and we'll endeavour to meet your requests. If you want a Purple Logo on a Pink ladies t-shirt, just shout, most things are possible.
There are currently 2 logos to choose from, 'the lure forum wacky' logo and a 'plug' logo. We can customise the colours they are printed in to, you can customise your garment colour. More designs will probably follow and please note: sometime in the next day or two the special
NANTES
logo will be up in the shop too, so if you want to make use of the free delivery, drop me a line and I'll keep you informed of our progress.
Please note: This is an external independent t-shirt printers. Your order will be directly with the supplying company and you will pay them directly. Your good will be dispatched by them directly. All logos and imagery regarding The Lure Forum are copyright of The Lure Forum.