Or - Last Chance Saloon...
So, this weekend being the last before Bosherston closes for 3 months, the usual suspects (Steve & Adam, Simon & Luke, Iestyn, Me & George) were back in deepest West Wales for an early start this morning. The weather looked favourable, hopes were high and we were determined to get the juniors hooked up. Steve & Adam arrived a little later so I didn't see them until after lunch, but the rest of us started as usual at the Bridge where Simon had enjoyed enormous success two weeks ago. We gave it half an hour there, but although George moved a micro pike in the reeds with a weedless soft lure, there was little action so we decided to split up. George & I headed up the main lake fishing as we went with little to report. At one woodland peg a fish followed my lure to the bank three casts in succession but no take. Then the next peg showed aggressive pike tearing through a shoal of bait fish (perch?) repeatedly but we just couldn't get a hook up. After half an hour of effort and different lures we moved on admitting defeat despite repeatedly seeing & hearing big fish breach the surface. Further up we saw a massive (20lb+ estimate) fish cruise through the shallows. With heart in mouth I cast in front of this huge fish, and got the fish to turn on my lure and create a big swirl. I nearly wet my pants, but she declined the offering and moved serenely on.
Anyhow, we went back to where the fish had been ambushing bait and I banked a lively pike on a sinking Crystal Minnow.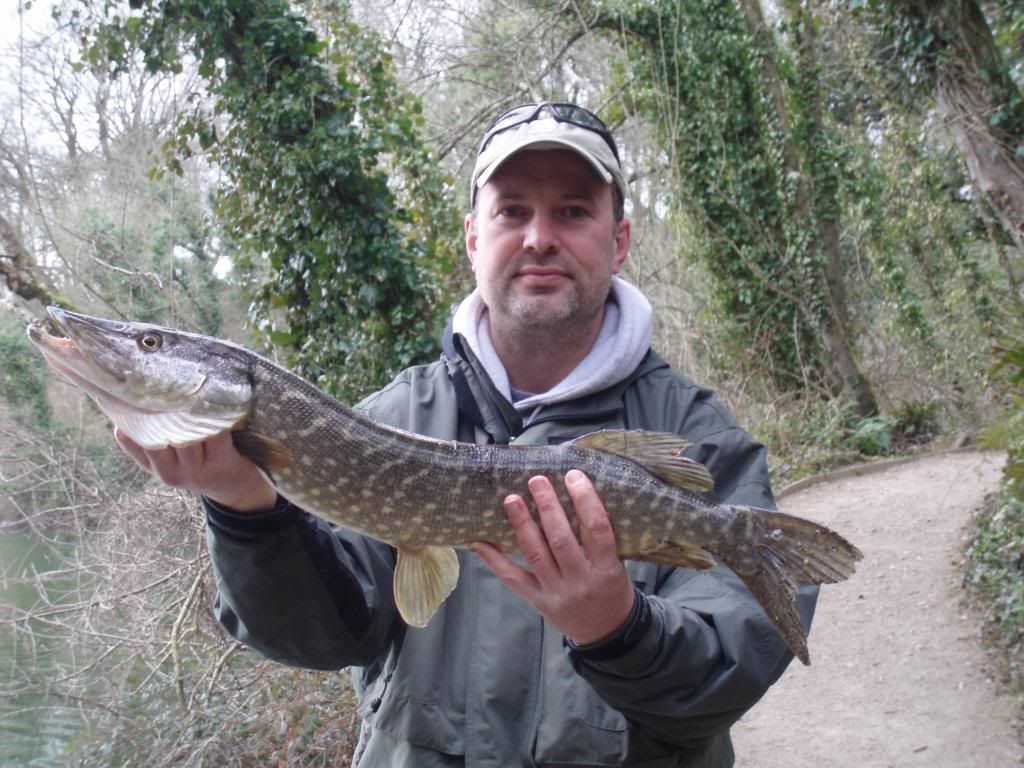 We worked back to the far side of the lake with no further action although we heard Iestyn had banked a good fish.
Once on the far side, I moved a really good fish on the first cast at a fresh peg. Despite a pluck at the lure I missed it. Next cast I saw her rise up from the depths and gently inhale the same Crystal Minnow that had caught earlier. A disappointingly short fight saw me bank my best pike around 10lbs.
We caught up with the lads and shortly after whilst chatting with Steve & Adam, I landed another lively pike around 5lbs and had a smaller jack pike soon after at the same peg - again, same lure.
George was getting restless by now so I gave him the lucky lure. Further up I moved a jackpike 3 casts on the trot, and invited George to have a go. First cast with the lucky lure and fish on and one happy young man.
We fished on with the others where I droppped one last fish 3/4 of the way in - to the delight (and relief?) of the rest of the party. Good news all around in that the lads had all banked a fish. Another good long day with the fish hard to win but enough action to satisfy everyone.
This was the lure that banked all our fish and moved several more today - a sinking Yo Zuri Crystal Minnow in a gold/green pattern.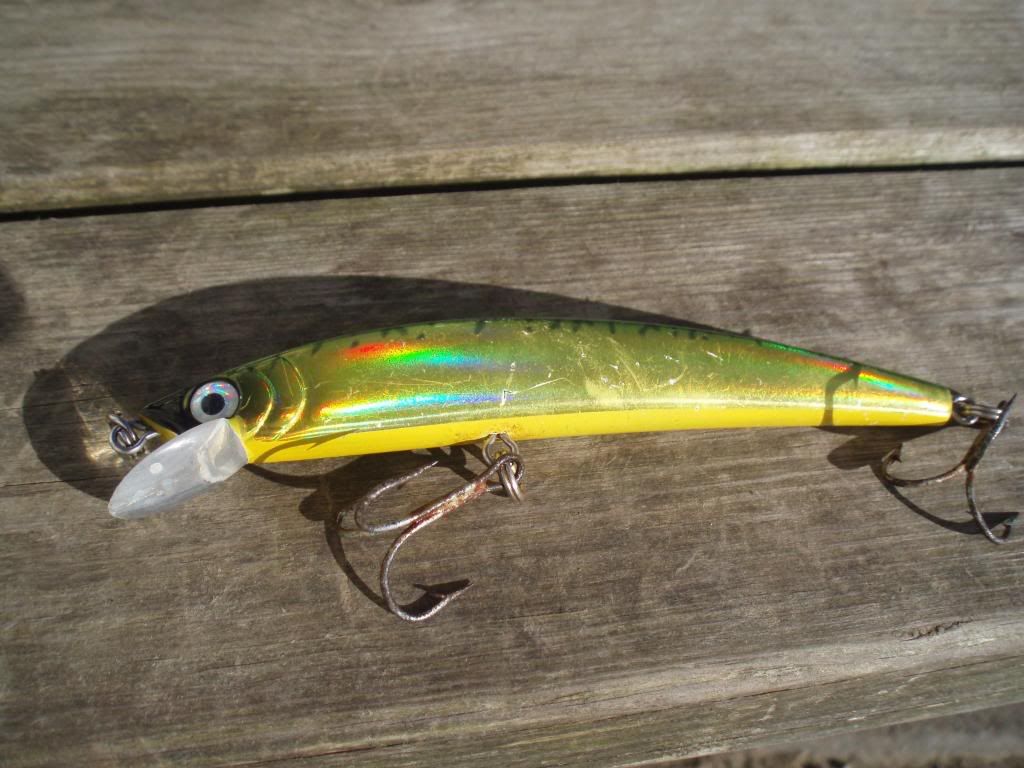 Next stop - BASS!