Discussion Starter
·
#1
·
So this is the latest set of new lures, some of which I have used before others not:
Pafex Sagat Paillettes Noir. My top softies of last year, worked slow and twitchy wth lots of pausing to imitate a baitfish like the Roselet / Grasdos. 7.5g unweighted.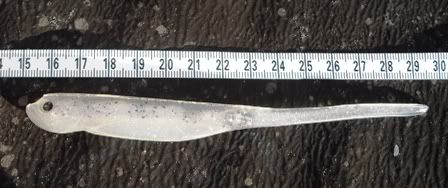 Pafex Saker in Lancon. The 20cm one. Looks like a green eel to me. new one. 17.6g unweighted.
Pafex Samato in Nacre Paillettes. Very thin with ridges right along it. Very slimy as well so may well have some form of attractant on it. 7.4g unweighted.

Pafex Sanec in Nacre Paillettes (I like this colour!!). Paddle tail this time. 8.4g unweighted.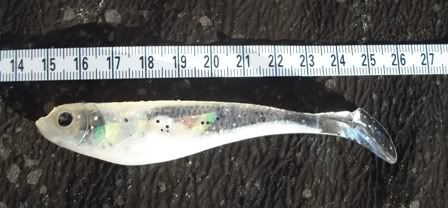 Pafex Sanec again but I thought i'd order the larger one. Didn't realise it would be quite so much bigger and more important so so much heavier. Weighs in at a huge 56g. not sure what to do with this yet. Might be the old carp rod coming out!!
Sanec again smaller size in a colour called New Penny. Goby anyone??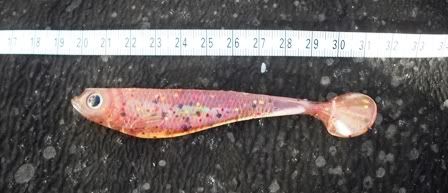 Getting smaller. Pafex Saron in Rouge (even I can translate that one!!).
Smaller again, a teaser lure by design. Pafex Satea in Alevinde Sandre colour.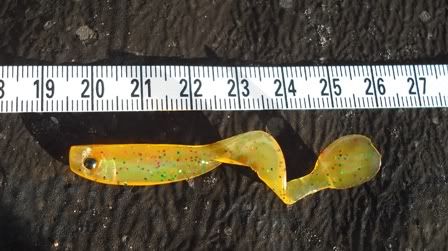 Satea again but in Noir Paillettes
and again in Vert Paillettes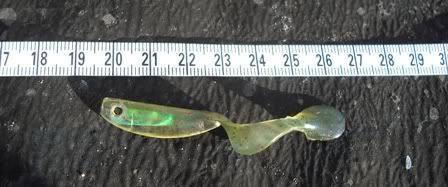 And after all that the posie just gave me some more stuff to sort out. I have a problem. I admit it. At least it's not that expensive and I'll have all my 2010 stock now.