Not as bad as it sounds as the missus is from eastern Finland and we go to stay on her sisters farm every summer. Until now i have always done what the locals do which is mostly trolling lures or casting metals from a stationary boat,but this year having really got into surface lures for bass back here,i decided to take some with me.Of course we insist on having our flag flying to show that we are in residence lol,
we arrived at the start of what is turning out to be their hottest summer on record,
First day out it was off to a section of rapids that flows between two very large lakes
this holds some nice trout and i had a couple out within an hour
a local angler was surprised that i had them as the river was pretty poor this summer and they turned out to be the only ones i got.
Attention therefore turned to the vast lakes, and on the first trip i started off with my usual perch coloured toby and it wasnt long before the first pike scoffed it, shortly followed by a first for me which was a nice Ide, they are similar to chub give a good scrap and go absolutely mental when landed
Next it was onto some diving lures and both pike and Ide readily hit them
Now it was time to see what they thought of surface lures. Its strange that the locals dont ever use surface lures,and the main tackle shop in town doesnt even sell any, so it would be interesting to see what the fish thought of them. On went a small mag popper and third cast there was a ferocious thrash at it which didnt connect, and not long after a pike came flying up and 3ft out of the water with the popper in its mouth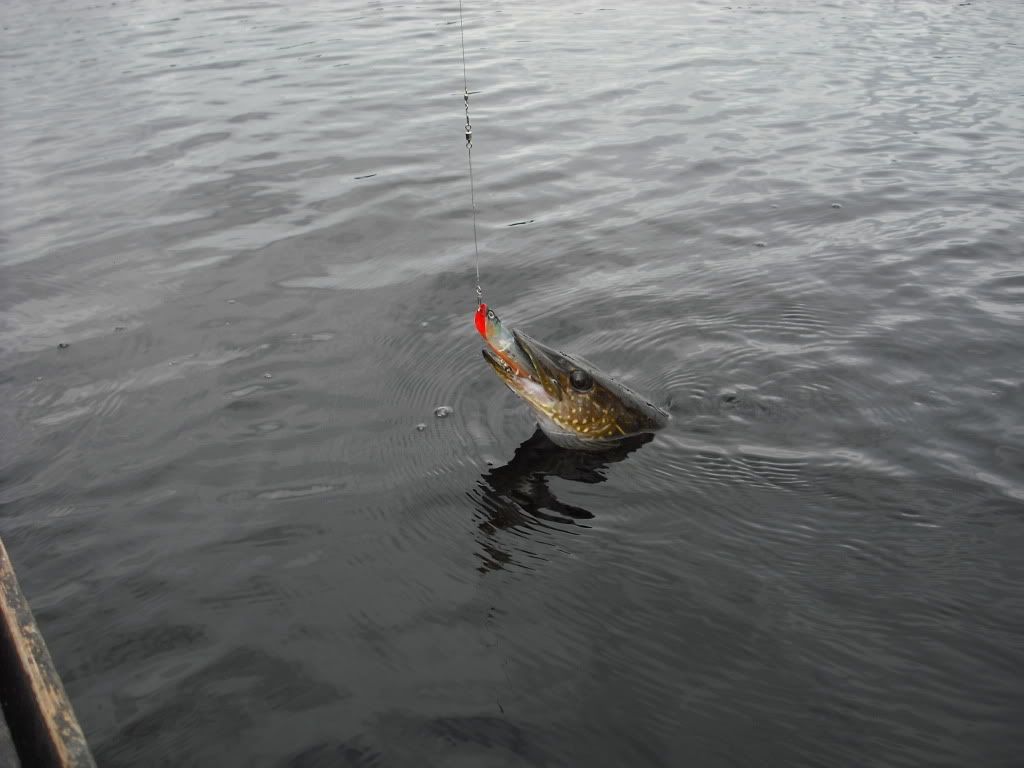 and this was to set the scene for the rest of our time there, the hits were most spectacular ,lots of airborn Pike
more surprising was that the Ide went crazy for surface lures and also quite a few perch
all three surface lures i took with me were catching ,the mag popper, dexter easy walker,and a chug bug type popper, i also took a couple of small sp's and a few Perch on them.
heres the smallest pike we had,
no monsters but great fun on light gear, my best being this one at around 10lb
when playing this fish whilst it was still yet to surface just as i reckoned it was getting tired it suddenly went berserk again and when i did land it there were horrendous long,deep cuts in its tail which were bleeding and its tail was really shredded,i can only guess that a really big Pike( my nieces husband had a 22lb er this spring) had grabbed it by the tail ,..... never heard of that before but maybe Vidor has?
this was the wifes best effort, caught whilst trolling,
The extremely hot weather had pushed the water temperatures up to 25c and this had the effect of spoiling the Zander fishing as all the locals were struggling to find any, they reckonned they had gone very deep down into cooler water
my wife managed this small one
i lost one of about 2.5lb just as the net was about to slide under it , and one evening i went out with my niece and her hubby and she caught a lovely zander of 5.5lb
didnt get a pic as i filmed the fight and landing on video
so thats about it for this years trip
heres a typical Finnish road
such a stunning country
heres my ice fishing rod for whenever we go in the winter, you mostly use bait with them after drilling through 2ft of ice and mostly catch perch.
Already planning next years trip !!!