Very brief report as George and I are about to head out to fish day two and hopefully find some bass and wrasse, but yesterday was all about the freshwater. Forecast was poor (and wrong!) so everyone opted to fish the Lilly Ponds at Bosherston, with George and I unable to fish until lunchtime. Water levels were shockingly low and the weed made many swims unfishable.
So we fished surface lures for the pike - I landed one, lost two and moved a couple more on small chug bug and Sammy. George fished mainly for the perch on a small meps spinner and must have caught 40+, but all very small. At some swims it was almost a fish a cast. We also pressed the little Firefly rod into action and this was ideal for these small perch - you could feel every little bump and tap as shoals of perch investigated the little spinner. A number of baby (4"-6") pike also took the spinner with the takes being quite aggressive for such small fish.
He saw some pike in one swim, just mooching and somehow managed to hook one on the same small spinner and his 7' Bushwacker. Quite a scrap, but the fish was landed and returned, with George learning some pike handling lessons the hard way (no permanent damage done). Estimated at around 8lbs this is probably George's best pike (certainly the longest).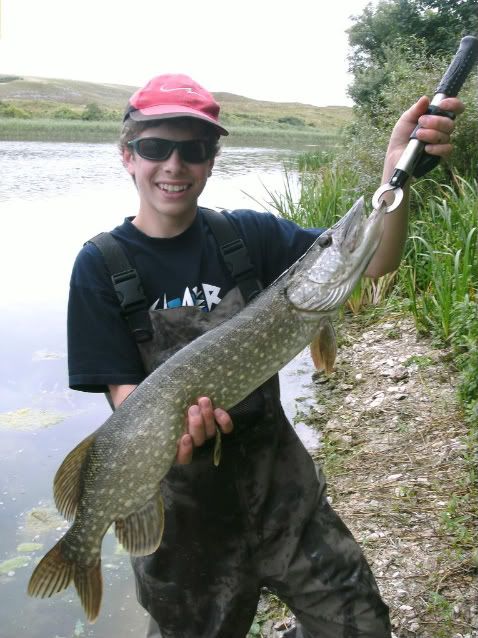 We met all the others - nice to see so many visitors - at various points around the lake and I expect you will see some very funny reports in due course. Look out for "Simon, Nathan, and the rubber frog"!