Well i'm completely knackered this morning, but in a nice way
. Two days of fishing, in excellent company, with plenty of ground covered. A multitude of species were landed, and i think that many of the Bumblers accomplished 'firsts' in some way (first fish on an s/p, first Pike, etc . . . . ).
In total at the weekend, i think that around 22 or so Bumblers took part in our little Meet, and again, some had travelled HUGE distances to join in, and guys i hope you felt it was worth the effort !!
So, we kicked-off on Saturday morning. We met outside the pub, and with the filthy weather, and large swell, we decided to hit the Freshwater first. The Crocs were in a reasonably fiesty mood, and there were huge numbers of hits at lures !!! The hook-up rate left something to be desired, but i'll leave others elaborate on that
(eh Nath :-? :?
. But we had our moments of success. A first ever Croc for Nathy-Baby . . . .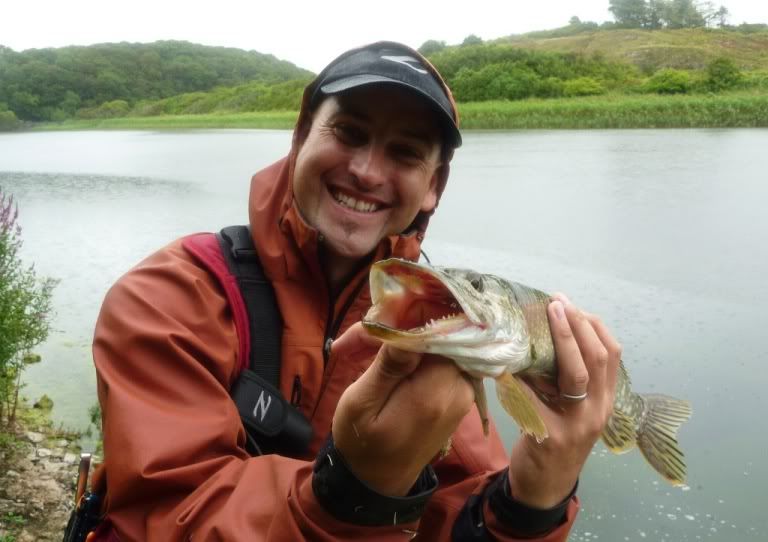 One of the personal highlights of the session for me (other than seeing some of our new Bumblers bend into some fish) was hooking & landing a Croc of around 5lbs on my new LRF outfit. My Diaflash, which is rated at 0.6g - 7g was doubled over into the fish that seemed determined to get into some submerged branches!! In the end, teamwork prevailed, as Jon Bunyard kndly clambered down through the undergrowth to net the fish for me (thanks Jon
).
The lakes are right next to the Coast, and when Nathan saw the beach, he proceeded to roll-around on his back in the sand, like a dog !!! He just couldnt resist a few chucks . .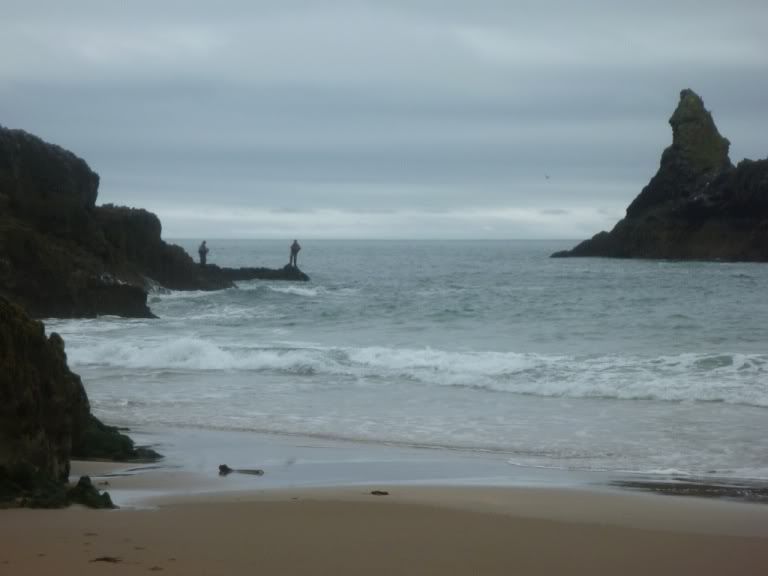 Back in the lake, Nathan took a shine to a rubber frog in my armoury & set about moving just about every Croc on the lake, they were thrashing at his lure on every retrieve at one point, but it took a while to figure out how to make them stick . . .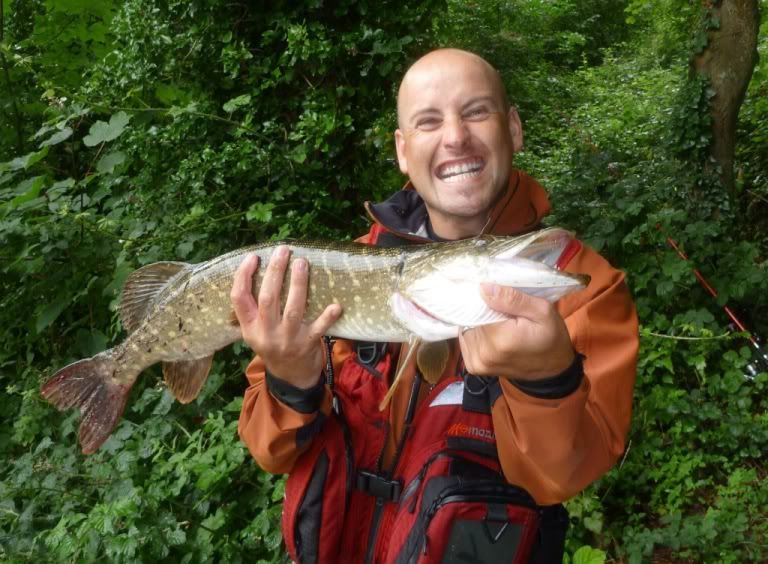 Nath & i bumped into George at one point in the afternoon, and were amazed to see him pulling out a fish on just about every cast !! Superb angling again from him :clap:.
We stayed at the lakes far longer than planned (due to it being so much fun), so we were very glad to make it back to the pub that evening for some cracking food, some draught beer, and a general de-brief on the days events. Some were nursing war-wounds, and other were licking other types of wounds
.
A very sociable evening then ensued, with my preference being the Marsdons Pedegree
.
In the morning, a couple of the guys seemed to be nursing sore heads
. We saw off some cooked breakfasts & bacon sandwiches, and Gwyn ran a very efficient raffle, with Trev yet again, cleaning up (closely followed by John Orrells). The net result though, is that we raised £85 for the Forum
.
With far improved weather conditions, we then set-off in a few groups, & hit the Coast!! The first mark looked awesome, and although we had intended to fish there for Wrasse, the swell made that tricky, so we switched to Bass. The swell did catch a few of our Bumblers out though . . . . .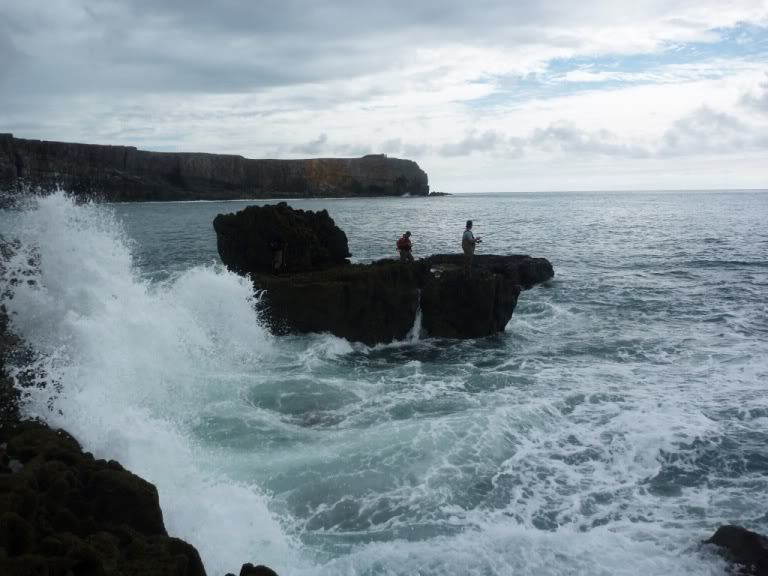 . . . and few were dry at the end of this session
.
Nathan managed one Bass at this mark, and Mat also had a few follows (pics to follow from Nath perhaps :?
.
We then split into a couple of smaller groups again, and moved up the Coast. The little group that i was part of managed to find some cracking white-water, and quickly got into the fish. Mat set the pace here, with 2 Bass in quick succession, losing a better fish also.
I was having a bit of a stormer on the Pollock, nailing them both on my soft plastic (Xorus Rolling Stick) . . .
. . . and my Teaser . . .
. . . i even managed a double-shot . . .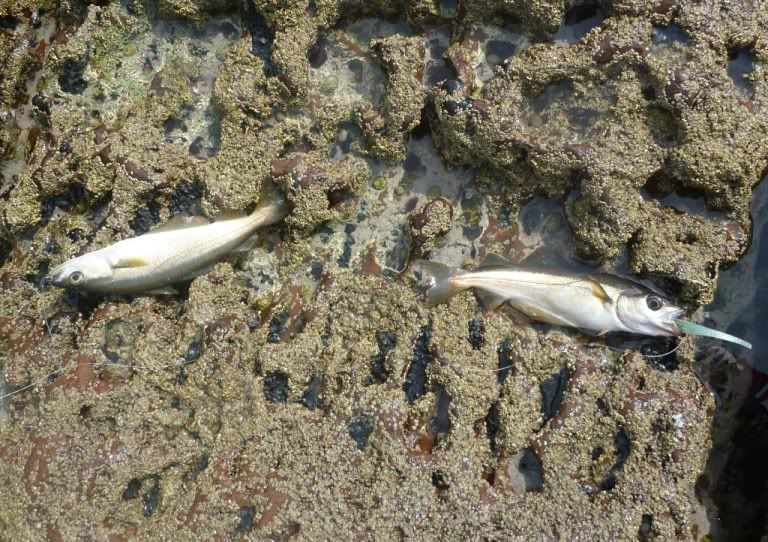 There was a more impressive double-shot though, and i'll leave Nathan to tell that tale
.
I also managed to winkle-out a couple of really large Mackerel . .
Trev then lost a good Bass just as he landed it, and Mat scored with his first ever Bass on an s/p (Xlayer).
I left it until my 'last cast' of the day to find a Bass, which fell to the Xlayer . . .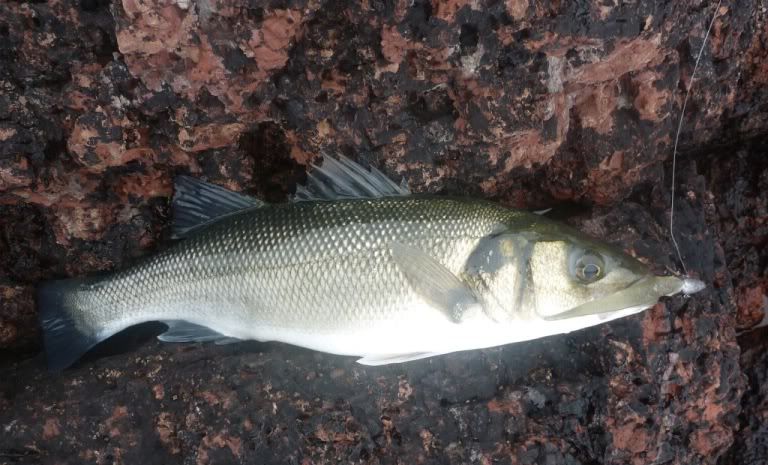 And that was that
.
An awesome weekend in superb company. Laughs aplenty. Loads of fish landed. Lots of 'firsts'. Lessons learnt. New friendships spawned. Sounds like a Bumble !!!