Down at the GF's in Penzance, so decided to go for a morning session to test out my new Rarenium loaded with .23 PowePro, mated up with my LuckyCraft ESGII 7'7 rod. Low tide was around 08:30 and the weather was looking gloomy, so off I trundled down the road to a spot on the South Coast near Cudgen Point.
There was a good bit of swell running, lots of white water, but quite a bit of weed at my deep water rock mark. Started off with an Xlayer with a 3.5g head, soon came o the conclusion that with a strong pushing tide, deep water and lots of bump swell, couldn't feel the lure properly, and it did not feel effective in my novice hands. So switched over to a plug, and felt more comfortable. Soon I had a dark shape go for my lure around 15' from my feet, spooked me as it looked weird for a fish, a quick 'nip' and release, then it surfaced. Pretty sure it was one of these (Guillemot), same size and colouring, but I am no bird expert!
Never had a sea bird go for a lure before, very glad it did not actually connect with it! Few casts later, around an hour after low tide, first fish on. Good little scrap, and I landed a small bass, quick photo and weighed at 14oz
Moving to another bit of rock to avoid the pushing tide and crashing waves, it was not long untill a fish really smashed my lure. Was good to hear the drag on the new Rarenium singing, this fish felt a lot bigger, with a big silver flash and lots of head shaking, really trying to run, with a good bend in the rod tip. Had to jump around a bit, to find a low ledge to land the fish on, without getting swamped, ideally i would have liked to use a landing net, but did not take it with me. Soon had the fish safely onto the rocks, for a photo and weighing before release. This one saw the digital scales read off at 2lb, my best fish for a while. The Duo Tide Minnow 125 SLD A104-SH proving to be a good purchase, accounting for both fish.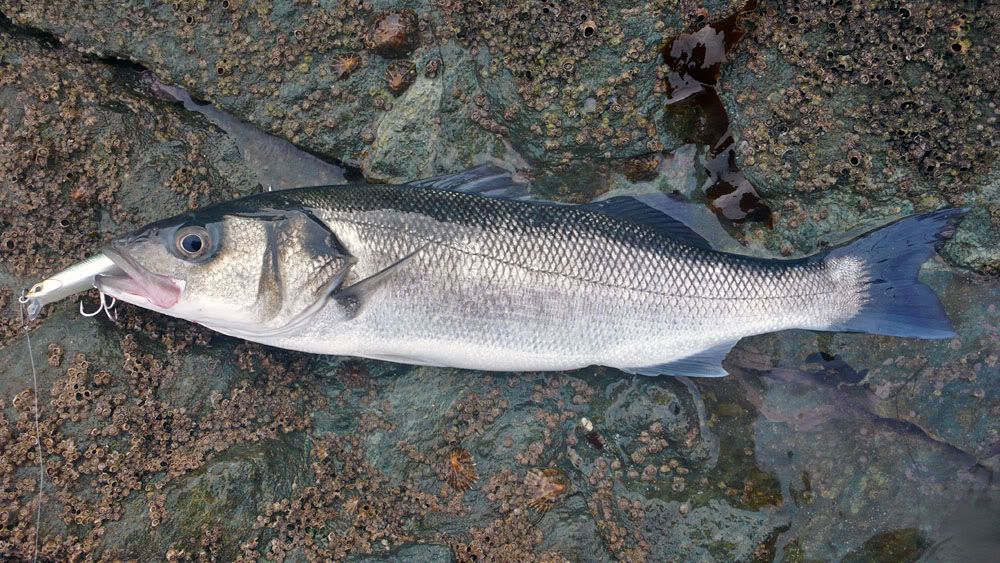 The weather was now pushing in, heavy drizzle and the winds picking up, so decided shortly after to call it a morning. VERY happy with the Rarenium, so smooth to use, and better balanced on the rod than my old Shimano Exage (plus just looks frickin cool! :-D) Just a couple of pics of where I caught the fish to finish off, they don't really show just how rough and weedy the water was;