Discussion Starter
·
#1
·
Well my first Dorset session of the year started by meeting up with Mike (Hayes) and Dave "Tunny" Irving in Weymouth Friday afternoon, we headed off to a mark that had produced for Dave already this year only to find that we had been beaten there by a couple of minutes by other pluggers, (Damn M5 hold up) so we decided to fish another mark which unfortunately was weeded up, FRIDAY BLANK 1
Dave and myself then headed out just after 4am Saturday morning to fish as the sun came up, and the rain came down, unfortunately a very slow day again but I did get my first fish of the year, this small Pollack on the Duo slim Heretic, and Dave had a follow from a Gar but that was it.
Dave also foot hooked a flyer of estimated 4lb on the patchinko100 and then demonstrated catch and release as the seagull flew away to join its mates.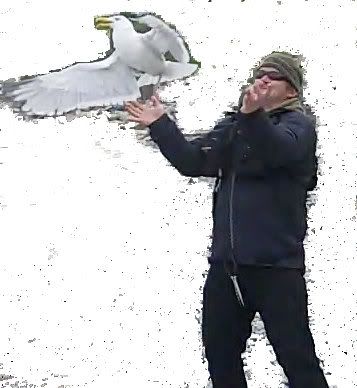 Later that afternoon with the sun up we went off again looking for these illusive bass, yet again to be disappointed especially when I thought I had hooked one only to realise as it got nearer that it was my first mackerel of the year, again on the Heretic.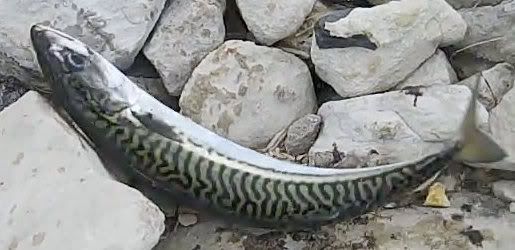 Sunday Morning revealed another blank for us; so mid morning we headed over to Portland to find Jon and Ivan, Big Kahoonas or "mad as hatters" I don't know, but we watched entertained as they fished around Pulpit rock, unfortunately my cam didn't come out quick enough to see them disappear under a wave of spray. Ivan did manage a couple of Gars which was more than the rest of us, so well done there.
The lack of bass about was starting to frustrate us so between Mike, Brian, Sean and Dave they hatched a cunning plan on a new mark for us to try, I tend to just sit back and listen to these guys as they know a damn sight more than I probably ever will. Anyway Sunday evening we arrived at the new mark, calm shallow waters, so Patchinko 100's at the ready. We started as the sun was setting and within a min I had two attempts at my lure, forgot how much the heart increases with topwater action. We fished on knowing that we had finally found the bass until eventually Dave was off the mark with his first. Unfortunately I didn't have my camera, just the cam and by this time it was too dark for a decent shot, hence this attempt, Sorry Dave.
After a couple of hours sleep we headed back to the same mark for sunrise, I lost count of all the attempts fish made on the patchinko100's without hook-ups, I had one quite decent fish on briefly but made the mistake of over tightening my drag whilst it was running, a headshake, roll and it was gone.
Mike then landed this one on the patchinko 100 Nacre
http://www.youtube.com/watch?v=8u78pL1TPyw
Still being the only one not to catch we ventured back there in the evening, Mike managed to get his supermix bent over with a wrasse that took his xlayer and then shot into a hole underneath his feet only to return a half eaten xlayer to him. There was no action on top tonight so just before we packed it in I thought I would try my Heretic just dropped short just before the weed beds and twitched back through the small clear sandy area, Lucky git saved the blank and caught this small schoolie, but so chuffed none the less.
All in all a great weekend in great company, Thanks Mike, Dave, Brian, and Sean and also good to meet Jon and Ivan. Sorry for the long report with few fish but I'm making the most of it as I don't get out much. Cheers lads