Right lads, sorry for the delay!! Getting my head together now, so where to begin....
On arrival to Weymouth, and after checking in to the room, we made our way into town to get signed in and fill up with a breakfast and a pint in the pub. Great start to the day, and with spirits high we decided to head out and check out some marks within the boundaries of the comp.
We jumped in the passion wagon and made our way to Portland, and upon opening the door it almost parted company with the rest of the car.... something was telling me it was going to be windy :shock:
With the turbos switched on in Robs boots, he and Ben headed out over the horizon while Nick and I jumped around the weed covered rocks trying not to break our ankles before the start of the comp!! The wind was making things real tricky and uncomfortable no-matter how far we walked to find shelter, and after we got told to move on from our rocky platform by the Search and Rescue helicopter we thought it might be a good idea to head back to the car and save ourselves for the morning :-?
Up at stupid o'clock in the morning, we found ourselves in the car park to be met by Nathan, Iain, and Roger just after 4am to get a plan together while I also had the pleasure of picking up my brand new 'tool'.... my Injection :-D Fully buzzing, we spread out in our own directions in pitch darkness to see what was happening and cover as much ground as possible.
With the wind still blowing but not as bad as the previous day, Nick and I found ourselves on a nice mark where I noticed a lot of bait fish sheltering behind a wall away from the wind and currents.... I knew the Bass must of also sussed onto their hide-aways and had to be out there waiting for the
tide to rise. After a few casts and rejoining up with Rob and Ben on the same mark, i was into my first fish on my new rod.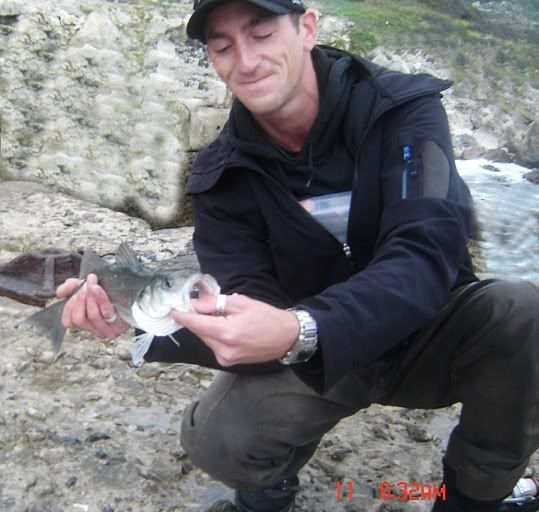 Not the biggest, but still a nice 41.5cms and I've caught my first fish on my new rod in a couple of hours :-D
If I wasnt buzzing before, I was now.... and straight back working my lure over the same ground, covering as many paths as the weed would let me. I had a good feeling about this place, catching my first fish, seeing the little bay fill up with bigger bait fish and with my confidence peaking, 10 minutes later BANG!!!! My rod almost pulled my shoulder out of its socket and I was into the heaviest fighting Bass of my life!! :-D What a feeling.... What A Fight!!
Check out the bend in my Injection :shock: :wackit2: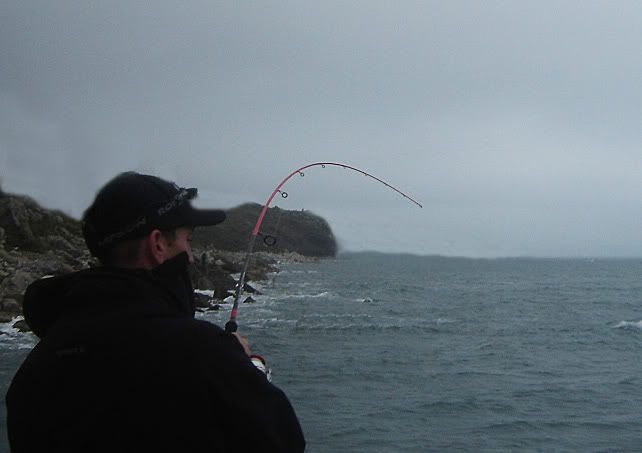 I wasn't going to let this beauty get away, I could feel she was a big fish!! During a 10 minute fight, keeping the pressure on she took line from the reel twice, a lot of line!! :-? What a sound!!!! :-D The rod tip was acting as a great shock absorber and the drag was doing its work well, but it was time to tighten it up slightly and get her in.... much to the shock of dear old Nicks face :shock: I was trying my best to concentrate, well to be honest I zoned out and blanked everybody else.... but it wasnt easy with Rob and Nick jumping around and screaming in my ear like little girls :-D ( Love you guys!! :mrgreen: )
To be fair though, if Rob wasn't on hand with his landing net for me, I don't know what would've happened!! THANKS MATE!!!! Sorry for bending the handle of the net too :-? :wink: Getting her to the surface and bringing her towards the net, Rob scooped her up for me! I'm surprised everybody in the comp didn't hear my yell when I finally got her to shore... no-matter how far away you were!! I was, and still am over the moon!!
Unfortunately, when she was in the net, one of the trebles got caught up in the netting, and when she flipped a little, the remaining treble caught her and there's a little blood in the pic. This is the reason I don't really like using 3 trebles! I can assure you I treated her like a princess, and she swam away to fight another day which in my eyes is the main thing! ( what a sight that was ) But I wasn't close enough to the water to clean her up before the pic, and to be honest I didn't want to tempt fate by returning her to the water to clean her before taking my pics.
Like I said before, she swam away perfectly fine with just a little battle scar, I made sure of it and she was well looked after by myself while out of the water, I'm just sorry I couldn't get a pic minus the blood!! I didn't like it myself when I saw it, and the fact that she has blood on her might upset some people..... but at least I didn't kill her!!
Here she is.... MY FIRST DOUBLE FIGURE BASS :mrgreen: :-D :mrgreen: :-D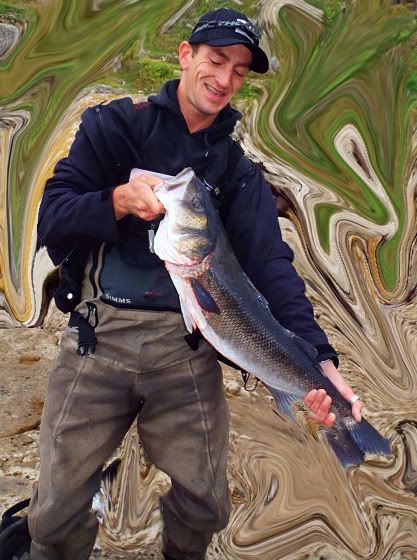 How about that then.... ON MY INJECTION :-D I Know the measurement says she weighed 10.6lb, and not that I've caught any to compare against before, Rob has and a fair few.... he said it smashed the double of 10.5lb he had the other week, she had a huge belly and estimated it at a good 12-12.5lb,.... and I'll take it :-D :wink: Chuffed to pieces, I honestly couldn't explain how happy I was, and still am!! Just a shame Ben wasn't around with the Bogas to confirm. Talk about fish of a lifetime.... although I'll be doing my best to come into contact with a few more of her size!!
Check out the size of her head!! :-D
:-D:-D:-D:-D:-D:-D:-D:-D:-D:-D:-D:-D:-D:-D:-D:-D:-D:-D:-D:-D:-D:-D:-D:-D
I tried to fish on afterwards, but had to sit down and stop shaking for a good half hour, and smoke too many ciggys to calm down! What a feeling!! Totally amazing, if you could bottle it you'd be a millionaire!!
We,.. well the lads mainly and I carried on fishing the mark for another hour or so, but after the scrap she gave me we didn't think much more would show from here so it was time to make a move and register my monster followed by a pint :-D
So hard to calm down!!!! Don't really remember much else from the day from then for some reason, but we fished it hard all the way through until dark ending up at the rocky end of Chesil. With the tide coming in covering the rock and the wind creating a slight swell I headed out along the rocks and it wasn't too long before I was into a Pollock of around a pound, then 5 minutes later SPLASH Bass number 3.
Another nice Bass of around 2lb or so, but could see she wasn't big enough for the ruler so tried to get a quick snap without her flipping around to much ( Hard work with this one!! ) and get her back in the water ASAP! Again, sorry not the best photo!
DAY TWO
Not much sleep later, we found ourselves strangely heading out to the same mark we were on yesterday morning :-? The conditions couldn't of been more different, flat calm water with clear skies. Not the best conditions, and with nothing showing after a couple of hours of prowling the rocks we decided to hit Chesil again for the afternoon but at a different location.... 21 bloody miles long and a nightmare to walk on!!
We covered a lot of distance in search of the Bass, but i didn't have any success. Towards the end of the day while I was working a Tackle House Contact INT, after a few turns of the handle I had a hit that I thought was a small Bass. Turned out to be one of these fellas:
They always put up such a good fight on light gear, such a shame they don't grow much bigger around here!!
About half an hour later a little further down the beach I noticed an incredible display of bait fish jumping out the water, and they were quite big! Straight away a cast went over the disturbance and I worked the lure back through the shoal fairly fast with the anticipation of Big Bass lurking beneath.... and Bang!! Not a big scrap, I could tell this wasn't a Bass, but I brought in species number 4 on the lure, on my new rod :-D
Happy days!!
The day and competition drew to an end, and we slogged back through the shingle and headed for a well deserved rum in the pub ;-)
I'd like to thank everybody involved with all the organization of the festival again, I had the best weekend of my life!!
The presentation evening was great, I had a brilliant time, got very drunk and won some amazing prizes and trophies! Thankyou!! I won Best Visitor, 1st in the pairs and 1st longest fish with my double on Saturday morning, it goes without saying how happy I was! But even more importantly I met some great new friends, and look forward to seeing you all again very soon in Jersey!!